EDIT: *vote from my patrons* Uncensored version available via Patreon now
----
Sacris: "Will you stop staring? I'm on an important mission"
So, well done Sacris! You managed to disguise yourself successfully as a Low-Lunid ...
DO YOU HAVE JUST THE SLIGHTEST IDEA OF WHAT YOU'RE ACTUALLY DOING, YOU FOOL OF A KING?!
Waiting on the streets of Lun to be collected by some servants of High-Lunids!
Just because you're LOOKING like on of those Low-Lunids you still don't have
ANY idea of what is expected of you and what will HAPPEN to you!
- Oh wait, that was the reason why you decided to do this. I remember ...
However, I warned you.
You put yourself into the lion's pit without any possibility to escape.
Is it really worth this risk to get an answer for this question:
"Why are the Low-Lunids wishing to be enslaved by the High-Lunids?"
I know, you are their King and you want to free them of their slavery -
but you can't do this as long as you don't understand them.
How to free a people that doesn't want to be freed?
Is it a spoiler to tell that the days that follow Sacris' naive/stubborn/brave decision will be the worst and best of his whole life?
Go for the adventure of your life, my beloved Sacris. And bare
Jerome's punishment with unbroken dignity, for he is the descendant of
the oldest dynasty of Lun and he does not forgive such reckless
behaviour easily in his realm, Lun - the realm of decadence and sensual
temptation.
Sacris from my fantasy story Terra Aluvis. No references used.
And NO, he does NOT enjoy his situation.
He is definitely brave to walk around in this outfit x_x Not to talk about the rest he is going to go through!
However, I definitely prefer to see Sacris in nice bondage leather and buckles,
when he already has to wear so few clothes! Just good, that Jerome shares my opinion >x333 *nyahahaharharhar*
You're being quite spoilt these days from illustrations of my characters - I'm having a creative flow

Hope you enjoy!
- Nox
------------
I am open for commissions! >>My commission info<<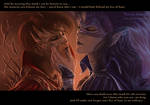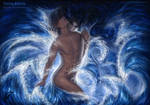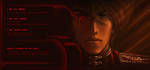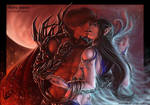 ----------

INTERESTED IN MY STORY TERRA ALUVIS? Here are some starting points for you to begin:
Für alle deutschen Leseratten: Band 1 ist jetzt erhältlich!




[GERMAN – über TERRA ALUVIS VOL. 1]
Was ist Terra Aluvis? Erfahre hier mehr:
van-syl-production.deviantart.…
Lies das erste Kapitel online:
van-syl-production.deviantart.…
Hol dir TERRA ALUVIS VOL.1 als E-Book
AMAZON | WELTBILD | BÜCHER.DE | THALIA | EPUBLI
... oder direkt von mir per E-Mail an nox.murawski[at]gmx.net[ENGLISH – general information on Terra Aluvis]
What is Terra Aluvis? Read here:
van-syl-production.deviantart.…
Read extracts:
van-syl-production.deviantart.…
Listen to the soundtrack of Terra Aluvis:
van-syl-production.deviantart.…
Purchase PRINTS:
van-syl-production.deviantart.…
More from Terra Aluvis in general:
van-syl-production.deviantart.…
-----
© 2014 Van Syl Production
Do not use it in any way.
www.van-syl-production.net
-----
Image details
Image size
700x1000px 667.04 KB