FULL VIEW PLEASE.
TERRA ALUVIS VOL. 1 AVAILABLE NOW! More:
van-syl-production.deviantart.…
This is a master overview of the progress in my life project Terra Aluvis. It will be updated from time to time so you will be able to follow the progress as well.
I drew the design of this sheet myself - I used it on my website too.
I think, this information graphic shows quite well how HUGE my project is and that it is really difficult for me to make it as one-man-project. Too many things that need to be done - drawing, writing, composition, layout, marketing ...
And the greatest hindrance: no money. So I can't do anything else but go on in very small steps I can afford.
Anyway, I'm very glad that I am able to carry out all parts of my project even without money at least by myself - the novel, the illustrations, the soundtrack. Even if it takes forever, I believe it is worth it.
And I hope, one day you share the fascination for my story Terra Aluvis as much as I do.
I love my fantasy world, I love my characters. They make me go on in our world. I don't know what kind of person I would be now, if I hadn't started Terra Aluvis. Would I be an artist at all? Would I be drawing, writing and composing? I cannot tell.
But I'm glad, I am bringing my idea to life - as my idea brings me to life in return.
Listen to the soundtrack of Terra Aluvis:
Enjoy and share thoughts

- Nox
I am open for commissions!
van-syl-production.deviantart.…
More from Terra Aluvis:
van-syl-production.deviantart.…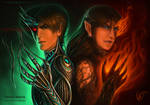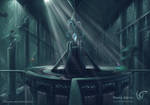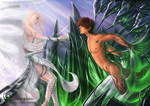 -----
©2014 Van Syl Production
Do not use it in any way.
www.van-syl-production.net
-----
Follow me

FB:
www.facebook.com/pages/Van-Syl…
Tumblr:
van-syl-production.tumblr.com/
Image details
Image size
1400x1300px 1.08 MB