Shall we dance ...? (including SOUNDTRACK)
Description
Listen to my SOUNDTRACK of this drawing here on my youtube channel

--
ALTERNATIVE TITLE: "When the world ends ..."
(... Isn't it romantic?

)
Sacris and Jerome from my fantasy story Terra Aluvis. No references used.
I must admit, this drawing is my ABSOLUTE FAVOURITE of all drawings I've
ever done so far. I think I finally managed to convey the full
complexity of the relationship between Sacris and Jerome - and I still
can't believe how well it turned out: the tension through seductive
attraction while keeping distance in strife for control, the hidden
danger and the threat of getting lost in total chaos once you give in
... and all the other little elements that influence their relationship.
A dance of alpha-wolves is slow ... very slow ... and silent ... without a
single touch ... and the actual fight takes place mentally while
looking at each other. The first action will trigger a moment of
explosion - and in a blink everything will be decided.
Can you feel the tension as well ...?
Enjoy and share thoughts!

- Nox
I am open for commissions!
van-syl-production.deviantart.…
Who are Sacris and Jerome? Find out here:
van-syl-production.deviantart.…
What is Terra Aluvis? Read here:
van-syl-production.deviantart.…
Read extracts with Sacris and Jerome (focus BL):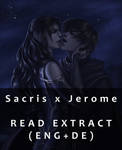 Listen to the song of Sacris and Jerome "Becoming One":
van-syl-production.deviantart.…
More from Terra Aluvis:
van-syl-production.deviantart.…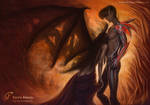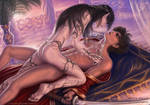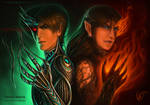 -----
© 2014 Van Syl Production
Do not use it in any way.
www.van-syl-production.net
-----
Follow me

FB:
www.facebook.com/vansylproduct…
Tumblr:
van-syl-production.tumblr.com/
Image size
1900x998px 2.47 MB






Overall





Vision





Originality





Technique





Impact
This is some great work. The back round is very well lit. the colors are vibrant but enough so that it doesn't hurt the eyes. The boy on the left is very well drawn showing passion and hard work. the red cape and hair flip perfect it. the boy on the right.... I don't even know what to think. Its well drawn to but I'm questioning the costume. I do like it though. The technique of not just this but all your art is a 5 star rating as well as the vision and originality.
I hope this helps you a lot
-Scarlet Jones