Description
PRINT AVAILABLE!
TERRA ALUVIS VOL. 1 OUT NOW:
van-syl-production.deviantart.…
My beloved characters Sacris and Jerome from my fantasy story Terra Aluvis.
This drawing took time. MUCH time. TOO MUCH time. And it is frustrating that one even doesn't see HOW MUCH time it took.
That's why I do something, I usually never do: I show the work in progress: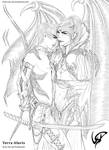 The outlines took FOREVER. But in the final version they are hardly visible. A pity. I tried many colorations to make the outlines become more important – but Sacris and Jerome are simply characters with dark clothes and strong character, so I couldn't bring myself to put them in some "pastel pink fluffy colors" or something like that.
I am convinced, tomorrow I'll already see another ten thousand mistakes in the drawing that cry for correction – it's a curse. I simply can't stop improving on that drawing ... since two weeks!
And that has to end. So here it is. Finished. Done.
Listen to the song of Sacris and Jerome "Becoming One":
Enjoy and share thoughts!
- Nox
I am open for commissions!
More from Terra Aluvis:
van-syl-production.deviantart.…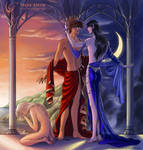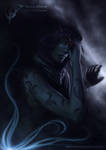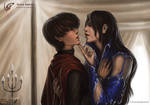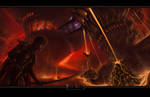 -----
©2013 Van Syl Production
Do not use it in any way.
www.van-syl-production.net
Image details
Image size
873x1200px 1.83 MB