I rise from the ether briefly to let you all know that the amazing

has also risen from the ether to gift us all with another story set in the Successors MLP universe! Not only is it in said universe, it is a story about my Valkyrie ponies! Specifically Queen Brising (pictured below)!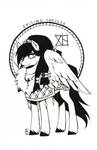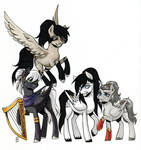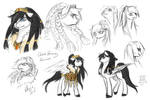 I was always amazed with each and every chapter of the Successors that Portmeirion posted. At every turn, he captured my characters perfectly in his writing and, in many cases, even improved up on them. I am pleased and honored that, once again, he is choosing to write a story about my ponies.
Chapter 1

, though short, is a delight to read. If you've enjoyed my Valkyrie pony posts and have wanted to know more about them, now is your chance. I promise you will not be disappointed.



The Farseer Queen: Chapter 1It was raining again. Brising could feel it; she could smell it on the wind, on the cool breeze that caressed her face. She stood on the edge of the precipice, hooves rooted solidly to the stone, spread her wings wide, and inhaled. Her eyes squeezed shut.
Open your eye.
She looked down. She was a raindrop. She was racing toward the great flat earth as fast as a falling stone. Her stomach plunged.
Brising grimaced. She pulled back, breathing harder for just a moment, and steadied herself.
That's better.
Now she was a snowflake, gentle and lazy, floating over the landscape. And she could see – oh, could she ever see. She saw the rivers that crept down the mountainsides as glimmering veins of silver, half-choked with ice and fallen timber. She saw the forests of shaggy evergreens, their limbs dusted with melting snow, shivering like giants in the cool wind. She saw, on the far edge of the Midgard V