And I decided to make more useful journals

You have to wait for my next tutorial A LOT, so I decided to make short tutorials here...in journals. I'll describe some Photoshop basics for all newbies who try to learn to use Photoshop. So in this article you'll find tutorials:
How to make layers, How to change color to a layer, How to make groups/folders, How to change background color, How to rotate canvas and all basics in tool menu on the right side
.

In this tutorial I used my newest image
Mermaid's Wisps
, just to show you few things (I just had to open something

)
If you wish to see images in full resolution then simply click on the images below (they are big as my screen 1920 x 1080px... OK I cropped bar below

). I used Photoshop CS6 here, so some things may be different in lower PS versions. I'll make even more tutorials like this, so stay tuned. And if you like it, then you can

fav this article. Thank you and enjoy. I hope it's helpful

How to make layers and change colors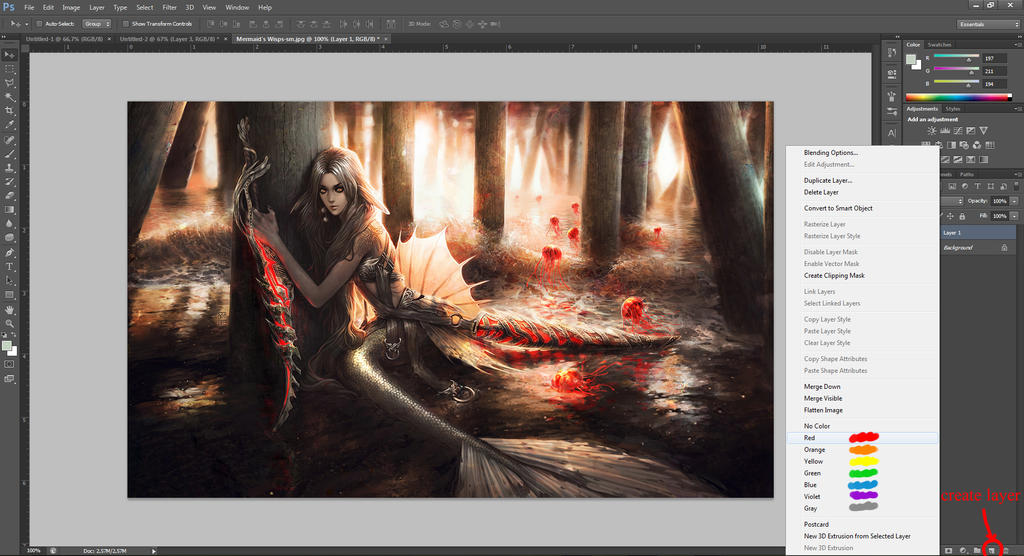 Alright... first step is how to make LAYERS. It's really simple. Just click on the Layer button, on the right bottom side of your screen (see image above) and new layer will be added (or Ctrl+Shift+N on your keyboard). When you click with RIGHT MOUSE button ON that layer, then you'll see many options...below you can see colors (I added colors on the image). Just simply click on color which you like and layer will color (with color which you chosen). In older PS versions you may click with right mouse button on IMAGE which layer have (NOT THE TEXT)...when you click on the text, then you have other options, like Delete, Merge... when I used older PS versions it was like that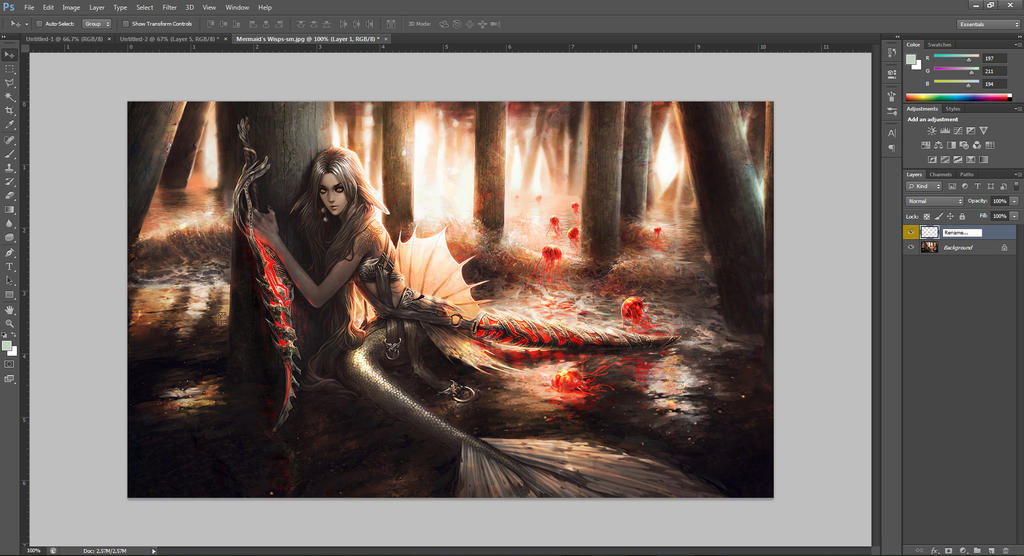 RENAMING a layer... if you don't want to get lost, then it's good if you rename your layers. Simply click TWICE with LEFT MOUSE BUTTON on a layer text... but not too fast...because FX tool will open.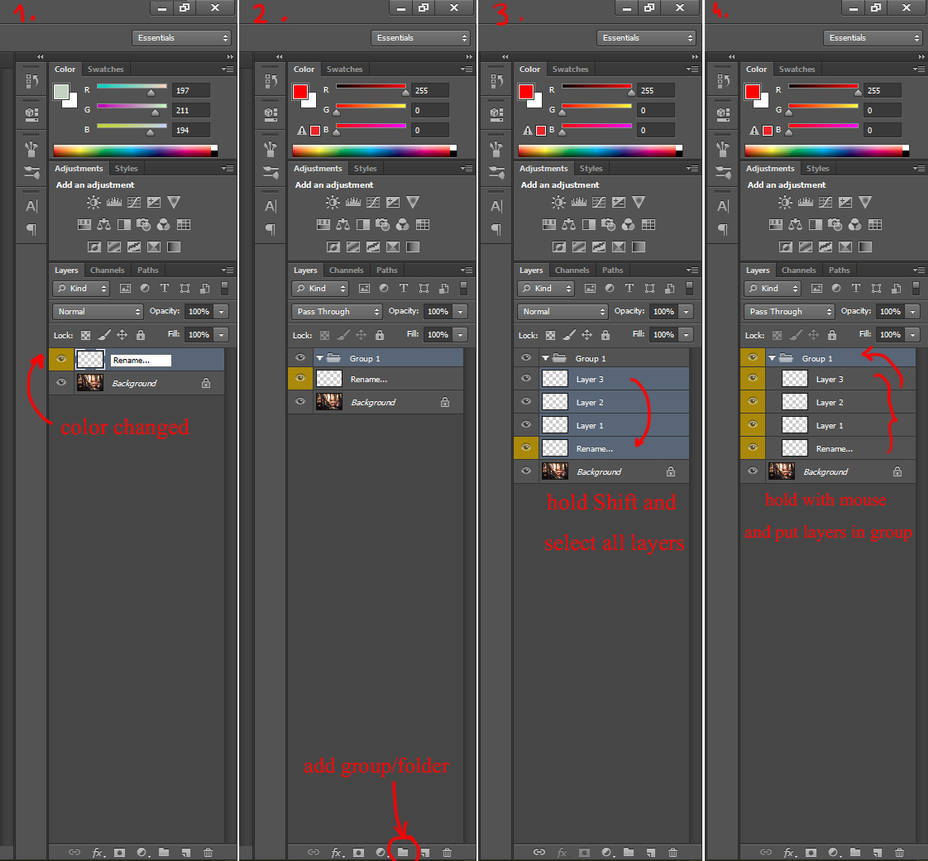 1.) OK... on first image on left you can see how color changed when I selected yellow color for a layer.
2.) When you want to make a Group/Folder then click on Folder button on the right bottom side of your screen (see image above)... and Folder will be added. You can also rename it as layers (you can also add layer color on them).
3.) If you have more similar layers (like more layers for Face, Hair, Clothes...) then you can add them into Folders. Select layers which you want to add into a Group... for selecting MORE LAYERS then hold SHIFT on your keyboard.
4.) Then simply DRAG/DROP them into a Folder...and all layers will be under that folder. When layers are in a Folder then you can see that layers are a bit moved from left edge of Layer menu.
Changing background color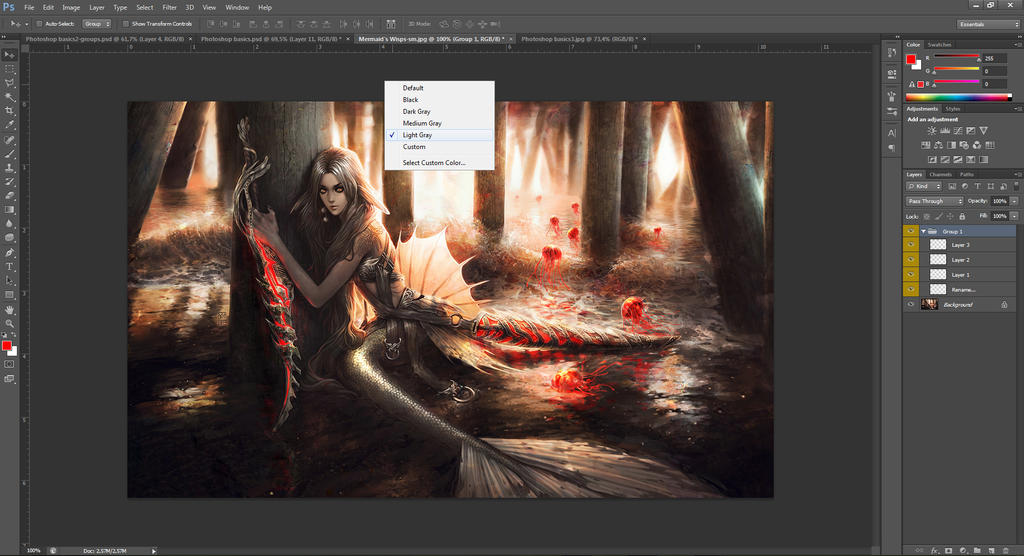 Next step is how to change Background color. You can see that on First image above I had light background... and on this one is darker. If you want to change a color, then click with RIGHT MOUSE button ON the background (gray area). You'll see more options: Black, Dark Gray, Medium Gray, Light Gray, Custom and Select Custom color... (if you have older PS versions, then you probably have Black, Gray and Custom color options in that menu). I had Dark Gray here and when you want to choose new color then simply click on Select Custom Color menu...and choose new color.
Rotating the canvas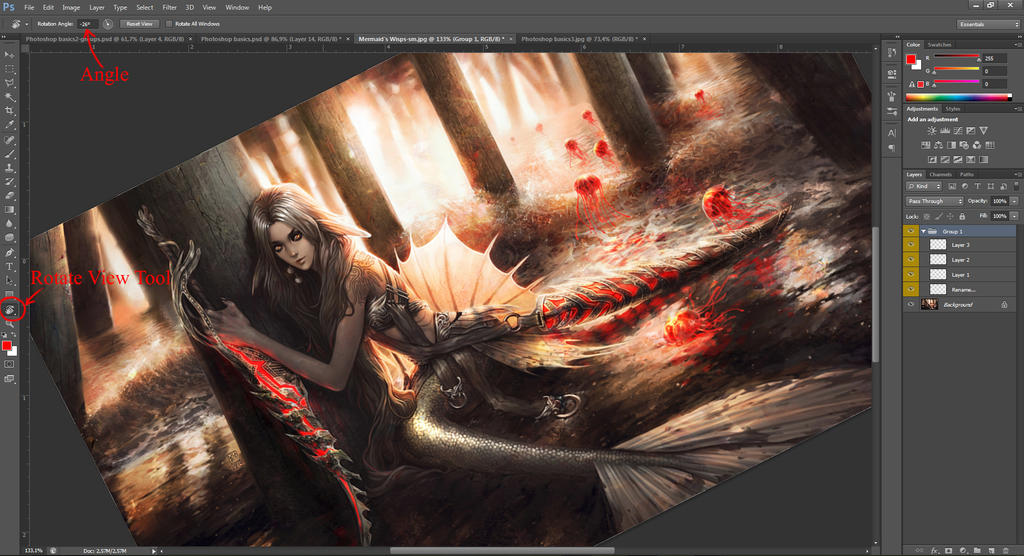 You can also rotate canvases (I think that in older PS versions...in CS5 this works... there Rotate option doesn't exist). Simply choose
Rotate View Too
l on the left tool bar (see image above)...or click
R button
on your keyboard. To rotate the canvas use your Mouse or you can select Angle in the tool bar above (see the image). If you want more "sharp" angles then hold
SHIFT
on your keyboard (and you'll get correct angles).
More basics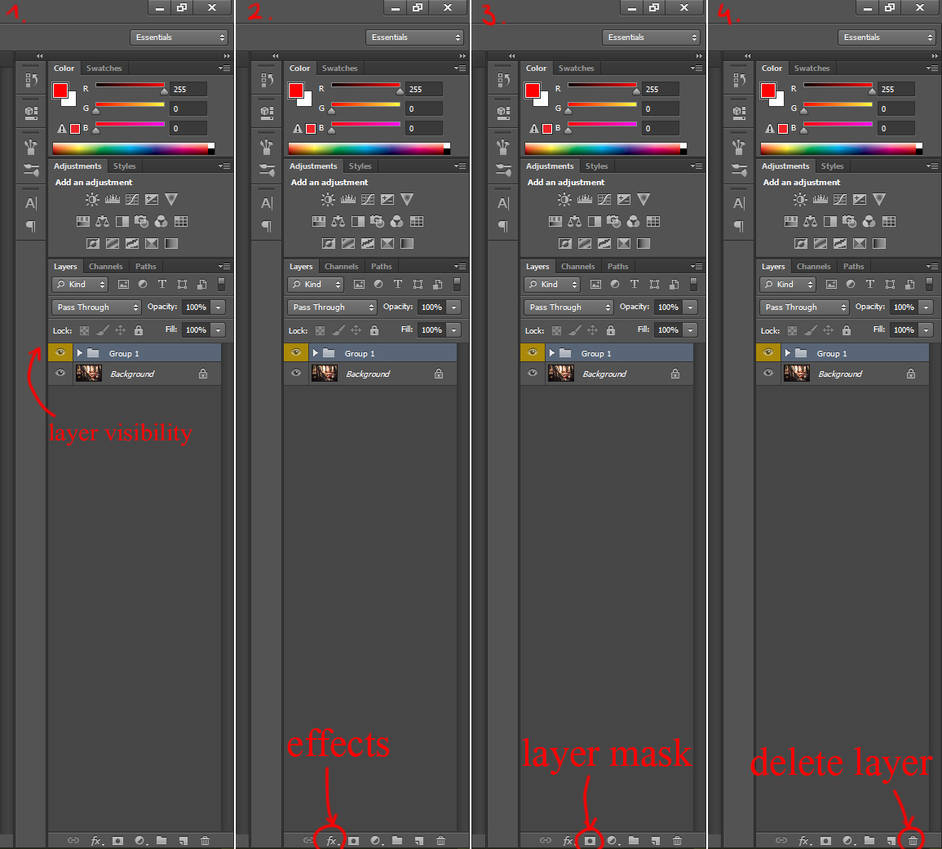 1.) More PS basics... on the first image you can see how to select Layer visibility. If you want that layer is visible, then simply leave
EYE
icon
VISIBLE
. If you want to hide layer then click on the EYE icon and it'll turn invisible (if you want to turn it visible again, then click on the icon again).
2.) Below Layer menu you can see FX/effect icon. When you want to Drop Shadow, add Stroke, Glow, Emboss...and other things, then you can choose effects from this selection.
3.) And layer mask... let me tell how this thing works. When you draw on one layer, then if you don't want to delete some parts with eraser permanently, they you can click on this button. New IMAGE will appear next to your layer (white image), and there you can erase things with Eraser. If you want that some parts of this layer get visible again, then you can draw with BRUSH over that layer again (or you can disable/delete Layer mask layer). Remember that when you erase/draw over, then you have to choose LAYER MASK LAYER...not regular one.
4.) And this button is to delete layers...nothing special. When you want to delete more layers, then hold SHIFT and delete them more.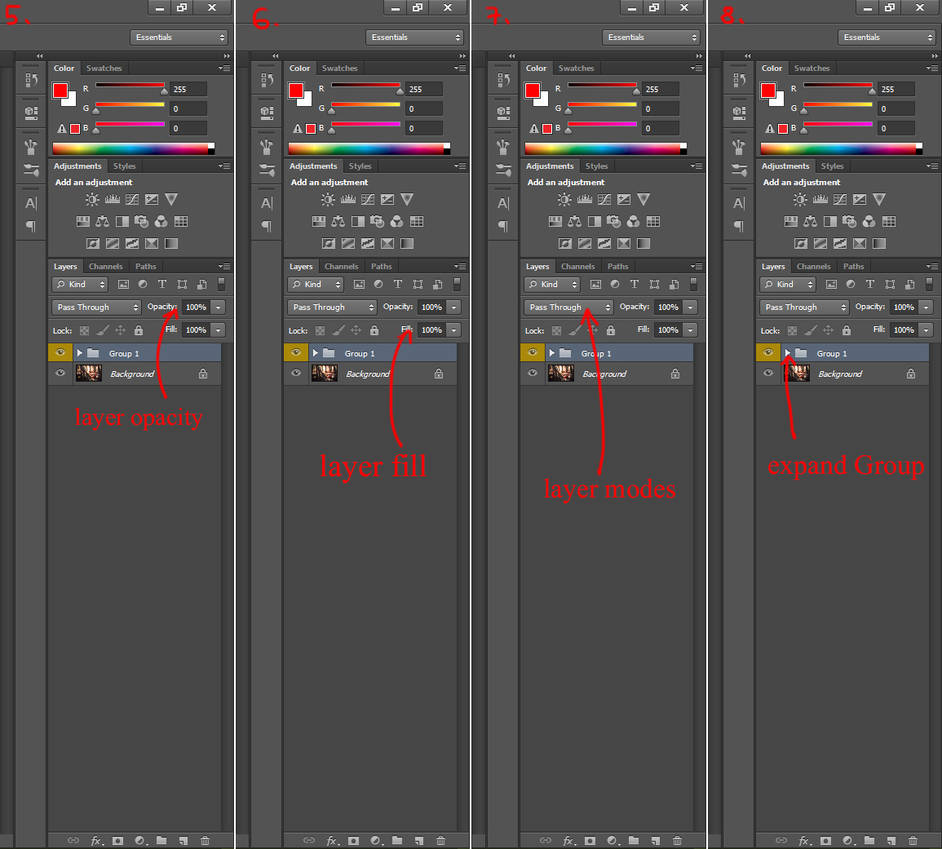 5.) This is for choosing LAYER OPACITY. When you want that one layer isn't visible too much, then simply select lower Opacity.
6.) And this is Layer Fill... When you have Normal layer, then you really can't see difference between Layer Opacity and Fill. Well, when you have some effects, like Shadow, Glow, Stroke...(from FX menu), then when you set 0% and Fill opacity, object which you drew on that layer will become invisible, but effects will remain (when you would select 0% at Opacity, then effects would be invisible also).
7.) Here are LAYER MODES... each layer mode will do different effects to a layer. For coloring black and white image I mostly use Soft Light and Overlay layer mode... for adding other effects I use others also (I use many layers with different modes, so I can achieve more effects and colors).
8.) And when you have GROUPS you can also hide/expand it (I mostly hide it when I have more layers and when I don't use layers from that group). Simply click on TRIANGLE button, between eye icon and folder icon... there you expand/hide group and its layers.
That's everything for now

... I hope you learned something new and if you liked this tutorial, then you can also

fav this article. Thank you

More tutorials by us you can see under
THIS
folder

If you have any questions, then feel free to comment under this article. We'll be glad to help you.

---
Yeah... another free journal skin for you (note: only premium members can use journal skins). I did another collaboration with awesome
weida34
(I did design and she did coding... again). Well, new skin is this which I use right now...
MetalliC_V2
(you can click
here
to install it). Our other collaborations were
Sketchbook
and
Nature

Hey guys! I hope you are doing amazing

I have a small request; please read the journey till the end so that you don't miss out on the incredible simplicity and benefits of Color Balance. I understand that some of us like to read the journal halfway and jump to a conclusion, which might not be ideal. I'd be grateful if you could please allow me to make an unbiased demonstration simply by watching the entire journalist. Lots of love! Thank you by me http://www.razelion.com/2021/03/pet-fusion-merge-table-list-utopia..html