uhm...I'm normal????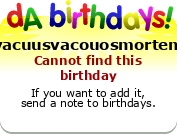 :thumb719967199:


stfu, I love fan made Mike, I grew up with the fan made fandom, and suddenly everything changes. I'm autistic, and stubborn. I WILL STAY WITH THE FAN MADE VERSION!!!
I have accepted the actual canon universe, I just still like the fan made version too.
AND I STILL DON'T LIKE DOLL X MIKE!!!
I WILL NEVER LEAVE THE FNAF FANDOM! NOR THE OFF FANDOM!! THEY'RE NOT DEAD/DYING!!!!




:thumb520239986:
((and yes, i do ship a few FNAF guards, but I don't draw or write fan fictions about them. maybe some cute fluff on wattpad, but nothing else. the only porn I draw is my own OC's and maybe canon characters. but I don't do porn, only artistic nudity. I don't draw nudity for the sake of it. if I do, I post it on my pixiv. and then it's often fun sketches))

yeah, I like clone wars! so what?! it's the first fandom I came into, and I'll NEVER leave it!

Favourite Visual Artist
TIMELESSUNIVERSE IS THE FQKING BESTT!!! Blastic heart, Inverted mind inc, and LeaDrawingFrench are fine too though...
Favourite Movies
I have a looong list-Alien, re-call, terminator, Tomb raider, justice league dark, mask, guardians of the galaxy vol. 1 & 2, transformers: the last knight & Dark of the moon, Avengers age of ultron, Avengers, pirates of caribbean, Zathura, next gen, ect.
Favourite TV Shows
(Idk if it's a "TV" show) Transformers prime, Silver Fang, Star Wars the clone wars, Den som dræber(danish series)
Favourite Bands / Musical Artists
nomy, Three days grace, Micheal Jackson, memphis may fire, set it off, Alan Walker.
Favourite Books
warrior cats, fallen, carnivall's master,
Favourite Writers
Wattpad: true_lovers3, AnonymousTOZ,
Favourite Games
plague inc, FNaF, OFF, keep in mind, Timore, Antumbra, The static speaks my name, you left me,
Favourite Gaming Platform
......steam????
Tools of the Trade
emaralds...or I hit the villager if the price is too high.. sometimes I kill the villager if I'm really having a bad day.
Other Interests
art. sleep. eat. toiletwhen forced by my body. dreaming. music. drinking(not alcoholic, idiot).