Andrew Warhola (aka Andy Warhol) was a leading figure of the Pop Art. Today, an exposition open at Le Grand Palais in Paris named "The Great World of Andy Warhol" which present not less than 250 works selected from the thousand portraits he did since the early 1960s. So if you are in Paris before July 13th 2009, take a little detour to Le Grand Palais to discover or rediscover his work. For only 11€...
But just imagine if he had lived a few more years to know digital cameras and software like Photoshop and particularly the Big Electric Cat version (1996) and earlier! Personally I think that he would have done ten or hundred thousand portraits and that he would have experiment more color combinations and associations that he did. And certainly got a hit to do so...
Pop Art is an effortless painting style (art style) comparing to others like impressionism, pointillism, cubism and even op art etc. Indeed with a graphics editing program, like Photoshop, you can easily and in a short time realize a really good work.
The rules to create an Andy Warhol like Pop Art portraits are simple:
- remove details to make the subject being more attractive by increasing the natural contrast of the picture ;
- turn the portrait lines in Black and White and more generally in two colors ;
- use colors with an exaggerated contrast hue.
Rather than creating some tutorials to explain how to reproduce the artist works I chose to do some Photoshop Action for users to acquire the general techniques used by Warhol through Photoshop in order to reproduce or create some Pop Art portraits. Of course these actions are not absolute solutions. Nothing is worth than a realization made with time and adapted to the original picture, but I think it's a good solution to forward techniques of Pop Art portraits.
My most famous action is
"Che Guevara 1962"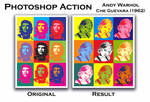 My preferred one is (because I find the original pretty, I have discovered Warhol with it, and it was quite hard to build it)
"Brooklyn Bridge 1983"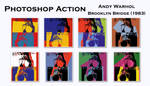 The others are available here :
v4r4n.deviantart.com/gallery/#…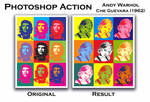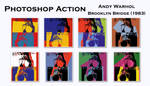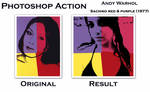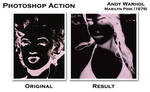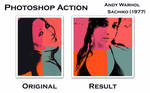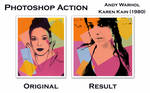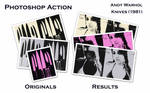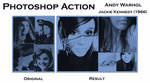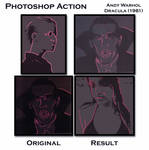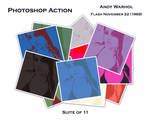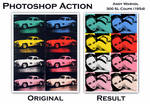 Feel free linking some works you have done... (And the further ones)

~v4r4n
PS: Answer of the question "If Warhol had gotten Photoshop, Digital camera and DeviantART ?"
He may had enjoyed it !