Hi there, first off thanks for viewing my page...

I love writing, anime and lots of other stuff. :3
Please note that I write and do screenshot photos, just send me a note on your character and such. I do coloring for collaborations, just send me the link with color choices and where.





Get a FREE visitor map for your site!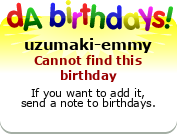 paypal.me/kjohnson85
:thumb116546897: