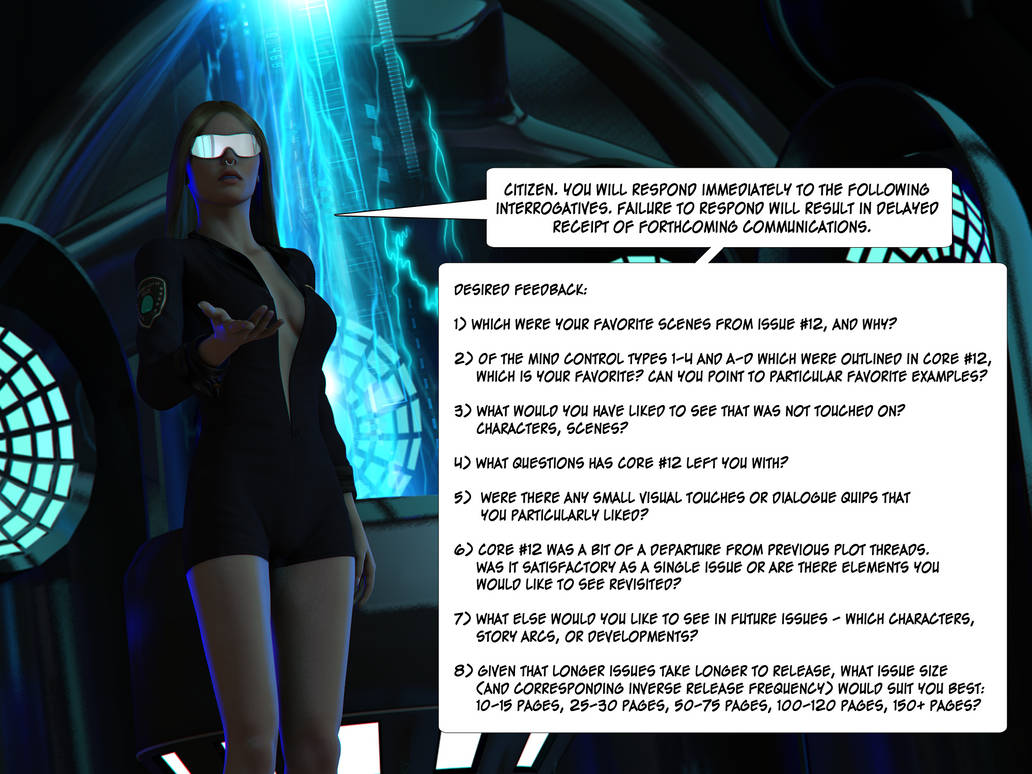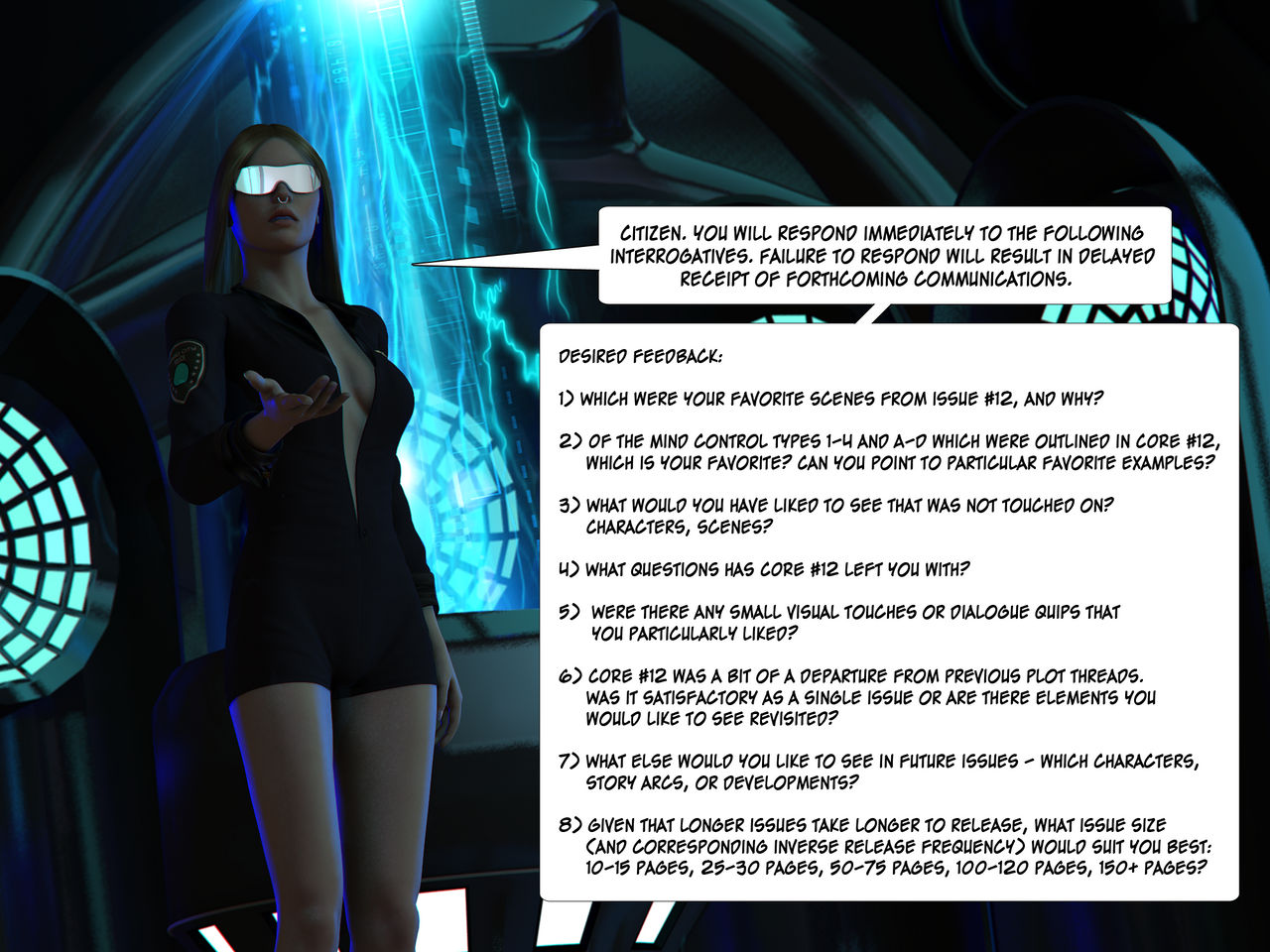 Watch
Citizens. This is a public service announcement
. Feedback time!

Responding to this post via comment or PM or email will allow you to be included in the 'Feedback Goes First' early access program for the next issue of CORE!


Make sure to check out Tabico's blog if you would also like to leave feedback there along with her other posts @
tabicosf.blogspot.com
Also, if you'd *like* to correspond via pm, feel free to send either myself or Tabico a note on DA *or* e-mail either of us.
1. every scene Ive witnessed so far? (with only 88 pages in already)...i must say i love them all ... each conversion Ive seen can stand on its own....there are no boring repetitious corruptions that make you lose interest, because you know how it will end up....I''m still trying to find a favorite corruption scene i can say...? Nope, i love them all..from the first, (doctor York), to the second, (Agent Tammy), to the third, (Agent Sabine), the fourth, (blue lilix clone agent) ....Every scene ive seen so far is outstanding & the artwork (UZOBONO) Combined with the story pacing (TABICO) Is some of the best ive seen so far 2. I love number 3-4 of the number degrees , because i am a big INVASION OF THE BODYSNACTHERS Fan, and this parallels that genre...i also love it that the parasites take over the victims very quickly, & they are pretty much undetectable...which makes the subversion's happen pretty quickly.... i am a fan of A the Bodysnacther aspect of what the parasites do, how it takes them completely over until they are one with the organism....HOWEVER i an not a fan of how a person who has been infected long term becomes a character from the f/x channel "THE STRAIN" .3. Since i haven read the whole chapter #12 i cant comment on that at this time.. But to piggyback on what dpx6101 said... More Hive and transformations please. Maybe some gender bending..meaning, not turning any of the female characters into men, but perhaps some parasitic futanari? that can subvert & corrupt other females also...(my opinion) 4. (Again) ... Since i haven read the whole chapter #12 i cant comment on that at this time.. 5. I loved the background, & the attention to detail that's in each scene...especially the nude scenes, very realistic...and the facial expressions are waaay above average.. There is a scene in which after Agent Tammy is converted she is asked "How do you feel now"? , she says "Better...Much better now..." That's a line straight out of the 1978 version of INVASION OF THE BODYSNACTHERS.... 6. I Love the departure! keep it up by all means, all previous chapters are outstanding on their own, but this departure "spices it up a lot" but please keep many elements of this kind of subversion & infiltration going forward (bodysnacthing, parasites, mind control).... not satisfactory as a single issue in my opinion,i think there should be many elements of this thread woven in going forward... 7. I would love to see more of doctor York, & Agent Tammy together, & I love this 'Bodysnacther, & parasitic slug conversion/corruption" that Hive has started...it also would nice nice if we could see elements of Tabico's "PEA"... that had humans turned by being placed into actual alien Pods...those who cant be infected and turned by the parasites can be converted by being placed into Pods...(again, my opinion) 8. Again my opinion...i prefer longer issues, even if it takes longer to produce, but i can understand from the writer/renderer prospective, that it could cause writers block, and producing a shorter story is better on the writer/renderer....that being said? i still prefer 150+ pages of story material......
The Artist thought this was FAIR
4 out of 4 deviants thought this was fair.
1) York using Exis' programming on Tammy and their scene at the end. We know she's been infected, so that tension is there, but we're not sure how it'll play out. Then York slips Exis' programming in and any upper hand Tammy could've had vanishes. It's slow in that it's calm and almost casual, but also quick if that makes sense. Then the fact that Tammy requests that York "do it again" is just mmm.

Tammy and Sabine in the shower were also great. The routine hookup in the shower, then the fact that she notices the comm jam and it instantly becomes sinister. The panel with Tammy holding her arms against the wall while the worm infects her is sizzling. Again Tammy's calm and encouraging demeanor while she is physically holding her friend down to infect her i just hawt.

The couple panels of what York did to Nicole to try and "break" her were hot as well.

I also very much enjoyed the off screen asskicking that Melcthion dished out, requiring almost every infected member of CORE to subdue her.

2) Types 1-4 are all appealing in their own way. As for A-D, I feel the same way, but a little bit less so for type A. I don't really have strong favorites. Diversity is the spice of life. Too much of type one for instance could start to feel less powerful.

3) Nothing springs to mind. Keep making awesome stuff!

4) Obviously what is Hive's next move, what does Melcthion plan to do about her organization nearly being destroyed (maybe make more officers like Nicole or Katka?), what is the general fallout in the group from almost everyone getting mind controlled, are any precautions going to be taken regarding the booby traps and backdoors that Exis left behind? Will Hive make Melanie enslave someone close to her next?

5) I liked the infected licking their lips. It's a little creepy, a little sexy, and a simple way to communicate they're infected when we might otherwise not know. I liked the Jack cameo. The difference between what Core saw in the conference with Marquart and what was actually happening at Marquart was cool. All the officers talking about where sororitization (love that word by the way) is allowed was really funny. The final line of the issue is haunting and sexy and a perfect cliffhanger. That's all that sticks out at the moment, but I could probably keep going if I thought on it longer.

6) It was definitely a departure, but a great one. I personally think it's satisfactory as a single issue. It has the feel of a reset at the end with Mel swooping in to kill all the parasites, like the status quo reasserts itself. This issue had that episodic feel like from a tv show. Pretty much everything would be cool to revisit in some fashion, even the exact same parasites, but I'd be careful with the huge scale mind control and then reset. Some other comics I've read abuse that narrative device (or whatever your want to call it) over and over again with the same characters to the point that nothing that happens to anyone feels like it matters because you expect a reset to the status quo at the end and that makes it kinda boring to read. This wasn't boring in any way and it actually did manage to still further the main plot, I'm just wary of resets like that. I hope this made sense.

7) Wherever this goes I'm on board. I don't want to think too long about what I want to see next, I'd rather just enjoy the ride.

8) Whatever length is easiest to produce is the best. I'm not particular on how much gets released and when.

I really love what you two do. You are amazing and lovely!!
The Artist thought this was FAIR
5 out of 5 deviants thought this was fair.