COMMISSIONS // OPEN
---
TOS
|
FORMS
$$ = okay! |

= okay!

open | 75Opts Commission3/2019 :: due to life, wont have much pc time, so taking regular pencilheads only for now until further notice. delivery time may be shorter than normal. other styles are still available, but bc theyre digital, wait time will be longer than normal.
Status and slots can be found on my front page under commission section.
Before contacting me please read my tos which covers wait time, do/donts, etc.
Paypal ✔ | dA points ✔. 1st come 1st serve. 3 characters limit per person.
Turnaround time will be slow, if you cannot wait, please refrain from ordering!
ICON MINI★★★
@ 8.25usd/75O

each. file size 100px, or 50x or any other size upon request.
Pick from the 2 frontal styles AND all my mini chibi styles!
Detail limit: Easy. Too much will omit or simplif

Merch+Art Shop // 4OOpts charms + bookmarks !!finally managed to create a journal for this after the feedback i got when i made a poll asking for interests on points as a currency on my handmade stuff.
here you can get those fanmade stuff ive drawn mail to your home! will add more stuff in the future, but for now will only be offering the following. ofc my main shop is still active, and if youre interested a certain item and would like a price quote in points, lmk by comment below or note me.
CHARMS // 4OO

/ 4.5O$ each shipped
they are handcut laminated with ball chain attached, roughly 2~2.5" tall, 1 sided image. not everything in the photo are available, see list below for the more updated list.
CURRENT AVAILABLE CHOICES FOR 2.5"+ CHARMS //
[Vocaloid] - Miku, Len, Rin / [Adventure Time] - Flame, Finn, Marceline.
[Free! Iwatobi] - Haruka, Rin, Rei / [Sword Art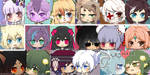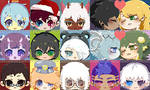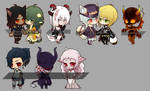 !! March~May, progress will be slower than usual. Appreciate everyone's amazing patience !!
TO-DO
~unlimited slots for now~

---[190307]--- trashloid--- vct icn+shrink chm--- ✔chm in the making
---[190213]--- Duckuu--- exp semi chib--- ✔edit/coloring/waitin appr
---[gift]--- ashley--- exp reg adv ph of their dnd oc.
---[gift]--- ishoji--- surprise for those cups of coffee <33
---[AT]--- ???--- single/couple? surprise --- 5ever planning

CANNOT PROCEED
---[1808]--- Smarmy --- reg chibi waist, sp icon --- ✘wait on ref
---[AT]--- 18199 Waltz--- adv pencilhead--- waitin4them / not start
---[AT]--- 8203 shmooblee--- waist flat --- waitin4them / not start