commissions | resources | thoyhou.se | instagram | twitter | ko-fi

Widget type: CUSTOM
Deviant type: CORE MEMBER
Last update: 31 X 2016
Before using, please get to know with the On Premium Content and Refunds Q&A.
This particular design includes two sections. The top one includes two columns, where in the left column you can put your dev ID image (preferably around 180x180 px as the one used in the preview) and media icons, while the right column contains a menu with four buttons that you can customize to your needs and a place for the description.
The second section contains three columns, which you can customize to your needs - you don't have to use the content that I put in the preview! You can put here descriptions, lists, group or user avatars, images, anything you want

The download pack contains seven color versions of the code, depending of color of the buttons and text: white buttons / black text, white buttons / white text, red buttons / red text, blue buttons / blue text, white buttons / blue text, green buttons / green text, white buttons / green text.
The PURCHASE CONTENT option is considered as a donation, thank you! This code is now FREE!
That being said, I will no longer will provide support regarding this code.
The resources aren't included
, and I used these resources and the image for the preview (
I have a permission from

morgiee

to use her drawing
):
Free-to-use Identity Pixel Set
Social Media Icons
/ Dotted background pack
---
Other similar resources: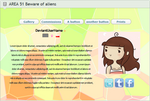 Do not hesitate to note me if something doesn't work right! I'll try to fix the code ASAP!
Comments have been disabled for this deviation