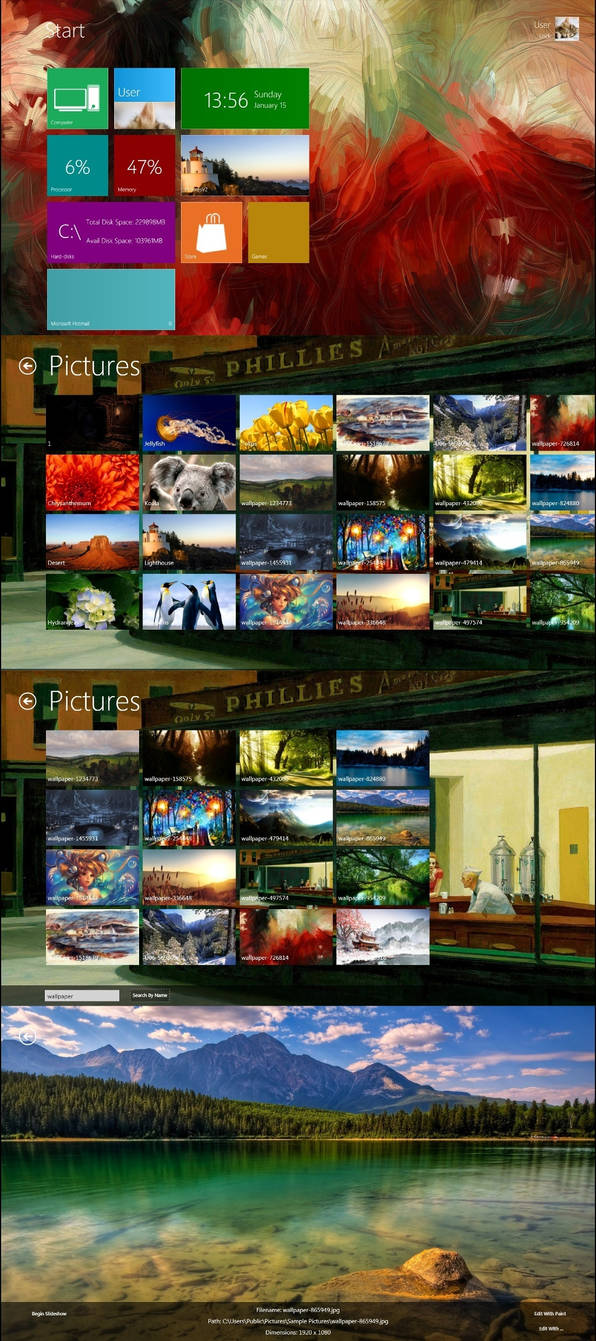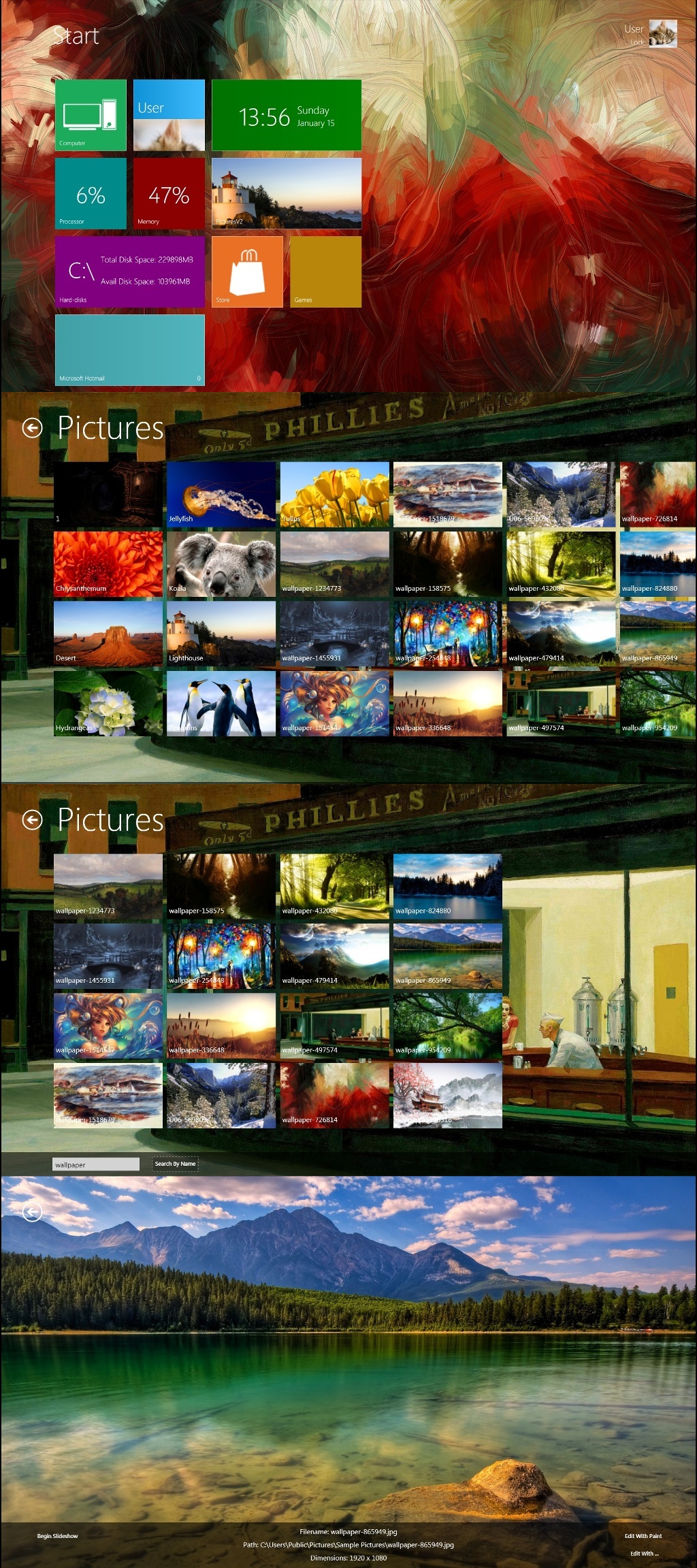 Watch
Update: Fixed the fullscreen slideshow where images of different aspect ratios were stretched

Lo, and behold, the Pictures V2 widget! Read below to see what features are available.

You can now set the folder path, change the background image and set the number of rows for the icons. Drag is also working. Clicking at the bottom of the screen will bring up a simple search bar, filling it up and hitting enter will narrow down the number of images in the list.

Clicking on any of the images will bring it to full view. Left click anywhere on the screen and drag it and release to the left or right to go the next/previous image. Clicking at the bottom of the screen will bring up the info bar as shown above, with a slideshow button (picture changes every 7 seconds), and 2 edit buttons (edit with paint, or edit with a program of your choice).

Memory used by this widget when browsing through the image list will be freed, making it a big plus.

Be warned though, loading takes a little longer when there are more than a few thousand pictures, and may start to jam up if there are way too many pictures (for eg, 10,000+).

Let me know if there is anything that can be improved upon, or if there are any bugs.

Update now works fine...Thank you.
One more humble suggestion... instead of naming it as PicturesV2, simply pictures would sound better. If you want it to be something different from original Pictures widget, you can name as 'My Pictures' etc. Not a big issue though. I think I can do it for my own sake.
Reply

I'll change it to My Pictures as that sounds much better. Will release the next update and have it submitted to Newgen's store once my partner gets all the icons I requested done
Reply

Not working for me!
I unzipped it, copied the folder to widgets folder of newgen. Got the new widget. The tile appeared on newgen interface. Now the problem starts... the tile is blank. I clicked options...specified an image folder, specified no. of vertical icons, chose a different colour for background...but then I cannot click the OK button...I mean nothing happens if I click OK button. The setting screen remains the same. If I click cancel or hit the escape key, settings disappears and I am left with blank tile.

What I am doing wrong? Seems a greeeaaattt widget. But can't seem to get it to work.
Reply

odd, the settings seem to work for me just fine, I'll take a look at it again.

in any case, just modify the config file manually as a work-around. Usually after changing the settings, you should "refresh" the tile for the slideshow to work, but I'll take a look at the settings bug
Reply

Sorry for that... I got it working! I was making the mistake while copying folder.
Anyways lot better than the original pictures widget. Looks lot better. Customization options you have provided are very nice & working great. My only complaint is - when I click a pic, it gets stretched to fit to screen. So if the pic is not of the same resolution as the screen, it gets distorted in all ways to get itself fit to screen.
Can this be cured?
Awesome widget though. Now my expectations for other upcoming widgets of yours is much higher!

Reply

And one more thing... the tile on newgen still is blank. It is not showing any pics or running slidwshow. Clicking it open the widget fine though.
Reply

oh sorry about that too...restarting newgen solved the problem. May be I am too eager to give feedback on this one. Nice job though.
Just do something about pics getting stretched to fit screen.
Reply