Hooi!
ushirin:-
"A cotton heart and a button eye..."





● NO NSFW/PORN/DDLG! THX U!! ●
Sensitive, Shy, Stubborn
Black, Red & Pink, Dandere and Burikko
Student of Fine Arts and Pedagogy
Graduated in Graphic Design, Animation and Languages
Mah name is Daisy, some friends and relatives call me Tata but u can call me Ushirin.
A young woman with a child's soul, I like to draw and color mah drawings, to take care of the flowery garden of mah house, morning sun and rainy afternoons.
Im sensitive, caring, stubborn, talkative ... cheerful and spontaneous (according to some people).
Dont judge mah orientation, mah art, mah friends kay?
Lift the head Princess otherwise the crown falls ✧♡
🍓
Ketsueki Gata (Blood Type):
O 型
🍓
Languages:
Portuguese / Spanish / English / Japanase
🍓
Like:
Cats / Cows & Spiders, Friends, Bonsai, Coffe, Cake, Tea, Flowers, Witchcraft, Pure People, Love and Witches
🍓
Dislike:
Dogs, Ice Cream, Coke, Racism or any form of Discrimination
🍓
Divas:
Yana Toboso, Arina Tanemura, Mia Ikumi, Kyary Pamyu Pamyu, Park Bom, Angela Dippe, Maisa Silva, Risa Yamagishi, Tsugunaga Momoko, Risako Sugaya, Paulina Goto, Melanie Martinez
🍓
YouTuber I love most:
Kizuna Ai, Felipe Neto, Fih and Edu e Maiara Medeiros 💖
🍓
A Wish:
lvl 1 ultimate - dragon awaken )o)
🍓
Working:
College Homeworks :v
🍓
Current Mood:


🍓
Current Obsession:
MTT, Yume Nikki and Sven Otten <3
🍓
Current Song In My Head:
KPP - Kimi no Mikata
Bye! 💖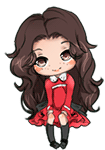 riicu
-sama &
Suzumeny-chan
-chan thx u

----























:thumb614265303:
:thumb642474635: :thumb641224004:

:thumb632494507:









:thumb626881612:





:thumb626288501:


:thumb588998820:

:thumb625805462: