So I made HeroMachine 3 characters inspired by the team colors of all 130 NCAA Division I FBS college teams. I got it done in about a week. And what I learned about color schemes is:
Pretty much everyone uses the same darn colors!!!!
And the most popular are Red (or Maroon, Scarlet, Crimson, Cardinal, etc.) and White (or Cream, Albino, or whatever).
Here are all the Red and Whites:
Wisconsin
Nebraska
Rutgers
Indiana:
That's four teams just in the Big Ten alone. Fourteen members of the Big Ten (yeah, I know, makes no sense, can't count, etc.) and *four* use basically the same team colors.
Oklahoma:
(Crimson and Cream = Red and White!)
Stanford:
Utah:
Alabama:
Arkansas:
Texas A&M:
Mississippi State:
Georgia:
NC State:
That is 13 teams in the Power 5 alone.
Houston:
Temple:
Western Kentucky:
Miami (OH):
Ball State:
Louisiana:
New Mexico State:
UMass:
A total of 21 teams about of 130 use Red and White. That is 16%.
The nine colors in the crayon box are red, blue, green, yellow, orange, brown, black, white, and purple. That gives 72 two-color combinations. 16% of 130 teams had to pick one: Red and White.

Other popular color schemes are: Blue and Gold, Black and Gold, Blue and White, Red and Blue, and Black and Orange.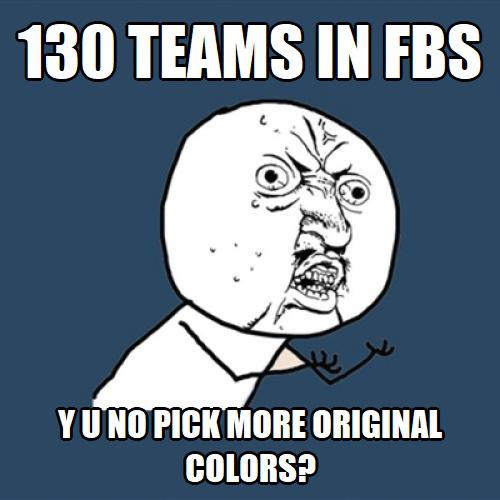 Thanks for reading my rant on this. I will be angry over more important things tomorrow.

Joel