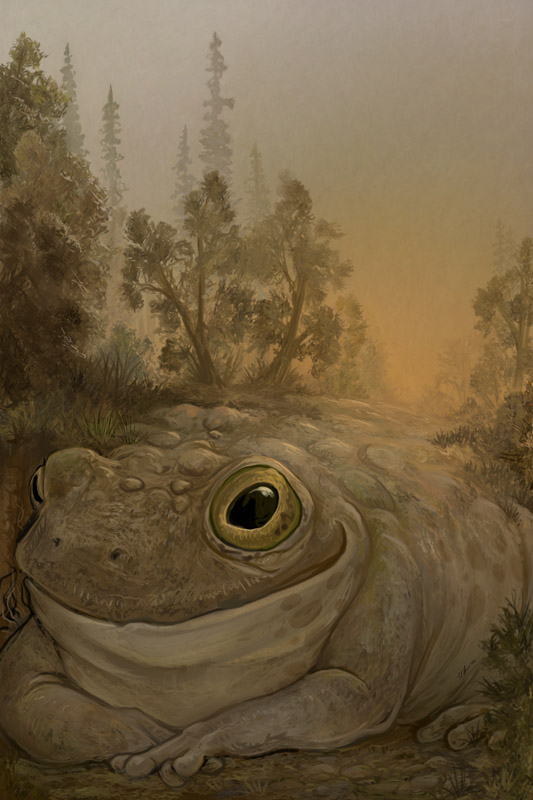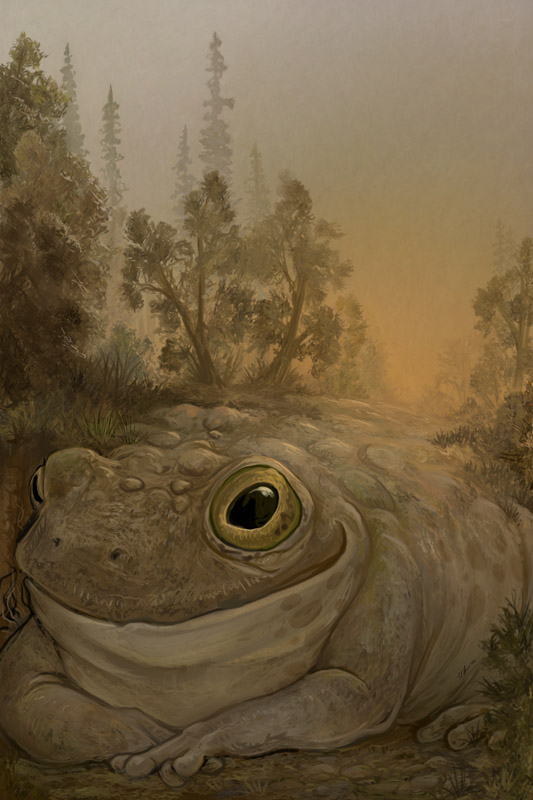 Watch
Generally when people ask where I get my ideas--or why I get my ideas, or what the heck is wrong with me that I have these ideas--I say "I did a lot of drugs in college."
This is true as far as it goes, and it's short and pithy and exactly the sort of answer people expect from a weirdo artist, which is why I use it. However, it doesn't actually have any bearing on the question--I might as well say "because I'm from Oregon," or "because I like wombats." While I did indeed spend my college years hammering on the Doors of Perception (and occasionally leaving bags of flaming dog-doo on the Front Step of Enlightenment) it had very little apparent impact on my art. At the time, I was painting very standard cheesy Larry-Elmore fantasy stuff, and it wasn't until years later, when I was far too busy to take a weekend off to meet god (and not nearly able to bounce back from the hangover as I did when I was twenty) and my spinal fluid was as pure as driven snow--I don't even drink, fer cryin' out loud, my liver could probably sing madrigals with my spleen--that my art got really WEIRD.
While I have no particular regrets about my misspent youth,* I never actually got any painting inspiration out of 'em. Very few hallucinations translated well into art, unless I had wanted to paint garishly colored psychedelica, which I didn't, and still don't. Most of the things you experience in those altered states are either inane or inexplicable, and you're left making random hand gestures and going "Like--it was like--you KNOW--like---" Just doesn't make for good art. Briefly having a blinding vision of the unity of the cosmos is all very well and good, but what COLOR is it?
But now, that has changed. Because finally, over a decade later, I managed a painting based on a hallucination. I had taken a vast quantity of the wee little mushrooms knows as Liberty Caps and was wandering aimlessly through the woods, down a logging road that had fallen into disrepair. The ground was damp and lumpy, mud packed with rocks, and in the depths of my slodgy psilocybin soaked brain, I thought "Wow. This road looks like a warty toad skin. Obviously the ground is not a toad--" (even high, I knew full well that there are design limits on the size of amphibians) "--but it'd be really neat if it was!"
The irony, of course, is that something from the depths of drug induced stupor is if anything, a pretty reserved and mellow sort of image for me. Not even any man-eating pears...
Anyway, it's digital, done in Painter 7 with an Intuos tablet. Prints available, for $10 and $20, plus shipping. I take paypal, check and money order, send a note or visit
[link]
for details!
*Naturally, kids, you shouldn't do drugs. This anecdote is not an endorsement or suggestion that you do. But if you're going to, try not to be an idiot. This is about all that we can ask of our fellow man, so I'll leave it at that.