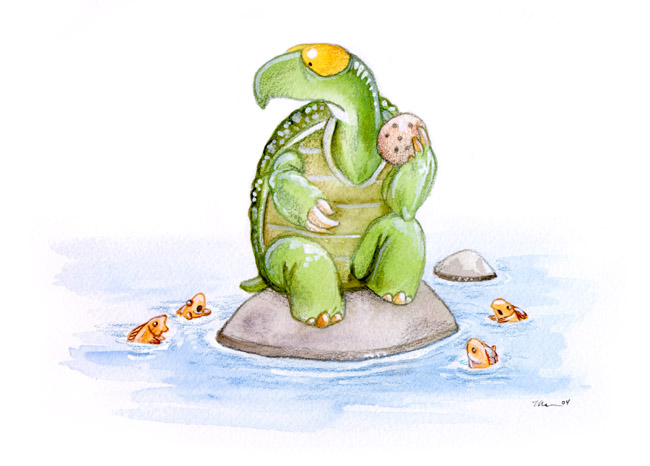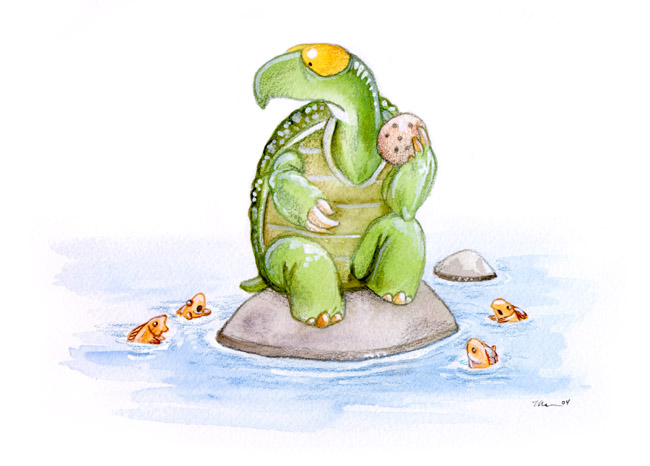 Watch
Elwood was pretty sure that the goldfish had just come to beg for crumbs, but something about their blank little eyes and gaping mouths was really starting to creep him out.
Err, yeah. I wanted to paint a turtle, just to start working out the turtle design in the Pink Lizard/Dodofish style. This is probably not the final stop of the turtle design, since it's obviously a quickie, and it kinda got away from me--I had intended the little goldfish just to be like pigeons, waiting innocently for a handout, but they wound up just a trifle more sinister than I'd planned, (the size made it tough to get detail into 'em) and it's kinda starting to look as if Elwood should avoid putting his feet in the water. When I visualize the next stage of the story, I get a half-eaten cookie forlornly on the rock, and rings of agitated water. (Alas, poor Elwood...) So yeah, kinda got away from me there...might have to revisit it some time, and work large enough to get some detail on the goldfish that I couldn't get at this size.
Anyway, original is for sale, prints available! Visit
[link]
or drop me a note!