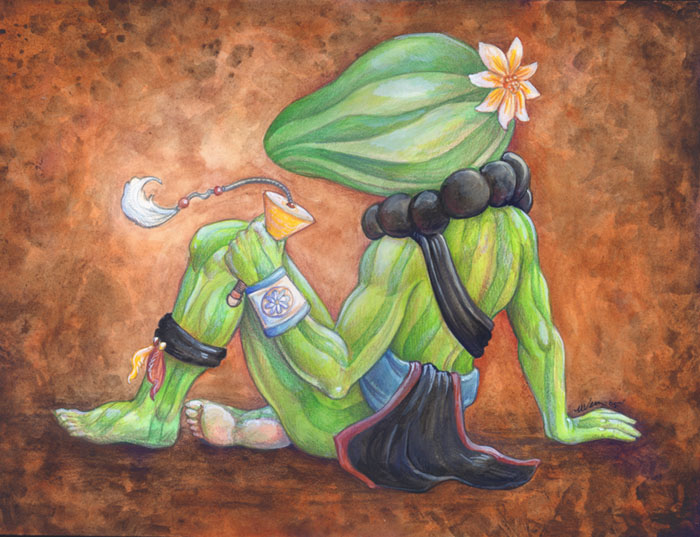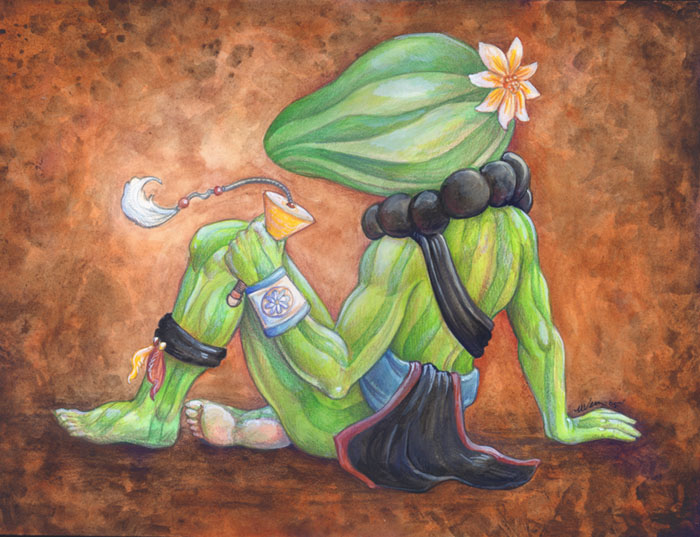 Watch
I didn't make this guy up.

I know, I know, I wish I had. But the Hopi--or possibly Zuni--beat me to it by a coupla hundred years. This is my meagre rendering of the Patung, or Squash Kachina, one of a group of dancers representing gods that perform at First, Second, and Third Mesa among the Hopi Indians.

We don't know crap about Squash. He might be originally Zuni. He's possibly important to the Pumpkin Clan, but apparently there aren't many of them left, and they don't know either or aren't talking. (Kachina research is riddled with this sort of thing. If you want rituals free of paradoxes and contradictions, you're in the wrong place.) More commonly he's portrayed as a runner, one of a group who challenge people to footraces and reward the winners with food, and beat the losers with yucca whips. (And a good time was had by all!)

All I know is that I think Squash is friggin' gorgeous. He's all green and stripey. So this is kinda...fan art...sorta. Art for the pure love of Squash. I am not sure if confining my fangirlishness to an obscure vegetable member of an indigenous religion is more or less dignified than the usual sort. Were I thirteen, I would paper the inside of my locker with pictures of Squash. He's just that cool-lookin', damnit. (I draw the line at saying he's dreamy. I have a purely platonic affection for Squash, I assure you.)

My rendition of Squash is nothing special--basic pin-up, just wanted to draw the guy. There are various flaws and it's not exactly daring in composition. But it did lead me to utter a phrase I never expected to utter, "Dude! My squash is ripped!" So that's something. It really is this saturated, it's not just computer artifact, although there's a lot more subtle color in the shadows of the original, alas. Credit! Credit is due entirely to the various kachina researchers, most notably Barton Wright, who's documentary on the subject I consulted for Squash's costume.

I guess the original, 10 x 14 mixed media, is for sale, although I may decide I have to keep it out of sheer fangirlish glee. Still, make me an offer. Or perhaps I'll just have to draw more Squash. More...squash... I could do prints, too, $10 plus shipping.

Squash!