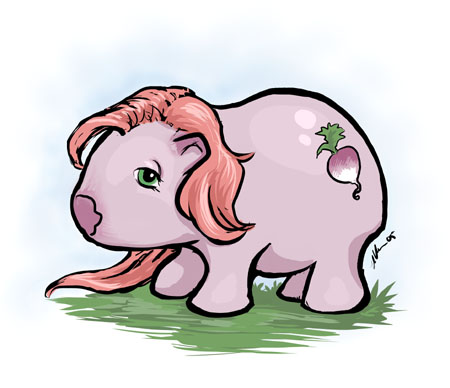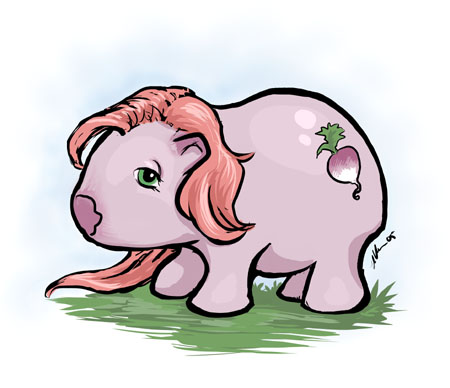 Watch
I don't collect my little ponies. I do not have the time nor the manual dexterity to make modified ones, which is just as well, because the world probably doesn't need "Hasidic Jew Pony" or "Balinese Demon God Pony." (Well, it probably DOES need that, but it'll probably have to come from someone other than me.) And I couldn't collect them. Where would I put them? Balinese demon masks have a certain cachet on the wall, but it takes a panache and swagger that I lack to integrate My Little Pony with My Little Living Room.

Still, occasionally I get these urges. They correspond to going toy shopping at Christmas for my nieces, and finding myself standing raptly before the stacks of big-eyed ponies (who have gotten thinner since I was a kid, and what's up with that?) and remembering with great fondness the epic, Wagnerian battles of my youth, fought with My Little Ponies and the little plastic animals that came with the Strawberry Shortcake dolls--big, sweeping, Peter-Jackson-style epics, (at least in my head) laden with death and torture and heroism and sacrifice and disturbing sexual undertones. Because kids are freaks, man. (My blog would indicate that I am in no way the only one here, which makes me feel better. I think.)

They're all long gone now, and the plastic animals with modern Strawberry Shortcakes do not look like they'd hold up to the Charge of the Light Pony Brigade, but still, I get these flashbacks.

Which turn into doodles of My Little Wombat. This one would presumably be named "Turnip" and live in the Pretty Wombat Sparkleburrow or something.