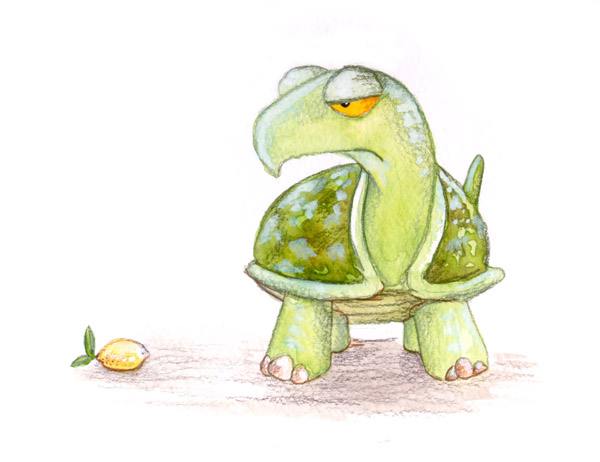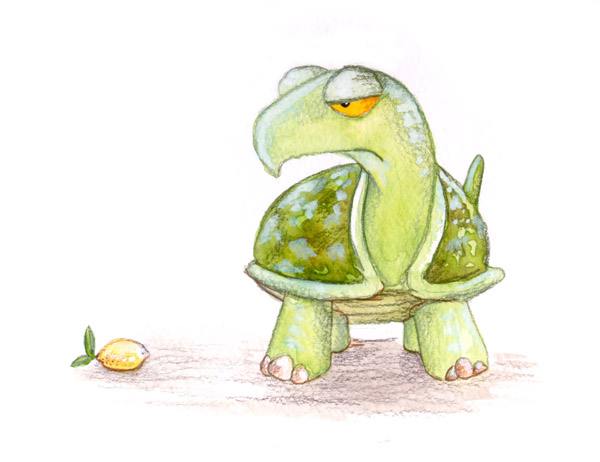 Watch
Occasionally, the title will come to me and explain everything. Other times, it just raises more questions, like what was up with the turtle's parents, shackling him with a name like "Balthazar" and what's his big gripe with lemons (or this particular lemon, anyway.) Maybe the lemon killed his parents, and now it's come back to finish the job? (Nah, you'd expect more than disdain in that case. Or at least the lemon should have a little lemon-sized Uzi.) Somewhere there is a doodle of mine entitled "Balthazar Disdains The Frog," which is undoubtedly the first derivation of the title, but has no turtles. Obviously I feel that the name "Balthazar" has to be involved in disdaining something, but why is anyone's guess.
Watercolor, 5 x 7. I sometimes feel a little weird posting these quick little watercolor doodles in my main gallery--someone always comes in and says "Well, you didn't spend very much time on this!" (and they're right, because it's a 5 x 7 doodle of a turtle scorning fruit, and not meant to be High Art so much as an attempt to get these things out of my brain, posted to amuse, not strike fear and awe into the hearts of my enemies*) but if I put it in Scraps, people yell at me for not putting it in the main gallery. So I dunno. Can't please all the people all the time, I suppose. Anyway, the original's for sale, drop a note or visit
[link]
if I've gotten around to updating.
*I don't actually have any enemies, or if I do, I'm happily oblivious to them. But if I do have any, I hope they're ninjas. That would be COOL.