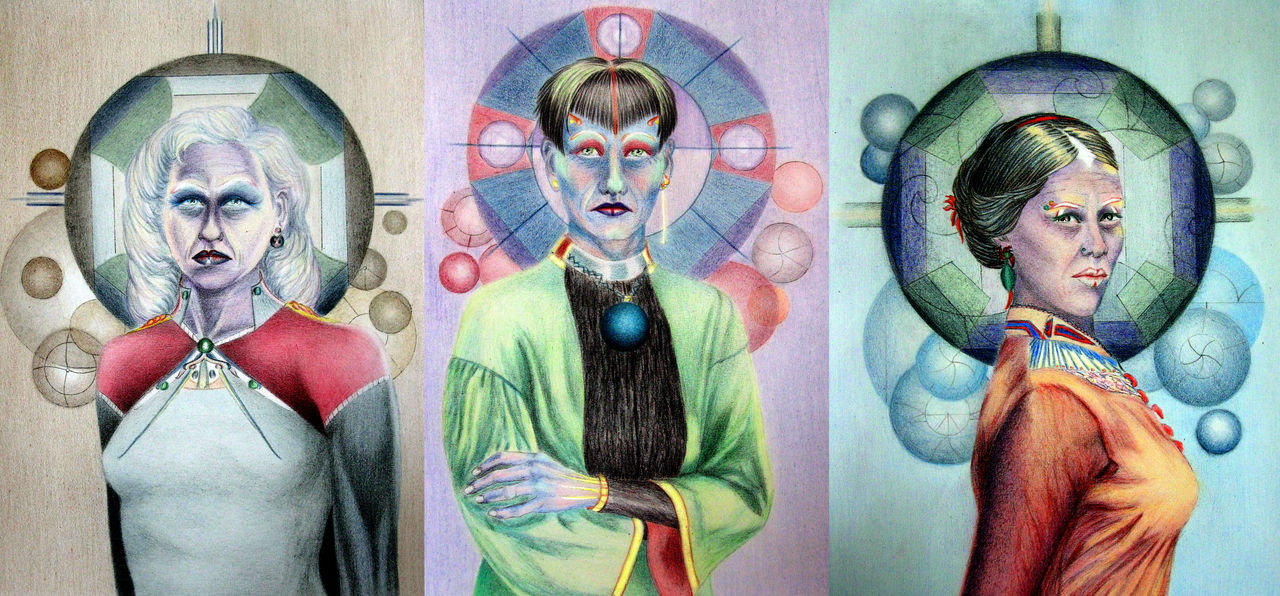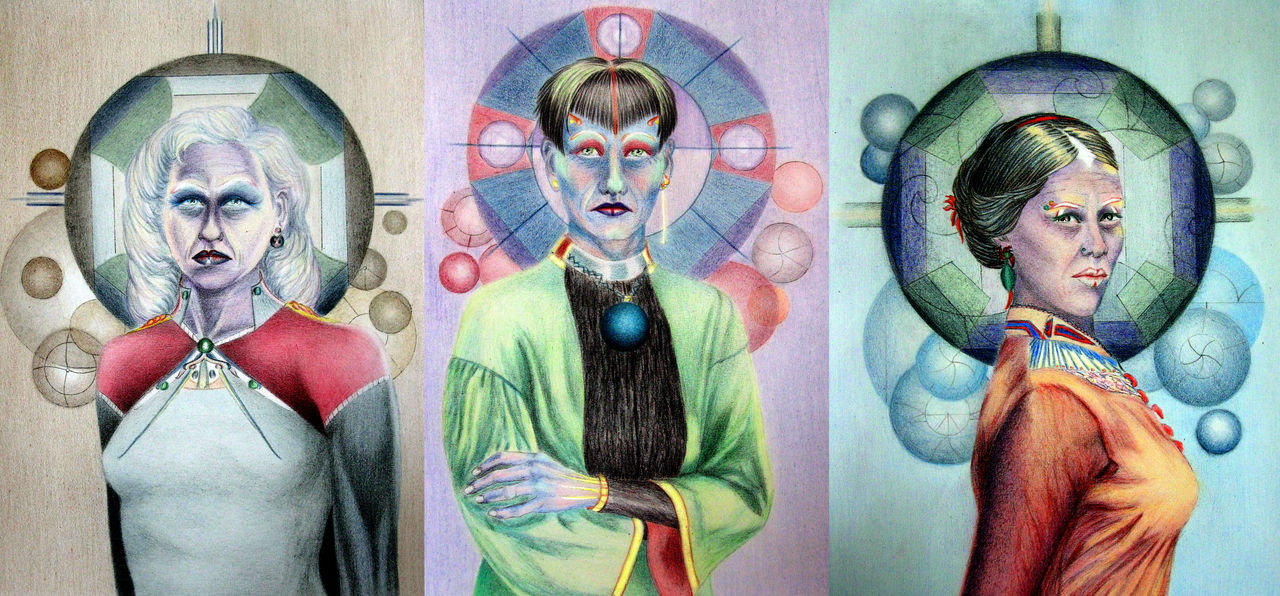 Watch
EDIT: Popped Gree in the middle instead of Ahaang as suggested.
Decided to have Byrnaah facing the left, as it was in the original.
Characters from my novel, 'Legion'. They are aristocrats (Kolwacs) of the Quilhiril Collective. 'Kolwac' is also a term of address.
EDITED: Left to right: Byrnaah (aged about 80), Gree (aged about 220), Ahaang (aged about 70). Most Kolwac live to about 200 years. Maajons (ordinary folk) and Underlings live much shorter lives. Most Underlings don't make it past twenty.
Their eyebrows are white because it's wartime. It's the colour of blindness, and the Jihtriwyll (Jiht) Federation and her lackays had no idea what was coming until it was almost too late.
If you get the occupations of all three right, you get a Core!



Byrnaah doesn't want this jihad, hence her sullen expression. She doesn't bother putting her hair up, but she has a reputation of being a maverick. Which is why she'd been given the job.
Ref was a sketch from Thor and an actress from a film noir movie. I changed only the outfit, jewels, etc, since the actresses' look was perfect for Byrnaah. Yes, she's wearing a cloak. She can be histronic, is Byrnaah.






Gree is your typical Quilhiril woman, tall and angular. Green eyes are very common among her people, especially blacks.
Gree would rather potter about in her greenhouses than attend to her duties, but you disobey her at your peril. She is rarely seen in public, unless she's on duty. She has a foul temper, and everyone is afraid of her.
Ref was a model in a striped 70s-inspired one-piece and a headscarf over long curly red hair. I too changed the eyes, nose and mouth, but kept those lovely cheekbones and cleft chin. Got rid of the bulky bracelets and instead opted for an undershirt and collar, and yep, her fingernails are supposed to be white. Gree wouldn't be seen dead in bulky bracelets or coloured nails.






Ahaang likes to think she's the epitome of descretion. Certainly, she runs a tight ship, but she has no idea treachery is right under her nose.
Ref: Indian bridal mag, Sharia. The model was sitting on a bed. I changed her features, makeup, and accessories, including the ones on the dress.
Be assured, however, she is no bride. No such thing on Quilhiril. I kept the dress simple, since this is everyday wear.






Neither of these two are Kolwac. I gotta draw some male ones.



Characters © me.