Here it is, after five days of work, she's finally finished. Standing 20 inches (50 centimeters) tall and made from fleece fabric, this is the largest plush I've made so far. I let you guys vote on what OC to model her after, and you chose Tracey Scouter (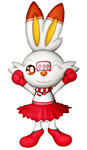 ). I didn't include the outfit though since I din't currently have the right kinds of fabric for that, but if they buyer REALLY wants the outfit included I may be able to work something out.
Yes, as the title says, she IS in fact for sale. $60 CAD plus shipping. Please note me if you want her and we'll arrange the payment and shipment. If more than one person offers to buy her, I may end up holding an auction to determine the winner.
Edit: Due to an astounding number of people telling me I should keep it and no one so far offering to buy it, I guess I'm keeping it. XD Don't worry I'll make more. :3
Image details
Image size
2616x4326px 16.42 MB






Overall





Vision





Originality





Technique





Impact
Basically, LOVE it. The 3rd one shows its feet. How amazing! I would have said the same things in my previous one, but no. The eyes are amazing, but the red thing on the neck looks like it hanged itself, but it's fine! I also like the orange things on the feet. You can make more of them! BTW, I suggest the custom plushies commission.
It would help if people request custom plushies... BTW, I love all your plushies! They look VERY, VERY accurate to the originals. You can also make it buyable, or... just show it to people. I love Pokemon as well!