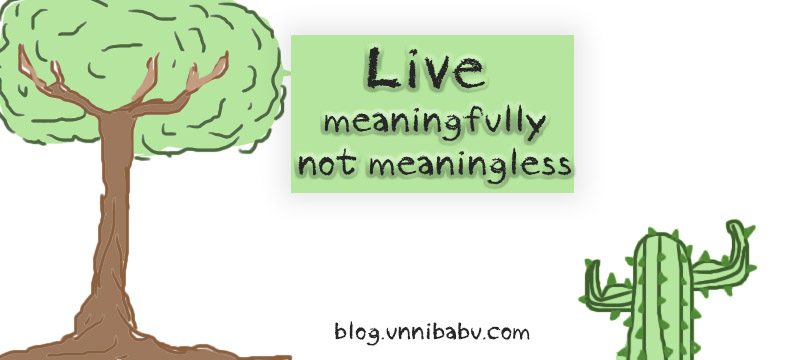 "What is the purpose of my life?" this is a question most of us ask ourselves, especially under the shower or before sleep. I have seen such questions in online forums. Recently, I saw this question on Quora, from a 42 years old IT professional woman in the USA. So even a well-educated, successful person has the doubt whether own life is meaningful or meaningless. Many people reach a point in life where they start to think whether their life is meaningful despite all the academic and financial prosperity.
Nature — an adept teacher
You can learn life-altering knowledge from nature than youtube tutorials with subtitles. Instead of typing "How to live a meaningful life?" on google or youtube, just open your window and look outside. You can see ants marching, bees collecting nectar from flowers etc. Nature is such an adept teacher and all you need is keen observation and deep thinking. Why are the ants and bees collecting? Because they are not just surviving, they are building a future. Their collective effort is what makes them immune to extinction. Creating and preparing for a bright future is a sign of intelligence. The hexagonal shape of honeycomb(Geometric marvel), the traffic system of ants which is far better than ours etc are some examples that prove the intelligence. We as a more dominant, more intelligent species has been trying to do the same — building a better future. But the problem arises when we deviate from a collective effort to individual goals.
Narrow mind — a path to self-destruction
"Vasudhaiva Kutumbakam"
This is a famous Sanskrit phrase found in Hindu texts(Upanishad) which means "the world is one family". Bible also shares such a great view, "'Love your neighbor as yourself." Unfortunately, this wisdom from a divine source is losing its practicability as people are getting more selfish and narrow-minded. "My world is my spouse and my kids," is the motto of the modern world. The idea is not to give away everything to the whole world, the idea is to make your life meaningful by expanding your concept of family.

READ MORE



#life #wisdom #motivation #inspiration #spiritual #meaningful #lifemeanings #article #journal