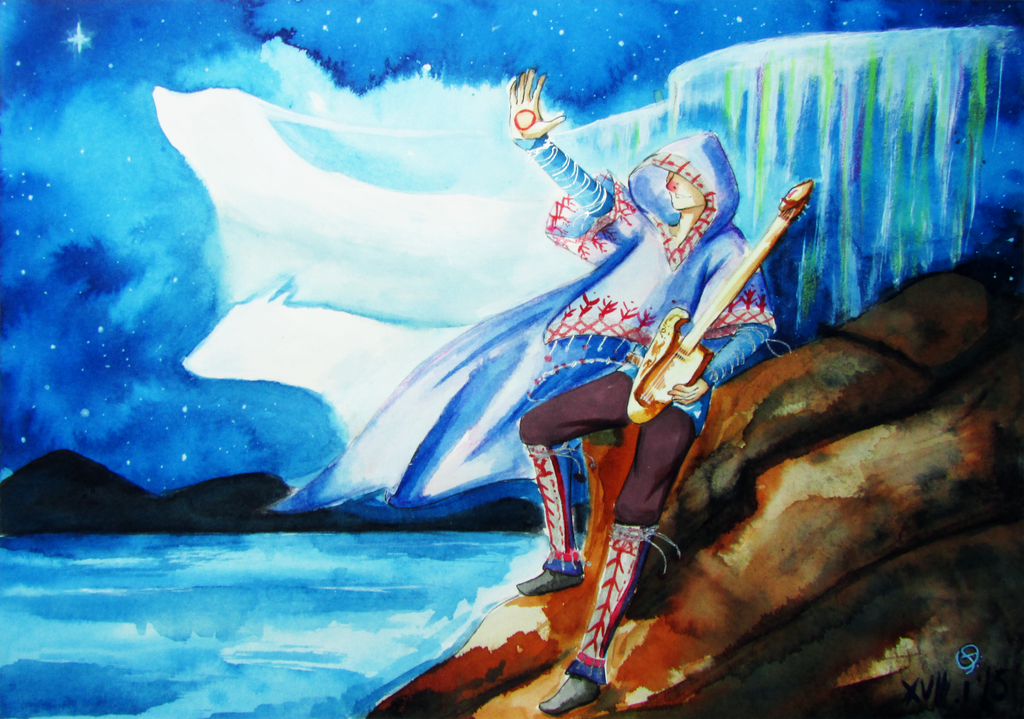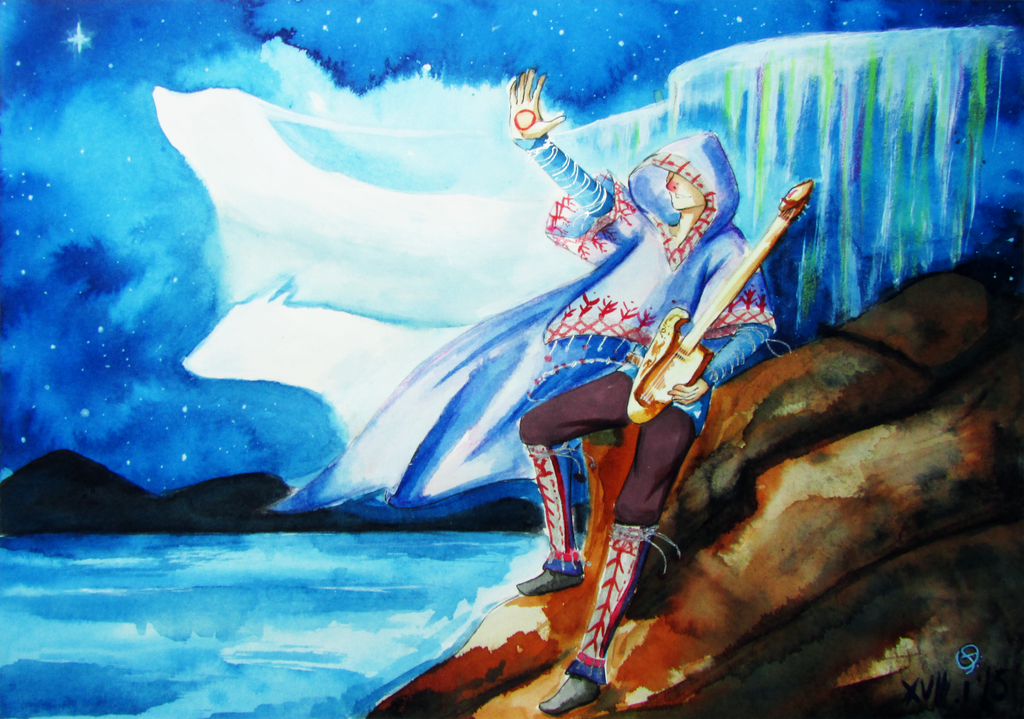 Watch
Youtube
|
Tumblr
| Twitter


Watch the video!!

------------------------------------
And here is the first fully finished illustration of 2015!

I pretty much said everything in the
last sketchdump
except I lied about one thing: The Kalevalan side of inspiration was stronger

Althought the cape didn't turn out how I exactly wanted, I'm still happy about the remaining

Enjoy!!

Watercolours, water-solutable pastels, acrylics, gel pen
Art (c) me

Reply

ah I saw the video, was very cool to see a traditional drawing and progress and see what materials you use

hehe I wanna steal all of them! >83 adore the result too, it's like the Bard is directing the magical sky

great job on the clothing, the cape doesn't look too bad

Reply

Oh yoo, why everyone likes to steal my art supplies

Glad you like it, thanks friend!!


Reply

I would travel all Europe just to stole your solutable pastels (this is a joke)

The cape turned out pretty decent, especially those red ornaments ( like, how much patience do you have for doing this?) I like when you're under "Kalevalan inspiration" spell!
Reply

"One night, Uni was in her bed sleeping peacefully. Suddenly, she heard some door
rattlings and comes off the bed in terror while reaching for the lamp. She turned on the switch and saw it: Saw the one figure she knew for sometime. And the metal box she was holding in her hands.
Her pastels were getting borrowed by Anna!!"
Not too much patience needed for the ornaments; just a tiny tiny brush I have it for sometime
Oooh, I am; I am always under some spells at the same time but Kalevalan and Middle Earthen spells are getting stronger these days

Reply

Oh, nice! I would like to add the following sentences:
A (not so) mysterious figure sneaked out through the window taking the box with her, and then quietly moved forward in search of the closest railway station
(I just love traveling by train)
. The only thing she left behind was the small piece of paper with the short message: "I'll return these later, I promise"
Even thiefs should be polite

Dude, tiny brushes are sometimes the worst: one wrong move and then "omg it's totally screwed up" - do not underestimate them, they're mean beasts! It's good for you, youre making great inspiring artworks with 5hose inspirations at your side!
Reply

We all need those thiefs (but noo, i can't call you a thief ;u; )
*rides the rainbow of inspirations to the sun dawn like Lucky Luke*

Btw, do you have Skype?
Reply

Yeah, if thiefs were as polite as me (okay, I've never stole anything, to be honest

) the world would be better place with less violence, I guess

Lucky Luke?! Omg, I feel so old, this cartoon is old, but, this was awesome show.
Nnope, I very dislike this method of communication. Like, I have somewhat like a deep fear of almost every method of communication. Erm, it is called social anxiety, isn't it? Anyway, I'm not using any of video communicators because they make me feel really bad
Reply

And the comics were also amazing, gods when we grew up ;u;

Well, you don't need to use the video feature (like me since i also have the same fear and anxiety thing. i'm not a photogenic person and talking face to face makes me sweat waterfalls OnO) we can just use the message feature C: )
Reply

Oh my, i didn't had the comics! Must read them as soon as possible (reuninting with childhood!)
OK, then, i created Skype for myself, you can find me as
cromm-cruach
(i bet this come as no suprise for you

). I guess I'm just not ready for face-to-face talk yet, but chats are pretty cool. Awww, high five for same anxiety problems

:c
Reply