Hello Deviants! How's it going? Long time no see. My child takes up all my time.
ALL MY TIME. Aren't these things meant to sleep at some point?!
Anyway.
AAAAGES AGO. Seriously. So long ago this happened -
I saw this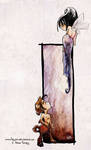 by
HenarTorinos
which is one of my all time favourite pieces on the site.
So I commissioned a tattoo design.

Then I never got it done as I am a huge wimp and scared of pain and piercings and veins and needles.
Then I gave birth and thought "I CAN DO ANYTHING".
So I went and got it done.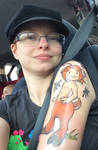 Joy. I didn't cry, vomit, punch the tattooist or run away! Success.
Scream is doing brilliantly. He is nine months now.Currently shouting at his Dad. He enjoys shouting.
Hope you're all doing brilliantly - I hope to be back in force one day but LIFE HATES ME.
I love you.


Thank you to everyone who drops by my page for a visit, thank you for the favourites they are truly appreciated. I will reply to all comments I get and to notes that are asking questions. I will also drop by everyone who's watched me to give some love.
Thank you for all the love, stock use and avatar wearing you do! It's awesome and it is not unnoticed.