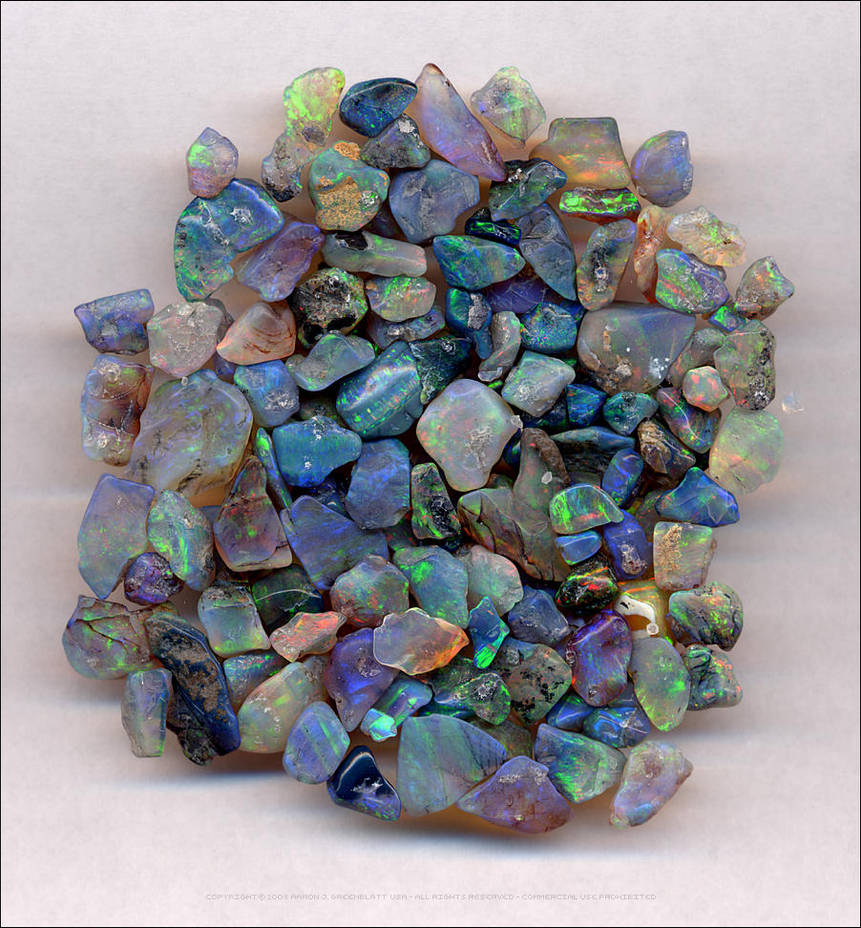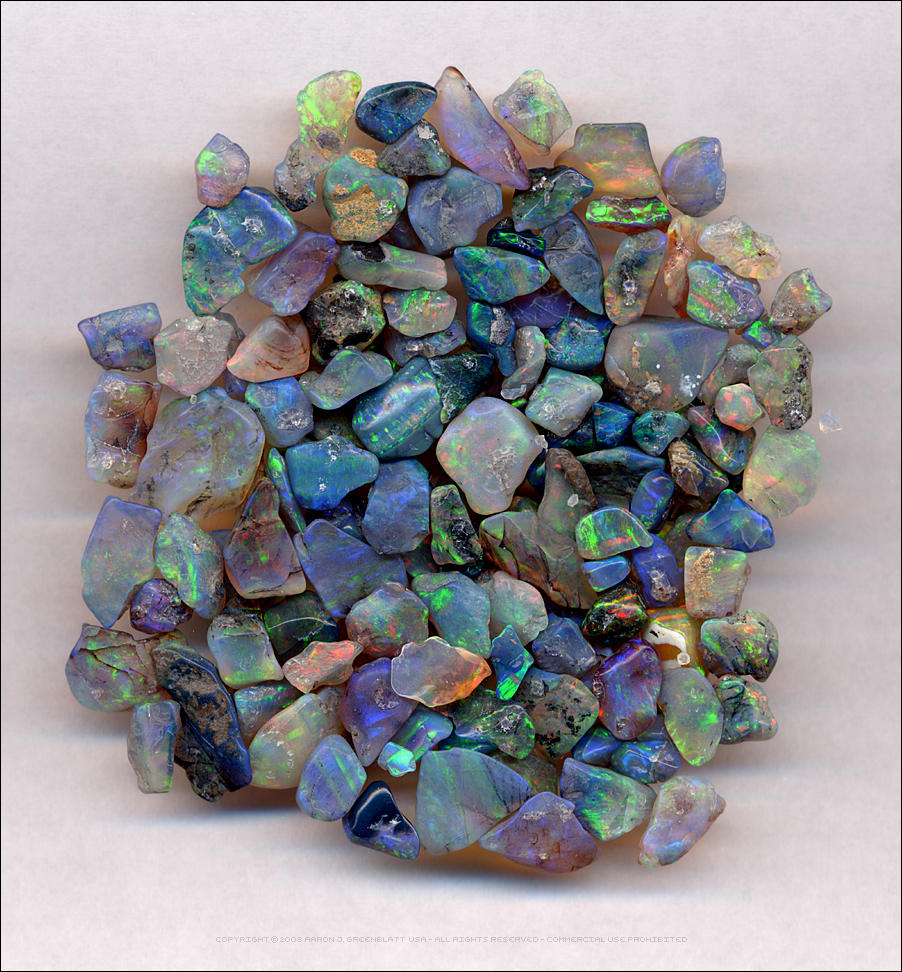 Watch
(please click image for full view)
Title: Tumbled Opals
Image: Created by Aaron J. Greenblatt using an Epson Perfection 1200U scanner.
Editing: Edited in PhotoShop 7.0 for color accuracy, size, and to apply copyright and border.
Location: These opals currently reside in my private collection in the lovely state of Michigan, USA.
Description:
These are natural black, brown, and crystal opals from Australia. They have been tumbled but not polished. Most of these opals are smaller than a US quarter. They have not been chemically treated or enhanced in any way, aside from being tumbled.
These opals display a wide range of colors and patterns and most of the time the colors go all the way through the stones. Under just normal lighting conditions, this pile of opals radiates with dull splashes of color in all directions. This image doesn't do these stones any justice. Because these pieces aren't polished, they still look like pebbles one might find on a beach. The difference of course is their bright changing patterns and colors. Try to imagine an entire beach full of nothing but these types of stones. It would be incredible to behold.
About Precious Opal:
Precious opal shows a play of colors in white light that is due to diffraction from the regular packing of clathrate-like silica gel spheres. Clathrate is a chemistry term referring to a substance in which a molecule of one compound fills a cavity within the crystal lattice of another compound. In the case of opal, it's water spheres filling a crystal lattice of silica.
Although the packing of the spheres may be regular, there is neither short-range nor long-range order in this material, and the X-ray powder diffraction pattern is characterized by a distinct broad hump and a possible weak second hump indicative of material that is "X-ray amorphous". What that means is that opal has no large crystalline structure.
According to Mindat.org, precious opal should properly be labeled as "Opal-AG". The subscript G has been added to indicate that the structure of the silica network is gel-like in that it is composed of large cages with included water essential to the stability of the structure. Most but not all precious opal is opal-AG. So basically, if you see an opal that has flashes of color, that color is caused by spheres of water within the amorphous silica structure and thus should be labeled Opal-AG rather then being called precious opal. Of course, none of this is going to stop anybody from calling opal that has colors "precious opal" but it's still interesting information to know.
What about common opal?
Opal that shows no play of colors is also composed of the same spherical clusters, but they are non-uniform in size and do not pack in an orderly manner thus destroying any possible diffraction of the light and thus any cool coloration. This type of opal is termed collectively "potch opal" and includes several massive varieties.
Information Sources:
[link]
(mindat)
[link]
(dictionary)
Legal: Copyright © Aaron J. Greenblatt. All rights reserved. Commercial use prohibited. This image and commentary may not be used for any reason without expressed written consent.
Please
click here
to view my photography work located in my Gallery.
Please
click here
for images of my glass work located in my other Gallery.
Please
click here
for images of my glass studio located in my other Scraps.