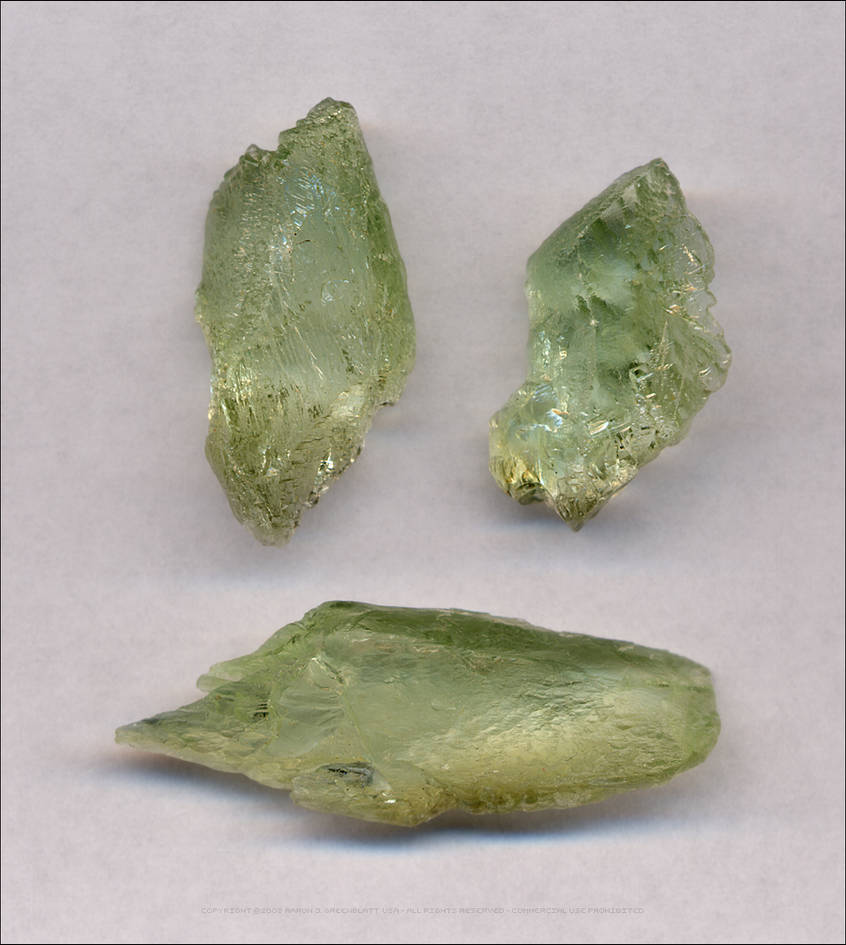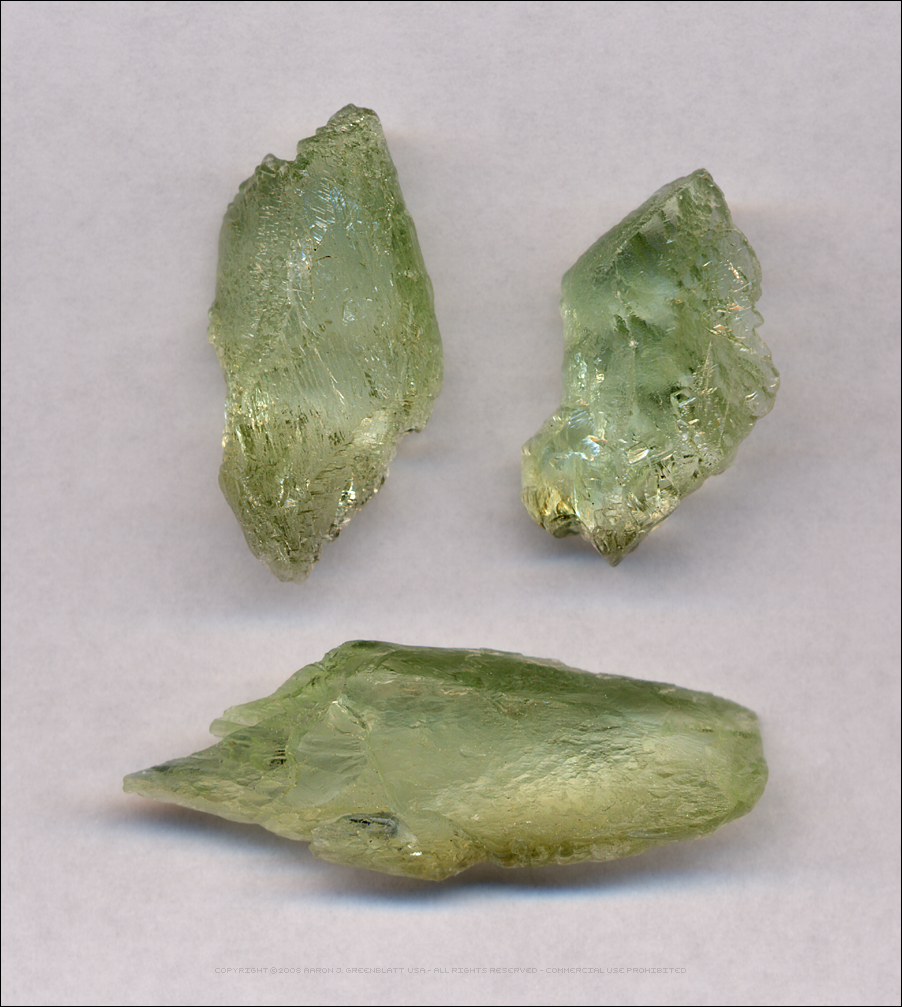 Watch
(please click image for full view)
Title: Spodumene
Image: Created by Aaron J. Greenblatt using an Epson Perfection 1200U scanner.
Editing: Edited in PhotoShop 7.0 for color accuracy, size, and to apply copyright and border.
Location: These gemstones currently reside in my private collection in the lovely state of Michigan, USA.
Description:
These green stones are a type of mineral called spodumene. I purchased them at a mineral show several years ago for a ridiculously low price. Back then, it was still possible to get a great deal on minerals and gems. Today, even the lowliest of fluorite specimens is becoming pricey to purchase. All the more reason to get out into the field and find my own.
About Spodumene:
Spodumene is a pyroxene mineral consisting of lithium aluminum inosilicate - LiAl(SiO
3
)
2
- and is a source of lithium. It occurs as colorless to yellowish, purplish or lilac kunzite, yellowish-green or emerald-green hiddenite, prismatic crystals, often of great size. Crystals form in the monoclinic system and are typically heavily striated parallel to the principal axis. Crystal faces are often etched and pitted with triangular markings.
Origin Of Name:
The word "spodumene" is derived from the Greek spodumenos ( σποδυμενος ), meaning "burnt to ashes," owing to the opaque, ash-gray appearance of material refined for use in industry.
Occurance:
Spodumene occurs in lithium rich granites and pegmatites.
Uses:
Transparent material has long been used as a gemstone with varieties kunzite and hiddenite noted for their strong pleochroism - an optical phenomenon in which a rock appears to be different colors when observed at different angles. Spodumene is an important source of lithium for use in ceramics, mobile phone and automotive batteries, medicine and as a fluxing agent. Lithium is extracted from spodumene by fusing in acid. Spodumene is becoming less important as a source of lithium due to the emergence of alkaline brine lake sources in China and Argentina, which produce lithium chloride directly.
Information Sources:
[link]
(wiki)
[link]
(mindat)
Legal: Copyright © Aaron J. Greenblatt. All rights reserved. Commercial use prohibited. This image and commentary may not be used for any reason without expressed written consent.
Please
click here
to view my photography work located in my Gallery.
Please
click here
for images of my glass work located in my other Gallery.
Please
click here
for images of my glass studio located in my other Scraps.

I promise ..I will never doubt you know what you are talking about again....
Reply

Haha!

Doubting is actually important, as it often leads to more investigation which can lead to new discoveries and new information. Plus, it's fun to talk to other folks about interesting subjects.
...and I'm not always right. I am though the first to admit when I'm shown to be wrong. You will also see the word "EDIT" appear in my Artist's Comments when my image information has been corrected. Like it was for me on my Cavansite Sprays deviation:
[link]

Reply

a person of honor - i like that. its good you can admit it not so many can. Me? i can and do take correction frequently!

Reply

I personally find that when it comes to minerals/glass, it doesn't do any good to argue a different opinion unless you actually have some solid rationale/facts/observations/etc. to support what you're saying. Then it's just a matter of weighing the evidence to see who has the more supported theory. In the end, sometimes it's best just to admit that both ideas/theories have some merit and leave it at that until more information can be gained to say for sure.
It's also good to state when you just don't know something. That way someone else can jump in and help you out to get to a more likely (and possibly correct) answer.
Like with my mineral identifications, sometimes I have to go simply by how the dealer has the specimen labeled because I don't know otherwise. And that can be right or wrong. It does no good to argue with someone who says that the dealer labeled it wrong when that could in fact be true.
So I try and take their opinion into account, add it to the information I have, and let people who see my images come to their own conclusions - which could be entirely different than either opinion!

Reply

Thats a good way, sometimes, i just let them believe what they want, too much energy lost otherwise.
Reply

There amazing. I've never even heard of it. Thanks you providing some information about the gemstones. I really appreciate it.

Have a merry christmas!
Laura
Reply

Spodumene is a wonderful gemstone. It also comes in a beautiful shade of pink called Kunzite. I really love the Kunzite color.

Reply

It looks like a face.
=0


...Um. Sorry. I can be a bit silly sometimes.
Reply

I srsly thought this was three shots of some kind of cocoon.
Reply