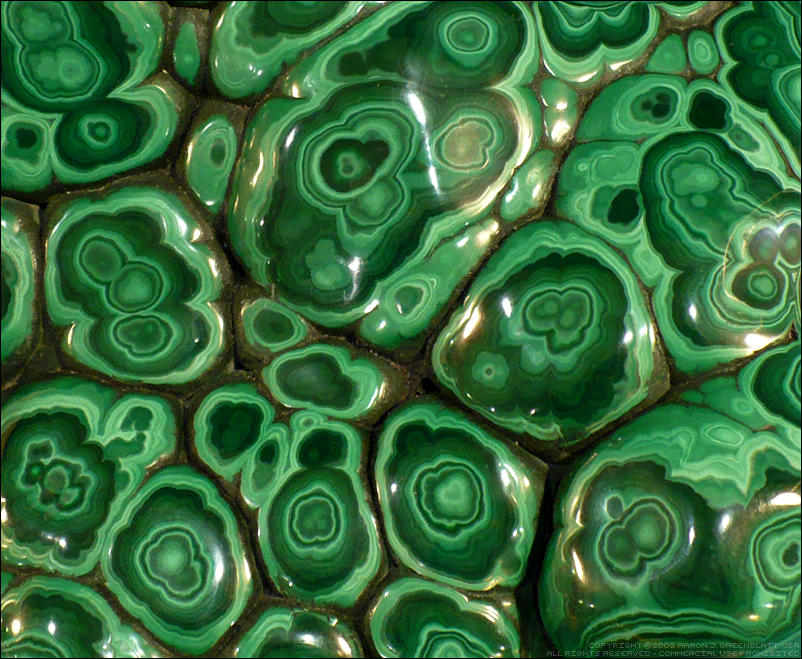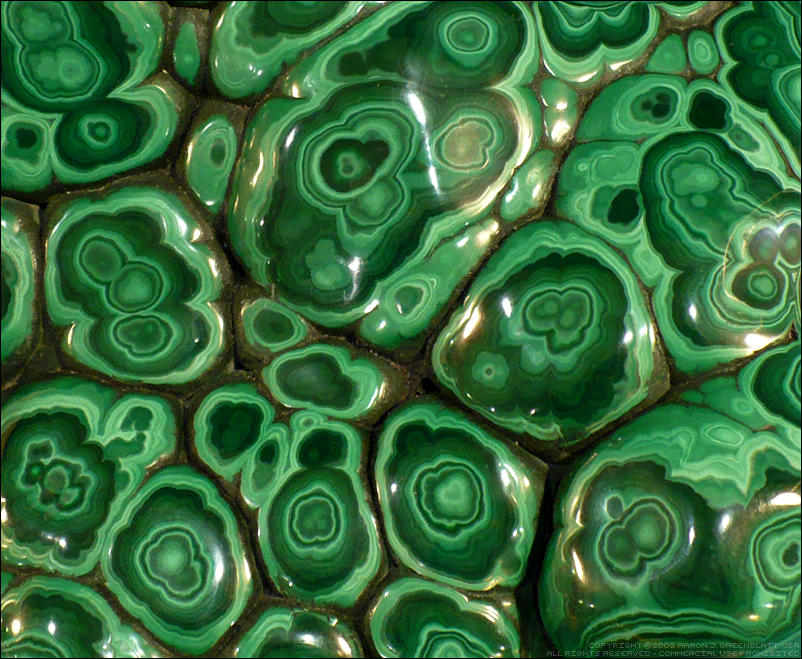 Watch
(please click image for full view)
Title: Malachite Closeup
Medium: Digital Photography
Photographer: Aaron J. Greenblatt
Camera Type: Panasonic DMC-LZ7 Lumix 7.2 MP
Editing: Edited in PhotoShop 7.0 for color accuracy, size, and to apply copyright and border.
Location: Photograph taken at the 2008 Southeastern Michigan Gem and Mineral Show at the Southgate Civic Center in Southgate, Michigan. Show hosted by the
Midwest Mineralogical & Lapidary Society
.
Description:
This is a closeup image of a large piece of cut and polished malachite from Shaba Province, Congo. This piece was sitting out in the open on a dealer's table and measured a hefty 12 inches in length. The dealer allowed me to pick up and move this piece so that I could take this closeup image. Of course, it wasn't until
after
I had moved it that I learned that this piece was selling for $275. Thankfully, I have a good grip and steady hands because this piece weighed close to ten pounds. If I had dropped it, it surely would have shattered - as would my wallet.
About Cutting and Polishing:
Malachite is a beautiful material, but cutting and polishing it can be a really messy and dirty affair. As I previously discussed in the Artist's Comments section of my
Malachite
deviation, this material used to be used as a pigment - and for good reason. Once turned into a powder or slurry (a thin mixture of an insoluble substance mixed with a liquid, as water or oil), malachite will stain lots of things green - from clothing and machine parts, to skin, fingernails, and many other things it comes into contact with. I've personally cut and polished many pieces of malachite and have yet to escape the process without some type of staining occurring.
Malachite is a soft stone with a hardness of between 3½ - 4 on the Mohs scale. It's easy to work with diamond and carborundum-impregnated saws, grinders, and sanders. A beautiful, glass-like sheen can be achieved when malachite is polished with just cerium or tin oxide. It isn't even necessary to use a diamond compound to polish malachite since it's so soft.
Now as soon as my saw comes into contact with a piece of malachite, I prepare for a dark green mess. Malachite slurry is created when ground malachite from a saw, grinder or sander meets up with my coolant compound - which can be anything from water, to various types of oils or even antifreeze. This slurry is often a deep dark blackish-green color and it tends to be thick and often gooey in nature. It will clog just about anything - including hoses, ball bearings, arbors, and anything else it builds up on or gets into. It's often necessary to stop working the material in order to clean the slurry out of various machinery parts - such as drainage hoses.
Often when grinding or sanding a piece of malachite, the slurry will build up on my hands and stain them green. If you've ever worn a copper ring, you know that copper will often turn your finger green. Well malachite is a copper carbonate, and its slurry will do the same thing to skin - only worse. It turns my fingernails green and gets into my cuticles, turning them an eerie blackish-green. And no amount of lava soap is going to get out the color. I have to wait for it to wear off - which can take several days - during which I often find myself having to explain to people just what the heck I've been up to.
Malachite will also stain polishing disks, pads, and wheels. This is OK if you are just using them to polish malachite. But if you were to then use them to polish more porous material - like some opals and fossils - it could potentially stain that material an ugly greenish color. I've had it happen to me several times. So I find that it's best to keep separate polishing materials for malachite and use different, non-stained ones for working other materials.
Information Source: Me.
Legal: Copyright © Aaron J. Greenblatt. All rights reserved. Commercial use prohibited. This image and commentary may not be used for any reason without expressed written consent.
Please
click here
to view my photography work located in my Gallery.
Please
click here
for images of my glass work located in my other Gallery.
Please
click here
for images of my glass studio located in my other Scraps.