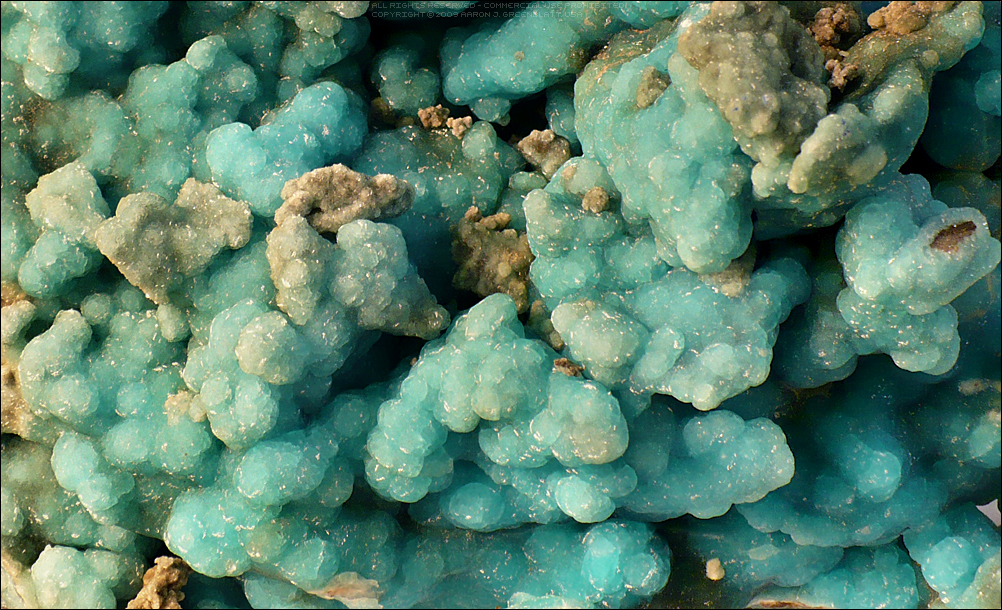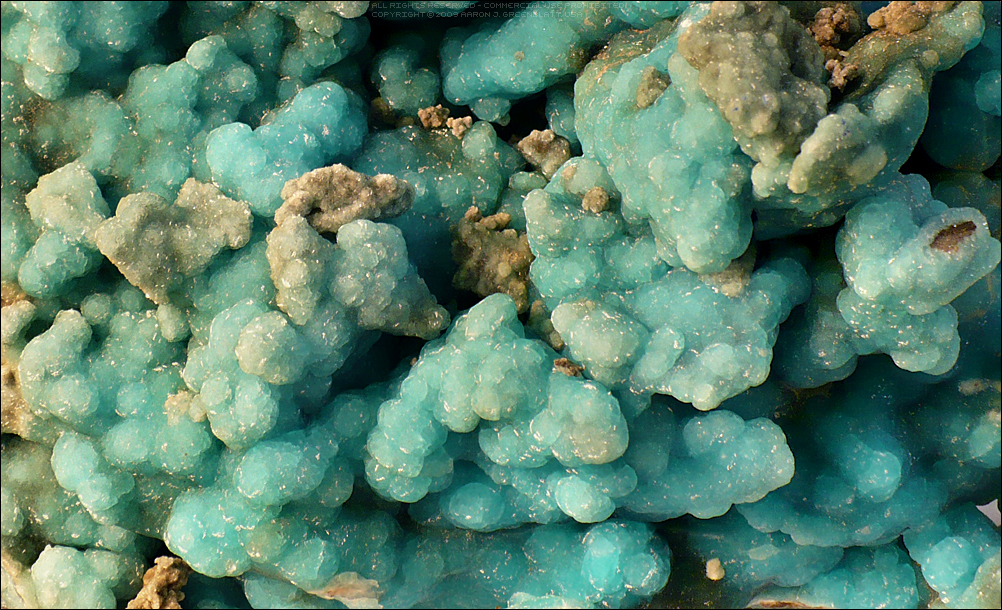 Watch
(please click image for full view and scroll right)
Title: Hemimorphite
Medium: Digital Photography
Photographer: Aaron J. Greenblatt
Camera Type: Panasonic DMC-LZ7 Lumix 7.2 MP
Editing: Edited in PhotoShop 7.0 for color accuracy, size, and to apply copyright and border.
Location: Photograph taken at the 2008 Southeastern Michigan Gem and Mineral Show at the Southgate Civic Center in Southgate, Michigan. Show hosted by the
Midwest Mineralogical & Lapidary Society
.
Description:
Sitting on a wooden shelf behind a dealer's table during the show, was a large piece of sparkly globular hemimorphite from the Lochang Tin Mine in Gejiu City, Honghe Prefecture, Yunan Province, China. This piece was a whopping twelve inches in height and ten inches in width. It was for sale for $450. With its blue color and bubbly appearance, this piece looked like one of those blue frozen Cokes you can serve yourself at most 7-11 stores in the US.
About Hemimorphite Crystals:
Specimens of hemimorphite tend to be of two very different forms. One form produces very glassy, clear or white, thin, bladed crystals, often well formed showing many crystal faces. Many times these crystals are arranged in fan shaped aggregates. The crystals are usually elongated and flat. The terminations are different at each end.
The other form produces a blue to blue-green botryoidal (globular) crust that resembles smithsonite or prehnite. This form has a grape bunch texture. Often the botryoidal form has a cock's comb appearance showing rough crystal terminations.
About Hemimorphite Pyroelectricity:
Hemimorphite is strongly pyroelectric. Pyroelectricity is the ability of certain materials to generate a temporary electrical charge when they are heated or cooled. What happens is that when the temperature of hemimorphite is changed, the crystals will generate an electric charge. The change in temperature slightly modifies the positions of the atoms within the hemimorphite crystal structure, such that the polarization of the material changes. This polarization change gives rise to a temporary electric charge, although it disappears after some time.
A pyroelectric material can be repeatedly heated and cooled (analogously to a heat engine) to generate usable electrical power. One study found that some pyroelectric materials can reach 84-92% of Carnot efficiency (how much useful power is output for a given amount of heat energy input). Possible advantages of pyroelectric generators for generating electricity (as compared to the conventional heat engine plus electrical generator) include potentially lower operating temperatures, less bulky equipment, and fewer moving parts. Although a few patents have been filed for such a device, it does not appear to have been successfully commercialized yet.
About Hemimorphite Piezoelectricity:
Hemimorphite is also strongly piezoelectric. Piezoelectricity is the ability of some materials to generate an electric field in response to applied mechanical stress. If the material is not short-circuited, the applied stress induces a voltage across the material. What this means is that if you press down on a piece of solid hemimorphite, it will generate an electric field.
This applied-pressure, field-generating effect finds useful applications such as in the production and detection of sound, generation of high voltages, electronic frequency generation, microbalances, and ultra fine focusing of optical assemblies. It is also the basis of a number of scientific instrumental techniques with atomic resolution. Everyday uses for such a property include acting as the ignition source for cigarette lighters and push-start propane barbecues.
Conclusion:
Hemimorphite is a beautiful material that comes in two completely different crystal forms and has two very interesting electrical properties. So while it may look like a blue frozen Coke, it's by far more interesting and useful. Even if it isn't as tasty.
Information Sources:
[link]
(galleries - Hemimorphite)
[link]
(wiki - Botryoidal)
[link]
(wiki - Pyroelectric)
[link]
(wiki - Carnot Efficiency)
[link]
(wiki - Piezoelectric)
Legal: Copyright © Aaron J. Greenblatt. All rights reserved. Commercial use prohibited. This image and commentary may not be used for any reason without expressed written consent.
Please
click here
to view my photography work located in my Gallery.
Please
click here
for images of my glass work located in my other Gallery.
Please
click here
for images of my glass studio located in my other Scraps.