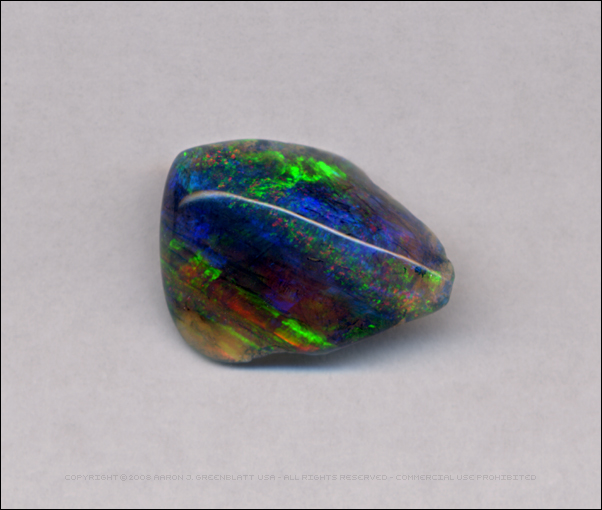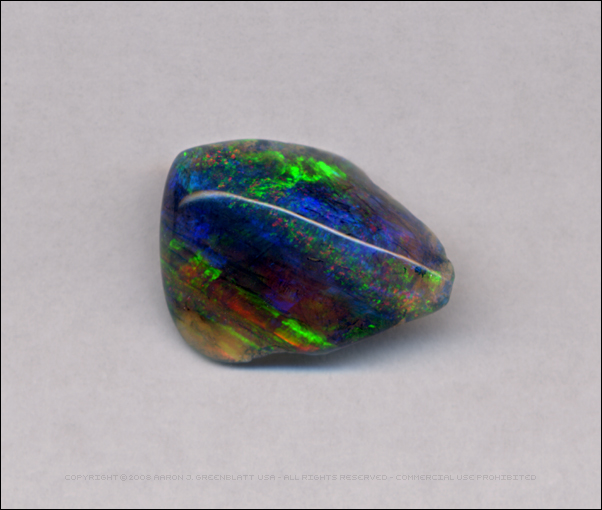 Watch
(please click image for full view)
Title: Black Opal
Image: Created by Aaron J. Greenblatt using an Epson Perfection 1200U scanner.
Editing: Edited in PhotoShop 7.0 for size, and to apply copyright and border.
Location: This black opal currently resides in my private collection in the lovely state of Michigan, USA.
Description:
This is a natural black opal from Australia. I have hand sanded one side of this opal with fine sandpaper and hand polished it with cerium oxide. I did this to more clearly show the opal's internal beauty and color patterns. This opal is the size of a US quarter and has not been chemically treated or enhanced in any way aside from being polished. The color in this opal goes all the way through the stone and under just normal lighting conditions this opal radiates with splashes of color in all directions. Honestly, this image doesn't do this stone justice.
About Opal:
Opal is a mineraloid gel which is deposited at relatively low temperature and may occur in the fissures of almost any kind of rock, being most commonly found with limonite, sandstone, rhyolite, and basalt. The water content is usually between three and ten percent, but can be as high as 20%. Opal ranges from clear through white, gray, red, orange, yellow, green, shore, blue, magenta, rose, pink, slate, olive, brown, and black. Of these hues, the reds against black are the most rare and dear, whereas white and greens are the most common. The word opal comes from the Latin opalus, by Greek opallios, and is from the same root as Sanskrit upálá[s] for "stone". Opals are also Australia's national gemstone.
Information Source:
[link]
(wiki)
Legal: Copyright © Aaron J. Greenblatt. All rights reserved. Commercial use prohibited. This image and commentary may not be used for any reason without expressed written consent.
Please
click here
to view my photography work located in my Gallery.
Please
click here
for images of my glass work located in my other Gallery.
Please
click here
for images of my glass studio located in my other Scraps.