Hey everybody!
X-Factor here, and I have been tagged by the amazing
AWRowland
to post 8 facts about my character Inferno. So, here we go!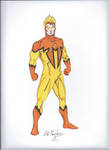 1. First off, he had a crappy costume I made for him (see above right) that was just pants, boots, and a short-sleeved shirt, with a mask. Boring. But Mr. Rowland accepted him for a personal project that necessitated a redesign. Pending his permission, my costume will act as a year-one costume similar to the black Netflix Daredevil costume, and his costume (above left) will be his full-time costume.
2. Inferno, like most of my characters, is based on me. Power-wise, he's intended to be similar to the Human Torch and Quasar/Green Lantern.
3. Inferno gained his powers in an attack with roots in homophobia. This was based on the fact that I was rumored to have been with a man before. This rumor extends to Inferno; highly suspicious since people think he's gay for this, but he's a player and ends up having kids out of wedlock long down the road. In one of his landmark issues, it will be revealed that he did indeed lose his virginity to a man, but is bisexual with a preference towards women.
4. His secret base is carved out beneath the street which he lives on. The entrance is through a hill in the road with a door only activated by extreme temperatures to safeguard it from foes.
5. Inferno's dad is out of the picture, presumed deceased. No one knows where he is, his mom assumes he left but he may be dead. His mom is his sole caretaker, and she has a sister who she is no longer on speaking terms with. In a dystopian story, his mom reveals that she is, in fact, his aunt, and his parents are missing in a government plot. This is later accepted to be a government plot in and of itself, but left Inferno confused and tortured inside.
6. A common weakness of pyrokinetics is water. Inferno cannot be drowned as he boils water upon being submerged, surviving off of that oxygen. It is excruciating, but better than death.
7. Nathaniel Black is a prodigy in the scientific sense, making him adept in the use of his powers. However, he is an idiot when it comes to combat skill and most criminal situations. This improved when he joined up with the Vigilance (Dimension X's Avengers, per se.)
8. Similar to the ever popular villain-hero dynamic where the villain is a dark opposite of the hero, (like Venom and Spider-Man, Sabretooth and Wolverine, etc.) in addition to having a crime-family of cryokinetics, his worst enemy to date is Heatwave, a villain who stole a suit he used when he lacked powers and wreaked havoc on his life for the sake of chaos. The guilt of this led to Inferno going down a dark path.
BONUS!!!!
9. A movie was made on Dimension X about Inferno, however, Nathan Black shut it down in a fit of rage, claiming his story was too trying to be told, even when fictionalized.
And as for my eight taggers...
AWRowland
: He has expressed interest in no longer doing it, so I'm tagging him solely out of respect and animation. Were he doing it, I would request to know more about the Candyman (just too awesome!).
FrischDVH
: Tell Joe Public about Sabre!
MidnightOwl07
: Ms. Diamond please!!
JJStudioComics
: Neutroman or Crimson Cockroach, equally cool-looking.
EricGuzman
: Anybody you please, but preferably from your "Characters Sheet."
mr-redx
: Aquatide or Gimmick, if you please.
MrCrackerpants
: Amphibian. Tell the world of her!
Azreal2156
: I've seen Batking all over God's green Earth and know almost nothing of him. Tell me!
Alright, that's about it for me, goodnight DA!