2014 Has been the year from hell.

Hi everyone! It's been a while since I've written an updated journal. Some of you have probably noticed my inactivity in the last couple of months. While I had done my best to stay active during the school semester, I didn't quite find the proper balance and wound up doing poorly in a couple of classes. It didn't help that I had taken a particularly hard course load though, so artwork is not entirely to blame.
While the school load was stressful, the year didn't genuinely start to suck until March. Days before my birthday, my good childhood friend was killed suddenly in a car accident. It was a very and and emotional thing to go though, and it happened right around midterms. I didn't get a proper chance to grieve until weeks later.
Unfortunately, that wasn't the worst thing to come. This is very hard to write, my heart is breaking just thinking of the write words to type next. Last month, in May, as I was getting ready for my last final, I received a call from my grandmother. She told me that my father had passed away in his sleep. I've gone through many stages of grief, and it's safe to say that I'm no where near accepting it still. I have spent the last month and a half dealing with things emotionally and otherwise. My father was only 55 years old, this was sudden, there was no written will, he was divorced, and I am an only child. I have had to bury my father by myself, handle all of his affairs such as accounts and closing them, going through his things, arranging his burial, ect. I'm so full of regret, and I live everyday with what feels like a huge hole in my chest. I had been especially stressed out with school so I hadn't spoken to my father in a month before he passed. We were just starting to get along again after a huge fight we had in 2012, in which I didn't see or speak to him for a year. There's nothing I can do to get him back, and it kills me to know how I took him for granted. I'll stop here because I'm starting to get emotional and teary eyed. I spent fathers day this year with my dad's best friend, who also happens to be the father of my childhood friend who passed away. It was nice to have that comfort, but at the same time it was really hard and really sad.
Since I have been dealing with this stuff, I have been unable to get out there and get a steady job for the summer, so I've been relying on my savings to get by. However, those are starting to run a bit dry, and while I don't have any other major bills a month, I have a car payment and a phone bill that I must keep current. Especially the car, or it'll be repossessed. That absolutely can't happen. My father was a man of little means, so really I have nothing left to me, he had no money, and what little he did have I can't access because my name wasn't on his account, so now I have to wait for the paperwork to go through before I Can claim what he left to me.
Which brings me to the next topic of my journal:

Commissions

It took me weeks after dad passed to get my drawing mojo back, but it's here, and I have been working diligently on things with deadlines/commissions.
Since my savings are nearly gone now, I need to open up a new bout of commissions, but I'm going to keep it small, and open them back up every time I finish the ones that I have currently accepted. I am opening up 2 full body colored slots at $20 USD.
You can note me or comment here for a slotPlease note me the specific info for your commission request.
Type: (i.e. Fully body color)
References: (Links to picture references, or typed descriptions, whichever you have available.)
About the Character: (It really helps me to know personality or background)
Other: (Any specific pose or any other details you may want. pending my approval.)
:Star:
Commission Guidelines

•
Original Characters or fanart
ONLY. •
I will not do Hentai, Yuri, Yaoi, BL, or anything graphically disturbing.
•
I will
NOT
draw furries, or Sonic OC's.
•
I am open to drawing things with ecchi themes, but that is on an individual basis, please talk to me about it first.
•
FAIR WARNING:
I can draw males, but my ability to draw females is much more advanced.
•
If you desire to see a sketch for approval before I move on to the final stages of lining, please specify in your order note.
•
You are not permitted to use my work for commercial use without my express permission.
•
I reserve the right to use any completed work as I see fit, this goes for my personal portfolio, any publications such as artbooks, ect. Of course there will be credit given to the owner of the character, ect.

Payment

I take payment in the form of
Paypal
. Unfortunately at this time, there are no other payment options. All payments are to be made in USD. Upon receiving your request and approving the desired commission/references/content/ect. I will provide you with my PP address via note, and you can send payment then. Please send a note with the payment stating your Deviant art ID so that I know who the payment is from. Once payment is received I will start work. Please pay any paypal fees that you might incur. If you don't know how to calculate it, please use this:
paypalfeecalculator.paymentpro…

Slots

Currently, the only types of commissions I am taking are Full body colored illustrations. Please note or comment to take up a slot. I am trying to finish these quickly so that I can open the 2 slots back up quickly. I am doing this to ensure that I don't get overloaded by taking too many on at once. Since I'm in dire need of funds right now, I plan to get these moving quickly though.
Pricing:
$20.00 USD per slot.
Additions:
$5.00 USD for an extra character. (Limit only 1 extra character per drawing.)
1:

[Complete]
2:

3. OPEN

Examples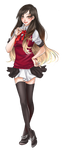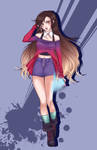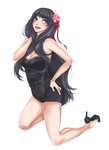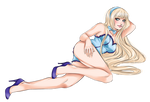 sta.sh/01vwcei5okhv
sta.sh/0ebxuuzctdd