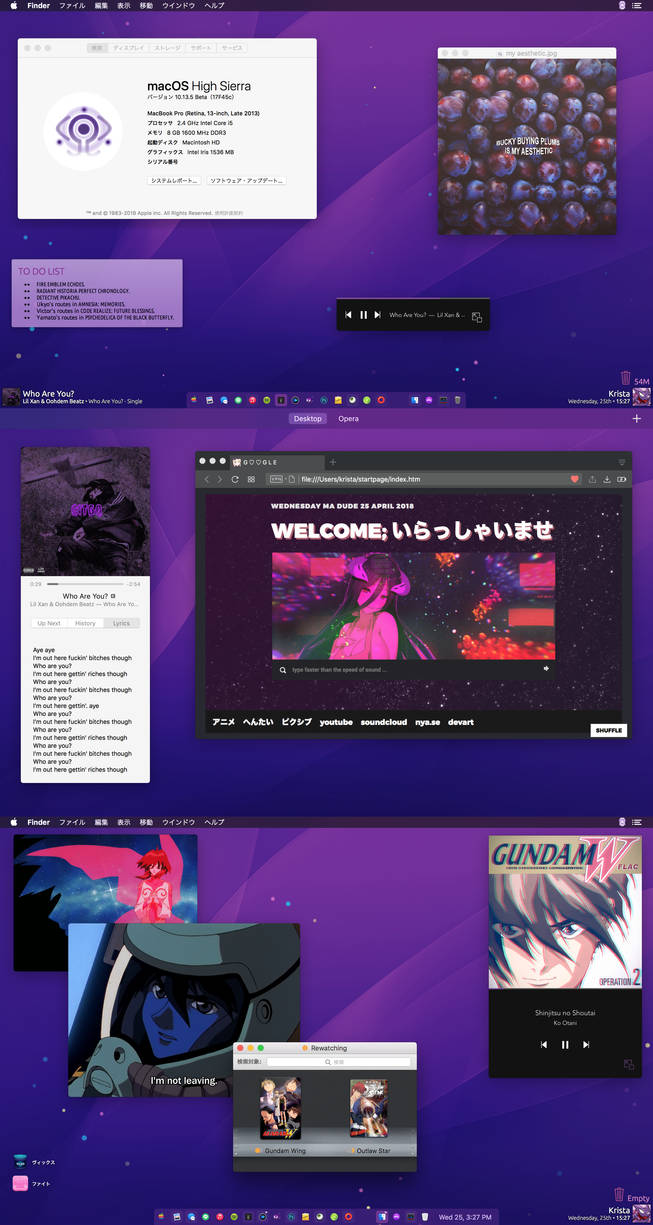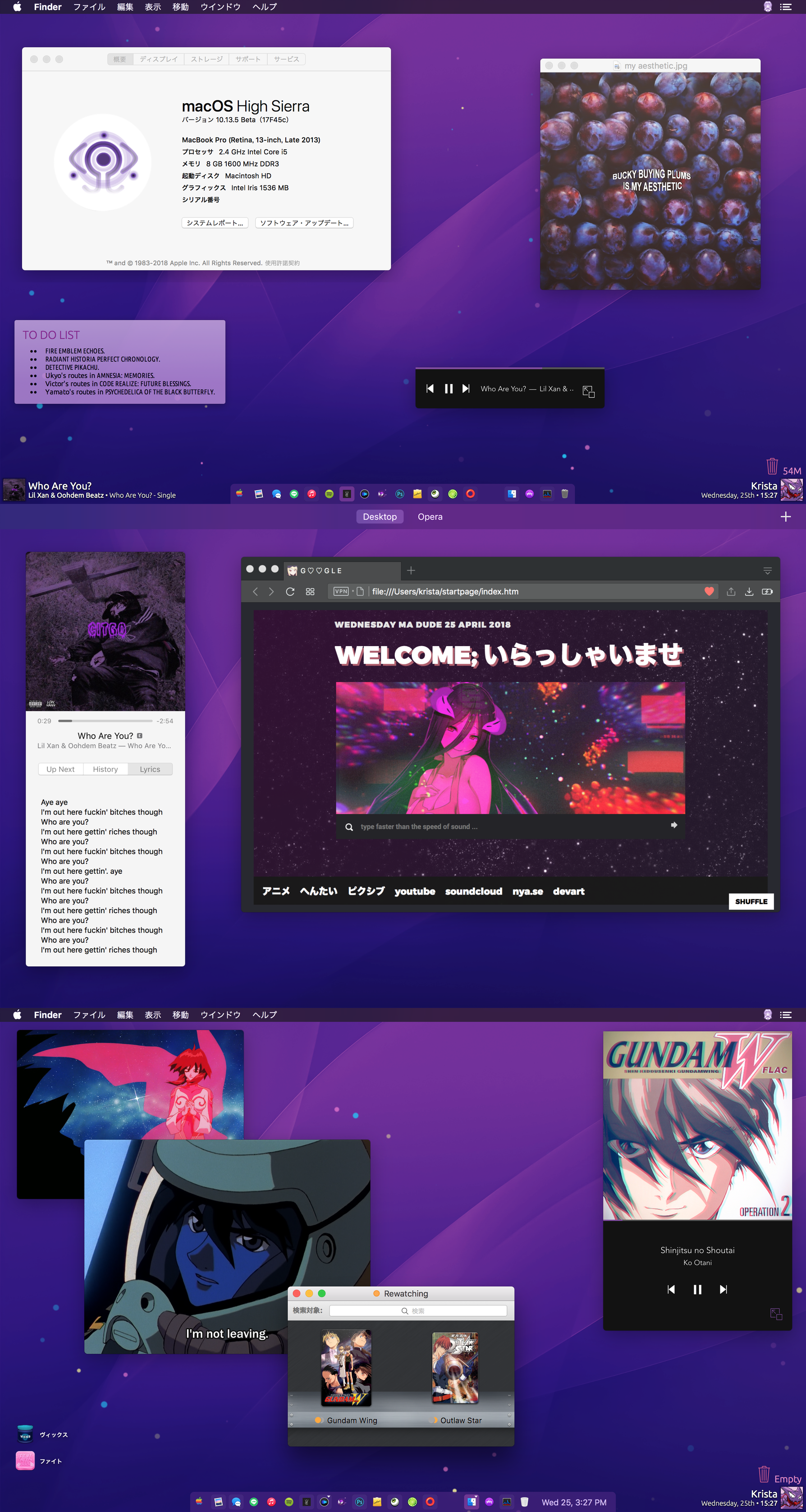 Watch
March

—

April 2018

---
Hello hello~!


This is a desktop style I've been playing around with between March and April this year.
Since I'm going to be switching it up (finally) for May, I figured I'd show the progress I had going here.

This cap is huge;;;; Highly recommend to Download for full-view.
Seriously, it looks really bad on just high-res display lol;;;

Stuff shown:

Wall - Mine!
It's a 5K up-res recoloring of the OSX Tiger wallpaper. If there's interest, I'll release it.
About This Mac - System icon edited by me. Supposed to look like Navi from Lain. I used this as a base to draw from.
Sticky Notes (I can't say enough good things about this app! Pls check them out!)
Fonts used from Ubuntu family. (Mostly regular type, and condensed.)
Ubar 4 (I edited the resources to show a vintage Apple logo icon for the start menu).
Bartender 3 with custom sprite icon to hide menubar items.
Some icons from MRI, and the Ghastly. There are a couple I've had forever from some old Mac Custo sharing sites
and forums that don't seem to be active anymore;; I know some are from JellyLabs (like the Vick's Vaporub).

Bucky Buying Plums (photo edited) shown with Xee3, a cool little preview app.
Voltra + FLAC version of Gundam Wing: Operation 2, with my own edited/custom album art. Links shared upon PM.
iTunes + lil xan - Who Are You?
Bowtie + Rottr, with my own Haunter icon.
Übersicht skins are Trash Size (edited) + Particles.
IINA video player: Seihou Bukyou Outlaw Star + Mobile Suit Gundam Wing (you need to try this video player!!).
Finder background - Vault.
Anime folder icons made by me, applied with Image2Icon.
Amazing startpage - Spirits by Nicknameisfortheweak (Lightly edited by me), shown in Opera.

I think that's it?? huhu;;
If I missed anything, just ask and I'll try to help!

If you have any fun suggestions for MacOS custo programs that I can try out, leave a comment! I love trying new things!

It's such a good screenshot - and the description is off the charts! I could never get near that kind of dedication to a description.

I know I faved this earlier without commenting - it was just a deviation I returned to.
Reply

asdfghjkl;; Sorry I thought I replied to this already! lol xD;;
I'm really happy that you liked the shot and were able to get some good/helpful info from the description~ c:
(it took what felt like 84 years to type it up hahaha)
It feels like nobody takes the time to talk about what they did anymore;; which is a shame;; I think if more
people talked about how they did stuff, we'd have way more people in the custo scene trying out how to do
things and coming up with new ways of making stuff look cool!! ;w; We used to do that in the community
but people just got lazy and stopped. xDDD;; Sigh.
Did you try any of the programs? c: Got any you'd recommend?
xo
Reply

I fall in the category of the one being lazy about typing stuff about how I do things. People just never seem to ask either.
I have tried and use some of the programs you have on your list; Bartender, uBar(I'm the maintainer of the Danish language for it), IINA(for the times when I have a really empty desktop) and Übersicht as well - I built a player for Übersicht that has buttons that doesn't do anything. However it does display the current track from Spotify.

The field of apps to customize the desktop isn't that broad anymore. I wish Bowtie was still updated as I loved making skins for it. Now with Mojave it appears dead. But Mojave also has a locked down mode that Bowtie perhaps needs to be let it on. Perhaps it requires full disk access(which is new in Mojave)?!

I have been making a few setups for XRG. You know it as a system monitoring tool. But other than that I don't have any other cool programs to recommend - I do have a Übersich widget to recommend:
github.com/zzzeyez/Pecan
and
github.com/blahsd/supernerd.wi…
. Though I find them difficult to setup I can recommend them in the context of customizing the Mac desktop.
SoundAr is an attempt to get sounds back on the Mac.. when I type 'attempt' it's because of the interface only. I tried it early on and found it weird to navigate. I couldn't quite figure out all the settings- if they were active or not. I hope the author adressed that in more recent updates. It's by no means in the vein of programs developed by Unsanity in terms of style, but it's fun to play with. I usually like having DragThing running and giving me Login and Shutdown sounds. I take the sounds from the AdiumXtras site and extract them all. Converting them to .wav and apply them with DragThing. It can give a nice addition to the experience if you're into having a little noise in your life.

Reply

lol I'm not gonna deny being lazy about it before, too, but I've tried to not in my more recent shots.
I've dropped comments on people's submissions that had no info and got no comment back, so, lol. I wonder if other people were not commenting on either of our submissions because they had similar experiences with that. xD; It can be daunting. That, or, the ole; "well I'm just showing it off. I don't mean to actually share it with the public." That can be a bit upsetting too lol. I get why some people aren't allowed to share stuff, but it sucks seeing it and not being able to use it too.
Also! That's so awesome that you're one of the maintainers for uBar!
It's become one of my favorite apps to use in recent years. One of the few apps I haven't minded throwing money at lmao. I'm honestly surprised it's not more popular than it already is. Everyone seems to just use cDock, which I never really liked. Odd, though. I did love RocketDock which is very similar once upon a time haha. I just really like the overall seemlessness of uBar. (And how easy it is to use and edit.) I just wish they'd implement a way to move the icons around a little bit easier. Like dragging them similarly to the regular dock.
The Übersicht player you mentioned you made, is it just for show then? Since the buttons don't seem to work? I've been trying to make something that works with both Spotify and iTunes that will actually match my desktop. I'm never quite satisfied with the colors;; It's been fun messing around with though.
Bowtie seems to work fine for me? I just did the Mojave update last night (Curiosity murdered my desire to wait on dark mode lmfao. Too many old HUD-feels.). I tried to open it, it asked if I wanted to allow it to run and I clicked Allow and it seems to be working just fine. I think I have elevated permissions on this account though, so it might be because of that? (I got real tired of disabling/enabling Sip any time I wanted to change an icon;;.) I'm sad to see that Liteicon doesn't seem to work with Mojave yet...
My only real complaint so far. So now I have to go and edit the Finder/Trash icons one by one myself if I want to change those out. Which I mean, is fine, I can do that, it's just annoying when it was a two-click process before lol.
I've tried Supernerd in the past. Wasn't really a big fan of it. Nothing particularly wrong with it, it just didn't really work with my work style very well. And also, like you mentioned, the setup was a big pain. xD It (and Pecan from what I can see in screenshots) certainly look nice. But it's a bit too minimal for my tastes. I love the look of stuff like that, but in my actual day-to-day use, I prefer to have things a bit closer to the standard MacOS experience. Easier reaching distance for things I use~
SoundAr sounds really interesting though! I'm going to check that out! I do miss the days of sounds popping up here and there on my machine. I had added tons of old .wav sounds to one of my older macs so I was able to have things start up with sounds and iChat would have different sounds, too. ;w; I miss that.
Reply

Must say that this is the most communication I've had in the comment section with another deviantart member in recent years. It's good.

I did manage to have Bowtie functioning. Originally it wasn't asking to control anything (Or Mojave wasn't recognising it properly). This means I can continue skinning it with whatever skills I have in that area.

The Übersicht widget I have is for show in that I haven't learned how to make push states with the scripting it uses. I need to learn a whole lot more about Javascript before that can happen. It does however function with Spotify as it show the current track playing. It also has a commercial blocker built-in because I used a skin with a function like that. To be honest I haven't worked on it in recent weeks. The skin is in looks based on one of my Bowtie skins-with small edits.

With regards to a LiteIcon version for Mojave - it's out now on the official website.

The version functions fine on my Mac but has a few resize window issues(at least here) - nothing terrible as it changes icons just fine.

I'm not per say into the various Übersicht widgets I mentioned myself - I just found them great pieces of work and seeing your screenshots I thought you might be the target for such. I tried Supernerd and was stunned that it required more setup than I thought it would. I let it go. I'm not a stranger to the Terminal or downloading stuff there via Homebrew but at the time I found it too much work. Might have changed.



Reply

Oh damn, it's been a while since I got so exciting about a screenshot

, i downloaded it and opened it with preview and zoom around. Magnificent.

Everything comes so beautiful.
Also very important, great description
umei
, so people can find what they probably like without begging for more replies like many use-d to do! Thank you so much. +watched and lub you <3
Cheers.
Reply

Oh my goodness! Thank you very much!
I'm so glad that you liked it!

I also agree with you about descriptions. So many people don't do it anymore, and I find myself constantly
wondering where things are from, or what it even is that they're showcasing lmao. Often times you can't even
appreciate what a person has modified or altered, because you can't even tell that it's been changed lol;;;
It's such an amazing way to share apps and skins and new programs that further the custo community, and
it feels like nobody does it anymore, so custo feels pretty dead in the water. Gotta do what we can to keep
it alive, or it really will die! lmao Without interest to edit stuff, it's gonna be impossible to further the ability!
But thank you again! If there's anything you see that you like that you can't find and want to use, lmk. I'm
always willing to try and help out people if I'm able to.

Followed back~
We need more MacOS support!
Reply

Reply

Reply

Reply

Haven't heard from you in ages. How's things?!
Reply

Reply

Oh my! Only just seen that through Digital Vanity
digitalvanity.me/post/17369320…
and I noticed that someone is still using my Bowtie theme. You made my day!
Reply

Reply