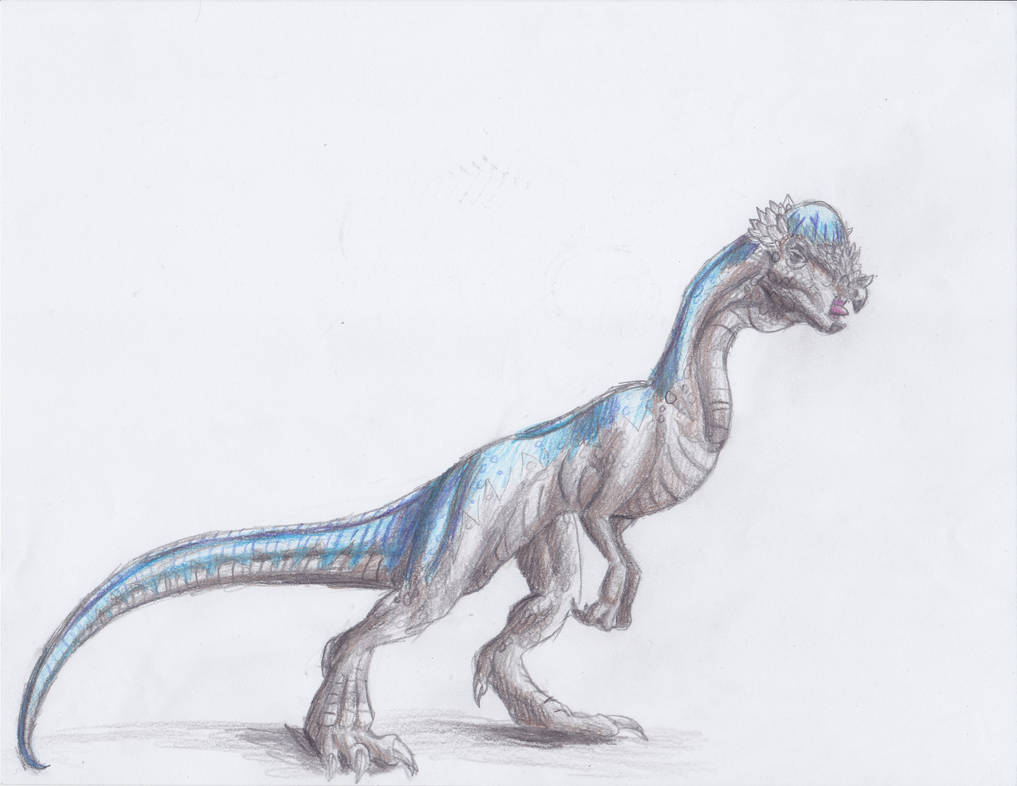 Watch
for
[link]
Pachycephalosaurus!
in gen 4, they finally got it right with the fossils. sure, aerodactyl's a dinosaur dragon thing, and kabuto and armaldo are cool and all, but they finally decided to bring in a bipedal raptor-like fossil! even though Pachys are actually herbivores [or are they omnivores? i cant remember], its close enough xD
this is only the third time ive ever drawn a pachy; the first was in the fave pokemon meme, and that was just a derpy bust. the second was me practicing the skull structure since i couldnt find too many good references lol.
i dont really like how the scales turned out on this one. the tail and face look real nice, but the rest looks rushed and kinda childish. i need to find the sharpener to my pencils /crey. also why doesnt this look as good as krokorok /wheeze.

Pachycephalosaurus was definitely the appropriate choice for this Pokemon.

Pachycephalosaurus was a herbivore.
Reply

just checked wiki; i know wiki isnt always reliable, but it does say this:

Like other pachycephalosaurids, Pachycephalosaurus was a bipedal omnivore with an extremely thick skull roof.

but then it also says this:

Diet
Scientists do not yet know what these dinosaurs ate. Having very small, ridged teeth they could not have chewed tough, fibrous plants as effectively as other dinosaurs of the same period. It is assumed that pachycephalosaurs lived on a mixed diet of leaves, seeds, fruit and insects. The sharp, serrated teeth would have been very effective for shredding plants.

the Jurassic Park Builder game app i have on my ipod depicts them being herbivores, but i knew i had read somewhere that they were omnivores. but, wiki could very well be inaccurate lol
Reply

According to my book The Ultimate Book of Dinosaurs, it was a herbivore. I never trust wiki.
Reply

lol thanks xD thats what it was based off of, so i found it only natural

ah, i couldnt remember because one day i decided to research a bunch of dinosaurs, and i remember reading quite a few that ended up being omnivores; i just got my facts mixed up lol
Reply