207 Favourites
14 Comments
4K Views
UPDATE: Sorry about the blank space on 3:55 onwards. I could have updated the video but it seems DA didn't add an option to update videos.

This is for people who haven't seen my Newgrounds artworks.



Like I said before, I'll be re-uploading my flash stuffs in video form. Flash will be removed on the net soon. It's sad. T_T
This is an art showcase of my Non-Megaman artworks on Newgrounds. I want my DA account to be dedicated only for Megaman stuffs but now, I think it would be better if I'll post non megaman artworks here too.
Originally uploaded April 2016. I don't want to post a lot of Non-MM artworks on DA so I just made a compilation using flash. This time, I posted more artworks on this art showcase.
Hope you'll like these Non-MM arts. Most of these are 2015 artworks. They're done very long ago.
Here's the previous art compilation.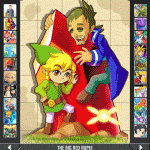 I've also created a stash folder if you want to see separate images or just visit my newgrounds account.

Stash:

ttps://sta.sh/21mt593mp1xm?edit=1
NG:
ultimatemaverickx.newgrounds.c…
The soundtrack is called Sky Wave. It's from We are Rockmen Album.

Lastly, I want to thank DA for making videos available on core members. I could preserve my previous flash stuffs/animation in video form.
IMAGE DETAILS
Image size
1920x1080px 159.16 MB