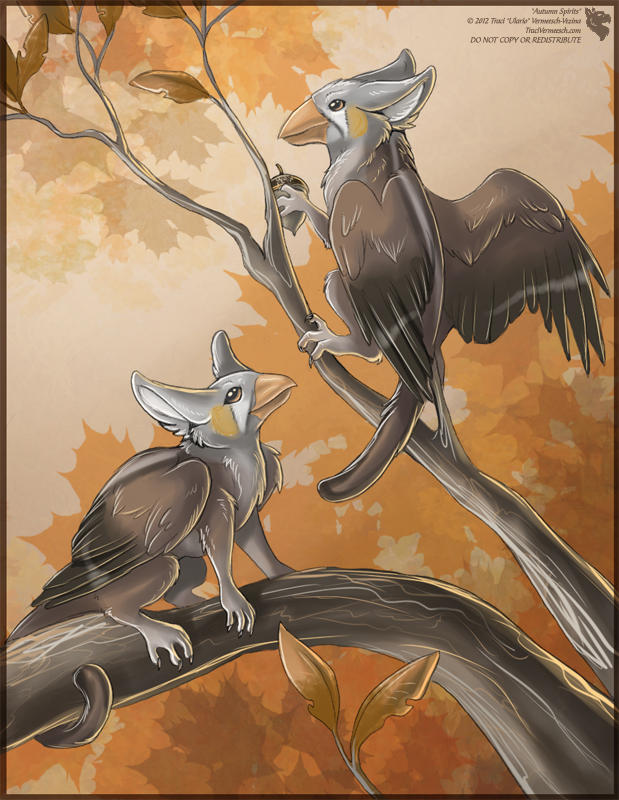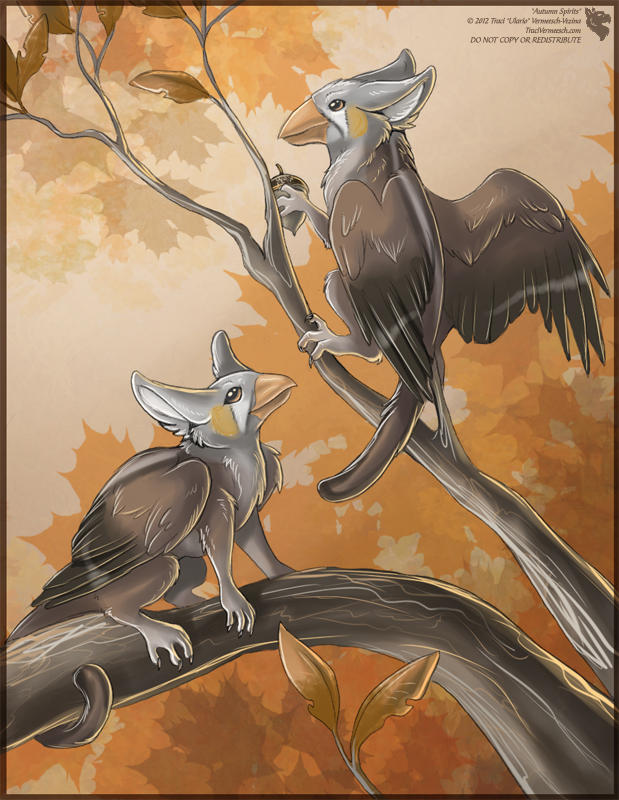 Watch
An adoption piece for ~
ShotgunValentine
, who didn't get their piece for last month's #
fantasy-xchange
.
So this picture is my good deed for the month.
She wanted gryphon creatures in an Autumn setting (the theme for that month was 'seasons') so I was more then happy to oblige.
These little guys are chipmunk/zebra finch based.
Tools Used:
Mechanical Pencil, Paper, Scanner, Photoshop versions 6 & CS4, Paint Tool Sai
Time Taken:
Unrecorded
Soundtrack:
"Shine the Light" - FoxAmoore
Image © 2012 Traci Vermeesch-Vezina
DO NOT copy, alter, repost, etc without the consent of the artist! Character/Image are NOT public domain!
Please think before you type...
and please read before asking questions. I will no longer be answering questions that can either be answered by simply reading the image's description or by spending 5 seconds to Google the answer.

The cuteness factor is as awesome as the colouring
Reply

Beautiful colors and details!
Reply

Oh god these are so cute!!
Reply

Wooooaaahhhh, that is so cool, a very interesting idea.
Reply

Reply

Aw

I never thought I'll enjoy gryphons so much. Really, I'm not a big fan of these creatures, it's just I love autumn (my real surname even means 'October'), and autumn plus brown gryphons sounded like a good idea at time.
But!
This.
So lovely. I keep staring at their paws, although I always enjoyed how you draw ears. So fluffy and soft, you've just got to pet them

Thank you for adoption

and the second one for idea. I'll have gryphons (or a gryphon) in a webcomic, and your chipmunk / zebra finch gave me a really good idea in revamping the original species.
Reply

I would like to have those critters in my garden. They're so adorable...
Reply

Well, after hearing them for a few days you might change your mind about that. With the combination of animals that they are I'm guessing that they're quite loud. >_<

Especially with the zebra finch half. They have really funky voices.
Reply

So cute!

Reply