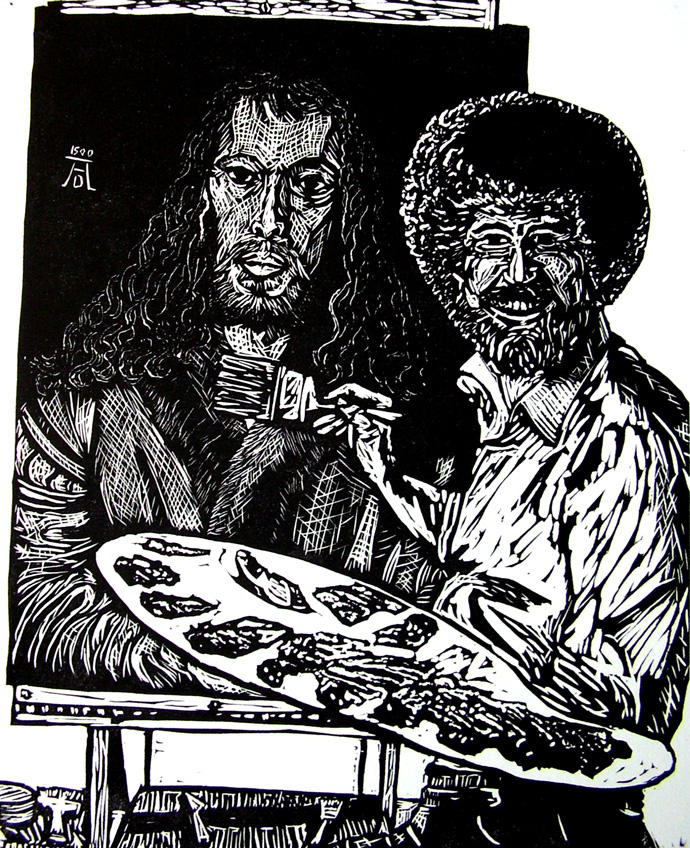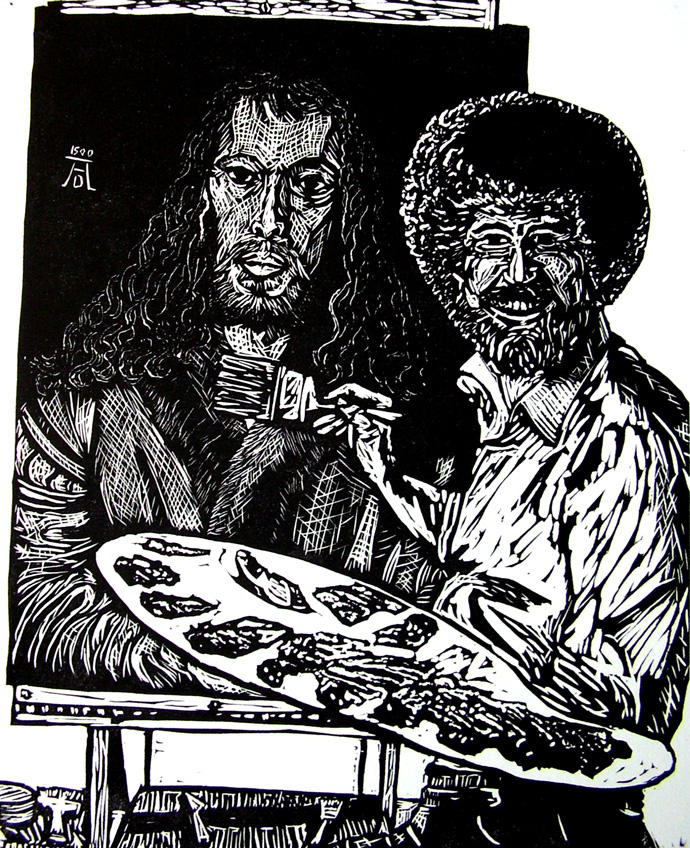 Here is a linocut that I've been meaning to upload for a long time now. As per often, it doesn't fit on my scanner so I had to shoot a digital photo of it and mess about on photoshop to make it presentable. Meh, I need a tripod.

Anyhow, here's Bob "happy trees" Ross painting Albrecht Dürer's famous self-portrait. It's playing off a number of themes connecting to artist-as-genius (a notion that began to catch on in Dürer's time and to which he himself subscribed), high versus low art and many mroe besides. I'm going to stop talking now.

Reply

Some great cutting there, very effective linocut.
Reply

Thank you very much! I had a LOT of fun making this one.
Reply

he's gunna paint a rainbow and some happy trees????!!! huh is he!
Reply

This is great.
It literally made me laugh out loud.
Not at the quality mind you, very talented. I found the idea humorous.
Spot on.
Reply

Thank you very much! I was hoping that a few people would appreciate my sense of humor, and maybe even dig at the deeper meanings too. :-D
Reply

I used to watch Bob "Happy Trees" when I was sick, to fall asleep.
Reply

He's good for that. There are actually several key similarities between him and the father of the German Renaissance, though... which I thought was an interesting thing to examine in a compare and contrast fashion.
Reply

I used to watch this guy on tv, but I never had a stand or palette ready. Or canvas for that matter. It was so amazing how he could just sneeze a painting right out and it would look terrific. Anyways, the inking is amazing, like usual. I don't know how you do it.
Reply

I actually never really spent much time watching the guy. I saw him a few times, but it was always more just that he was something I was aware of.

I really love relief printing. It's one of my very, very favorite media to work in.
Reply

this is perfect..the technique and the theme is great..so sarcastic,so impressive..i loved it

i think art is something that has to be related with both imagination and handwork,copying and repeating yourself all the time has nothing to do with creating something!! congratulations!! great idea,great job

)
Reply

I agree with you about art. Imagination's important, and technique shouldn't be abandoned either.

I must admit I'm quite pleased with this piece.

Thank you for your comment!
Reply