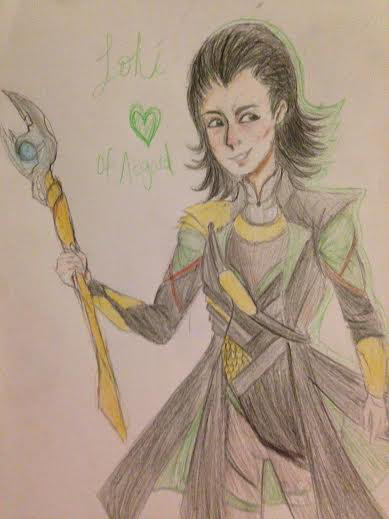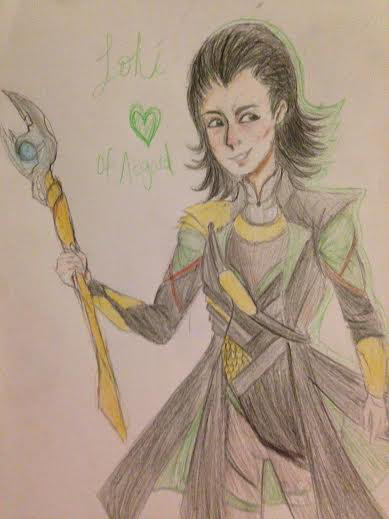 Watch
So, my moms birthday is also New Years and she asked for me to draw her something serious like that old picture of Ling I did. So, I drew her favorite super villain, Loki of Asgard (who is burdened with glorious purpose.) This is the completed colored version. The sketch is here:

Oh my gosh, Loki xD
I feel like this picture gives a kinder feel to his personality and how it was portrait in the movie Thor ( I liked his scene with the hulk in the avengers though xD)
Reply

Aww thank you!! I love evil Loki so much like so so much because I love the intensity of villains but having a nicer Loki is nice too. It's like the good old days.
OH MY GOSH
THAT WAS MY FAVORITE OMG
xD "Puny god"
Reply

That was my favorite scene in the Avengers too xD
Oh wait, Remi, have you ever experienced an awkward funny moment in the movies ovo? Like for me, you know the most recent batman movie with Bang(?) as the enemy and where nobody could leave the city? Well my family went to go see it and before the movie started some random guy started singing ( I don't even know if I could call it that cause it was closer to humming) but he was like "Duhnuh nuh nuh- duh nuh nuh nuh-
duh nuh nuh nuh-
duh nuh nuh nuh- Bat~ Man~!"while the rest of the theater was silent and everyone burst out laughing xD ( as in everyone in the theater)
Reply

Oh my gosh that's hilarious xD Actually yes, I had something like that happen to me!! I went to see The Woman in Black with my mother and that was the movie with Daniel Radcliffe (Harry Potter) and there was a part where the ghost woman was screaming and flying at him and attacking him and some woman in the back started screaming "HELL NO, HARRY USE YA WAND" and it was totally silently but I was laughing so hard I was crying.
Reply

Oh..! I wish I got into Harry Potter..( I just dislike reading so much xD, I used to hate it so much that if I tried to read something, my eyes would start burning and my mom had to force me to even try to read)
I've only seen one or two Harry Potter movies as a child , but I bet that was funny xD
Reply

My insides are screaming that there isn't enough Thor, Deadpool and Tony Stark in this picture.
BUT CHRIST LOOK AT HIM HE LOOKS GLORIOUS
THE COLORING IS SO SOFT AND WELL DONE
AJKAjskajsakJASKSAJkj
HAPPY BIRTHDAYEARNEW TO YOUR MOMMA!

Reply

They are all there but they are all trapped under Loki's glorious flippy do dad hair style. They are being over powered to fuel Loki and his conquest.
THANK YOU VERY MUCH OMG IT TOOK SO LONG TO DO I AM SO TIRED IT WAS SO HARD AHHHHHH
SHE SAYS THANK YOU AND TO YOU AS WELL
Reply