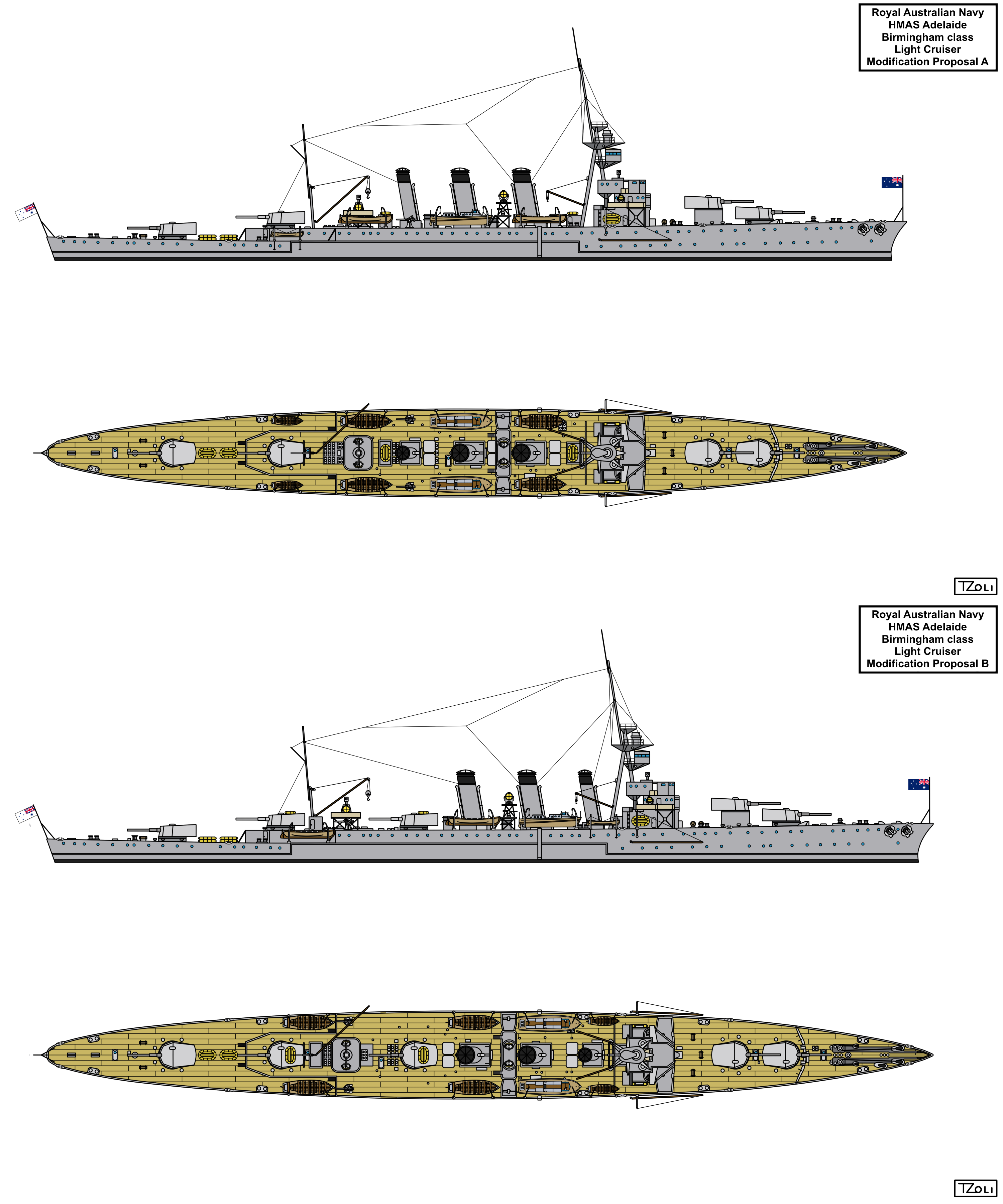 Watch
After the 3 Melbourne (Town class, Chatham Group) class cruisers Australia received or built they prepared to lay down their 4th one the August of 1915. This time it was to be the newest type of the Town class: The Birmingham group, but the designers were asked for armament alternatives using 9,2in and 7,5in guns.
Using the same weight as the original armament of these cruisers of 9x 6in guns the hull could accommodate 2x 9,2in or 3x 7,5in guns of which the first version was ruled out as two guns would not be enough for ranging. The designers were asked what could be done with 4x or 5x 7,5/45 BL Mk VI guns on a greater displacement with all guns on the centreline and with an ammo supply of 300 rounds rather 150 of standard practice as the ships would probably fight at a longer range.
The designs would carry the same armour and range, though the machinery was to be enlarged to 27.500shp and a speed of 25,5knots were excepted which was helped by the lengthened hull of these two designs with the extra tonnage gained from the new guns and turrets as well as the longer armour belt.
Official sketches show this kind of turret (yes, fully enclosed turrets) and funnel arrangements hence their layouts.


Thus I've created these two drawings based on official DNC sketches though I've added 2x 40mm / 2pdr pom-pom and 2x 3" AA guns and used the Warrior's turrets as a basis for the main guns.

The designs had these characteristics:
Dimensions: 137,16 (pp) x 15,2 x 4,9m (141,73m on Variant B)
Displacement: 5.754tons (standard), 6.540tons (full load) (6
.118tons (standard), 7.000tons (full load
) on Variant B

)
Armour: 19mm Deck, 76mm Belt
Engines: 2
7.500shp

Parson Steam Turbines,
2 shafts
Speed: 47km/h (25,5knots)
Range: 7.700km (4.160nm)
Armaments:
4x1
7,5"/45 (190mm) BL Mk VI (5x1 on Variant B)
2x1 3"/45 (76mm) QF HA Mk II AA Gun
2x1 40mm/39 QF Mk II Pom-pom AA Gun
2x1 533mm Below Water Torpedo Tubes
Compare it to Adelaide as finished in 1922:
Dimensions: 131,06 (pp) 141 (oa) x 15,2 x 4,9m
Displacement:
5.550tons (standard), 6.160tons (full load)
Armour: 19mm Deck, 76mm Belt
Engines: 2
5.500shp

Parson Steam Turbines,
2 shafts
Speed: 47km/h (25,5knots)
Range: 7.700km (4.160nm)
Armaments:
9x1 6"/45 (152mm) BL Mk XII Guns
1x1 3"/40 (76mm) QF Mk I AA Gun
2x1 533mm Below Water Torpedo Tubes