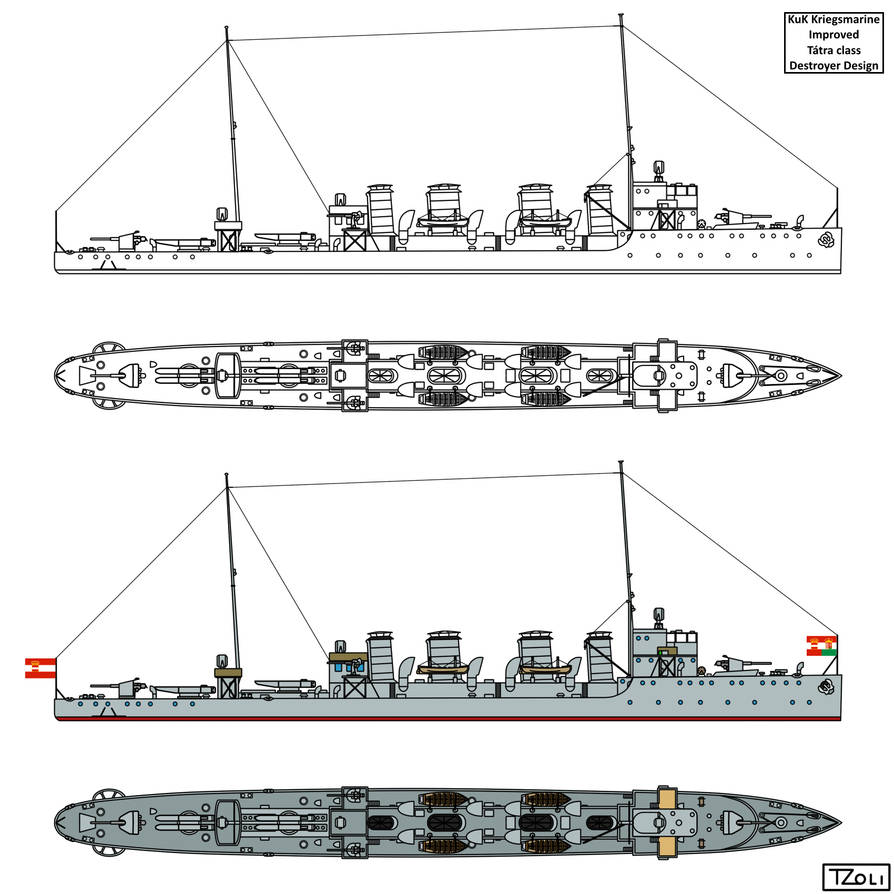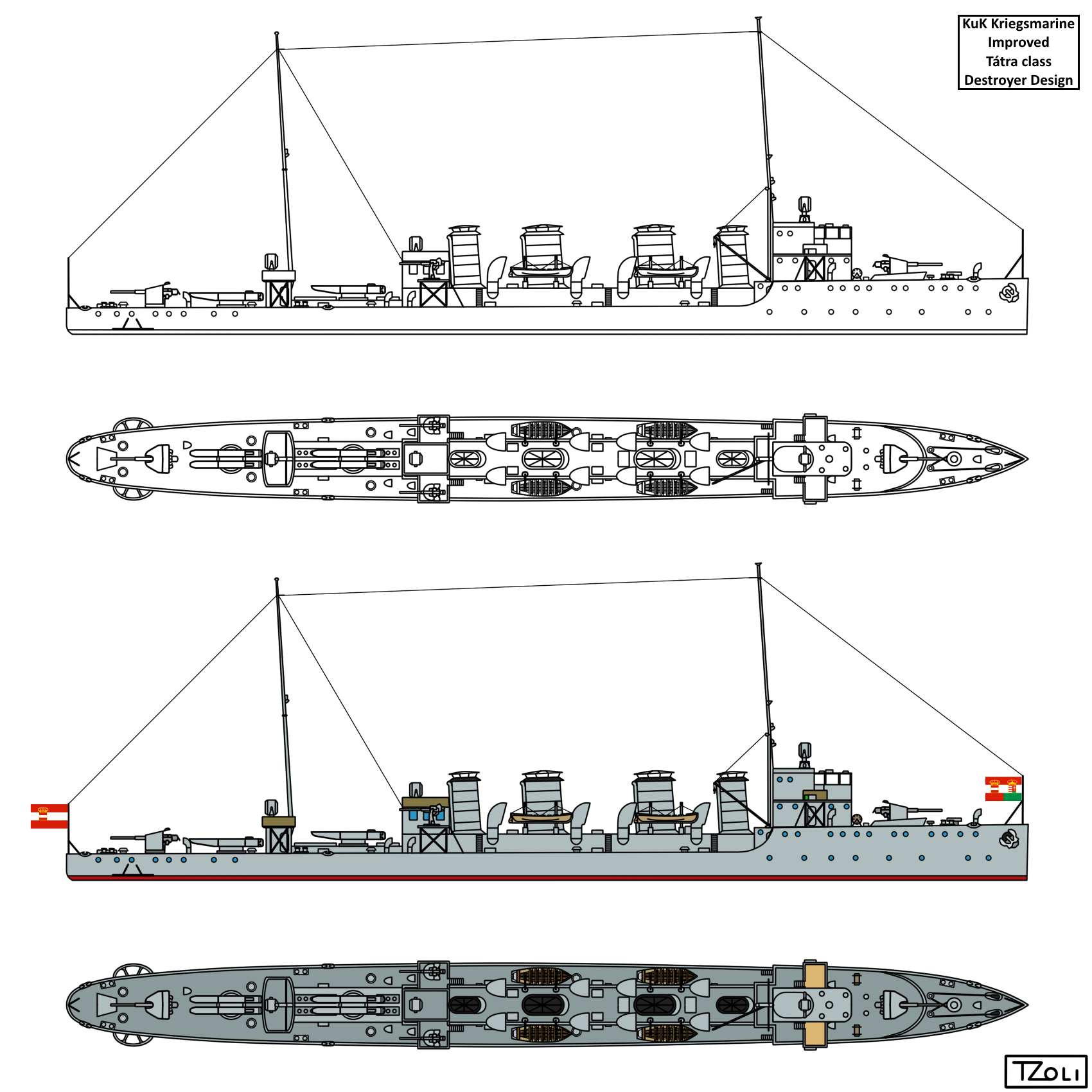 Watch
Originally 12 Tátra class destroyers ordered but when the war started the last 6 was cancelled. 2 ships lost in 1915 so another group of 6 were ordered to replace the losses and to increase the destroyer force, these become the Trigláv class (Originally Ersatz Trigláv - Replacement Trigláv named after one of the lost destroyers) but only 4 were laid down and finished. These 2nd group vessels were very similar to the original Tátra class but were a slightly longer and had larger engines otherwise visually no different.
Another group of 8 ships of this design authorised in 1917 but the worsening situation of the war prevented the building of these vessels. This 3rd group was again a slight longer and similar in appearance but experience from the war resulted in changed armament of 2 single 12cm guns and 9cm AA guns instead of 2 single 10cm and 6 single 7cm guns of the previous classes while displacement would remain the same.

This is one of the 6 destroyer projects (to my knowledge) the KuK marine worked on during the war, the others are: a destroyer leader project of 1600tons (together with a similar proposal by Blohm and Voss) two "super" destroyer projects of 2000tons and two torpedo boats of 500 and 1000tons respectively with the latter might be reclassified as a destroyer if built.

Sources differ as how they describe this design, some says Ersatz Tátra (Replacement Tátra) some says Repeat Tátra and again some says Improved Tátra, so it is a bit difficult to acquire the correct information.

Data on the design:
Dimensions: 85,3m x 7,8m x 3,2m
Displacement: 880tons standard, 1050tons full load
Engine: 24.000shp Steam Turbines, 2 shafts
Maximum Speed: 61km/h (33knots)
Armaments:
2x1 120mm Guns
2x1 88mm AA Guns
2x2 450mm Torpedo Tubes

Reply

Just so SOMEONE says it--nice art!

Reply

Austro-Hungarian destroyer design?
Reply

Yep

Reply

Dude! That was a major nation during World War One!
Reply

Reply

Plus they had a bad navy at the time.
Reply

Not a bad navy. Small, but well equipped. Cruisers maybe of older generation but battleships were formidable
Reply

They were Pre-Dreadnoughts, by late World War One, they were obsolete by then.
Reply

Like half of the capital ships of every navy!
Also Viribus Unitis class:
battleshiplist.com/battleships…
No pre Dreadnought and even the Radezky class was formidable comparable in firepower with the Lord Nelson class.
Reply
(1 Reply)

It's not the size of a cruiser, hell even I know that even the Dresden class cruisers from WW1 are bigger than that. So it has to be a destroyer of some type and nation.
Reply

Yes it is a destroyer design
Reply

Okay. Hmm... The hull doesn't remind me of any nation I am familiar with.
Reply

Not seen many WW1 era destroyers do you?

Reply

Just the major nations not any minor nations
Reply

Reply

ww1 imperial russian destroyer right?
Reply

Reply