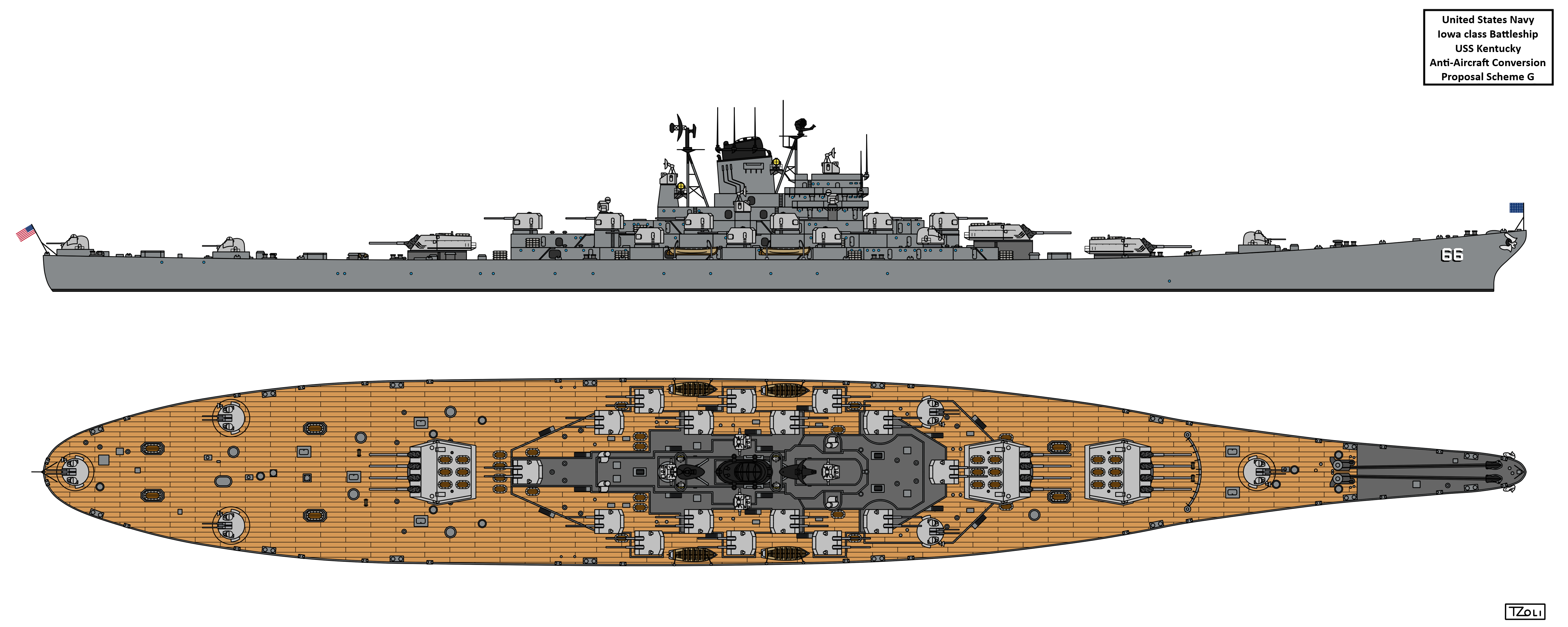 Watch
This is a drawing for a friend of mine who is very knowledgable and very likes the USN warships.
Soon after the war a multitude of programs, ideas and plans were drawn up to how to finish the last two battleships of the Iowa class: the USS Illinois and the USS Kentucky of out of which Kentucky was in a more advanced state of construction. In 1945/46 Admiral King and Admiral Chester Nimitz proposed a modification for the Illinois improving it's AA capabilities by redesigning the placements of her 5"/38, 40mm and 20mm AA guns:
i.imgur.com/mlIT13j.png
i.imgur.com/nJaH67A.png
Later in 1948 plans were drawn up to convert the Kentucky into an Anti-Aircraft Battleship with large amounts of 5"/54 and 3"/70 AA guns with the replacement of the 16" gun turrets with 2, 3 or 4 quadruple 8" RF gun turrets the same guns used on the Des Moines class heavy cruisers, essentially turning the ship into a battleship sized and armoured but cruiser armed vessel: Not heavy cruiser, not battleship and nether battlecruiser! Because of this I choose to name cruiser-Battleship the early designation of the Battlecruiser and similar armed designs of battleship size but armoured cruiser weaponry.
The design became lighter than the original Iowa class battleships but that much lighter because part of the saved tonnage used for thickening the deck armour and the large number of gun turrets and their barbettes too were added quite the extra weight.
By the documents system at least 8 projects (Schemes A through H) were proposed but drawings and data are only available about the last 3 with two, three and four quad turrets and a varying amount of 5"/54 and 3"/70 AA guns.
I've chosen the 3 turreted Scheme G.
The design had the following characteristics:
Dimensions: 262,1 (wl) 270,4 (oa) x 33 x 10,6m
Displacement: 45.000tons (standard), 52.000tons (full load)
Armour: 208mm Deck, 310mm Belt
Engines: 212.000shp, 4 shafts
Speed: 60km/h (32,5knots)
Range: 27.800km at 28km/h (15.000nm at 15knots)

Armaments:
3x4 203mm/55 RF Mark 16 Guns,
16x2 127mm/54
Mark 16 DP-AA Guns,
6x2 76mm/70 Mark 23 AA Guns


Original documents showing information on the design:
Scheme F:
imgur.com/y8O7M37
imgur.com/Ip70mAp
Scheme G:
imgur.com/RKAKvLp
Scheme H:
imgur.com/gAPTWQJ