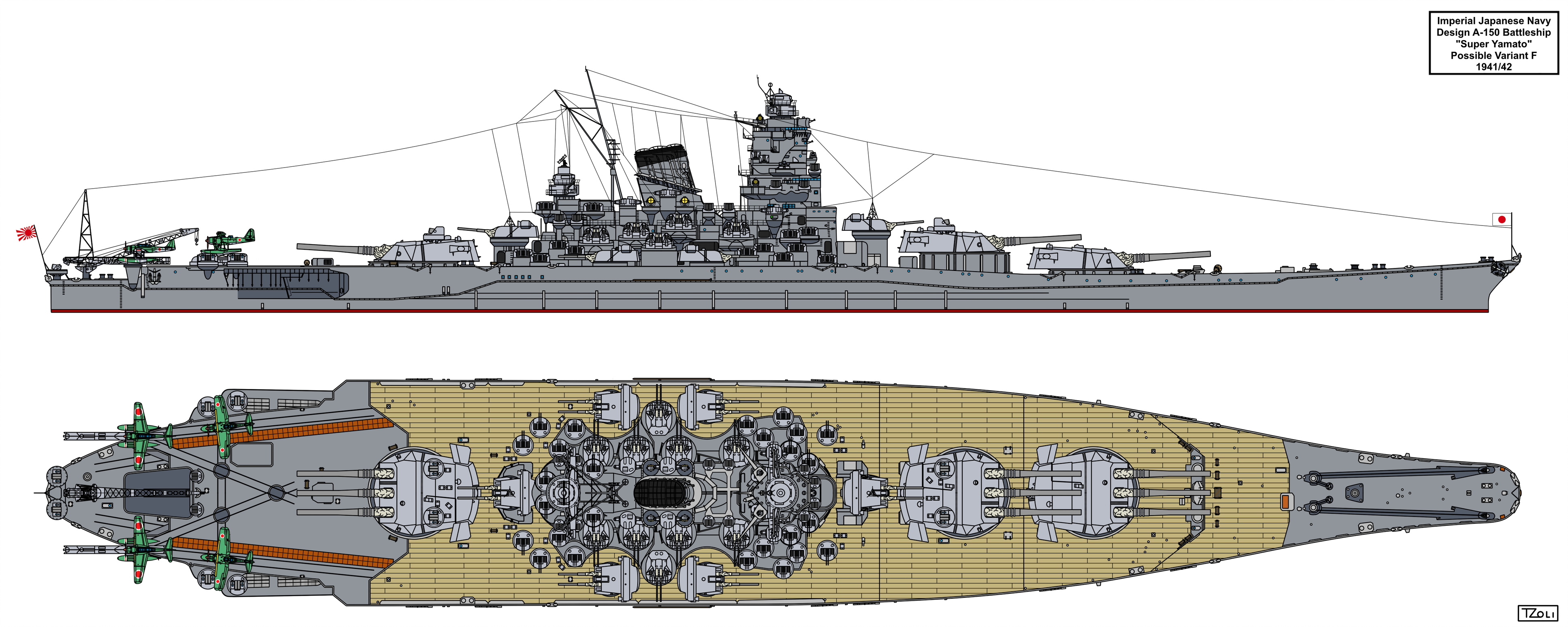 Watch
This is my last A-150 design very similar to my earlier C version where I've added more secondary 20cm guns sacrificing some 10cm AA guns:


Only one Japanese Yamato type battleship remains, the mysterious last battleship design of Japan the 100.000ton battleship supposedly proposed in around 1942 and to be armed with 51cm cannons.
My design
has the following characteristics:
Dimensions: 262 (wl) 269 (oa) x 41 x 11m
Displacement: 76.600tons (standard), 83.000tons (full load)
Armour: 250mm Deck, 460mm Belt inclined at 20 degrees
Engines: 200.000shp, 4 shafts, Steam Turbines
Speed: 54km/h (29knots)
Range: 13.300km at 30km/h (7.000nm at 16knots)
Armaments:
3x3 51cm/45 Type 98 Cannons,

6x2 20cm/50 Type 90 Guns,
10x2 10cm/65 Type 98 DP-AA guns,

14x2 40mm/60 Type 5 AA Guns,
12x3 25mm/60 Type 96 AA Guns,

10x21 120mm Type 5 AA Rockets
7x Seaplanes (Aichi E16A Paul and Mitsubishi F1M Pete planes)
Sensors:
Type 13 air search radar antennaes (two set, both sides on the mainmast)

Type 14 air search radar (one set, on top of the aft range finder)
Type 21 air search radars (two set, on each arms of the main range finder fixed non rotating)
Type 32 surface search radars (two set one on each side of the bridge structure rotating ones)

Only one remains? Dear god I can't wait! One thing bugs me is the armor on the secondary turrets. Is it more than the ones with 155? I'm curious
Reply

Again after re-reading a book in my collection, I saw that the Japanese rejected the Fisher principle of eliminating the secondary armament (caliber c. 6"/15cm) from their dreadnought BBs due to their experience of what 6 - 8" guns could do to crippled battleships during the Russo-Japanese War, so I would guess including 20cm weapons in these designs is an updated version of that concept - and the ship itself is not so much bigger than the Yamato that it would belong only in the realm of fantasy (??).
Reply

14-15cm guns were also excellent anti destroyer guns and a dangerous weapon against cruisers as well. IJN used destroyers for escorts rather cruisers hence battleships required extra guns to defend against such vessels.
Reply