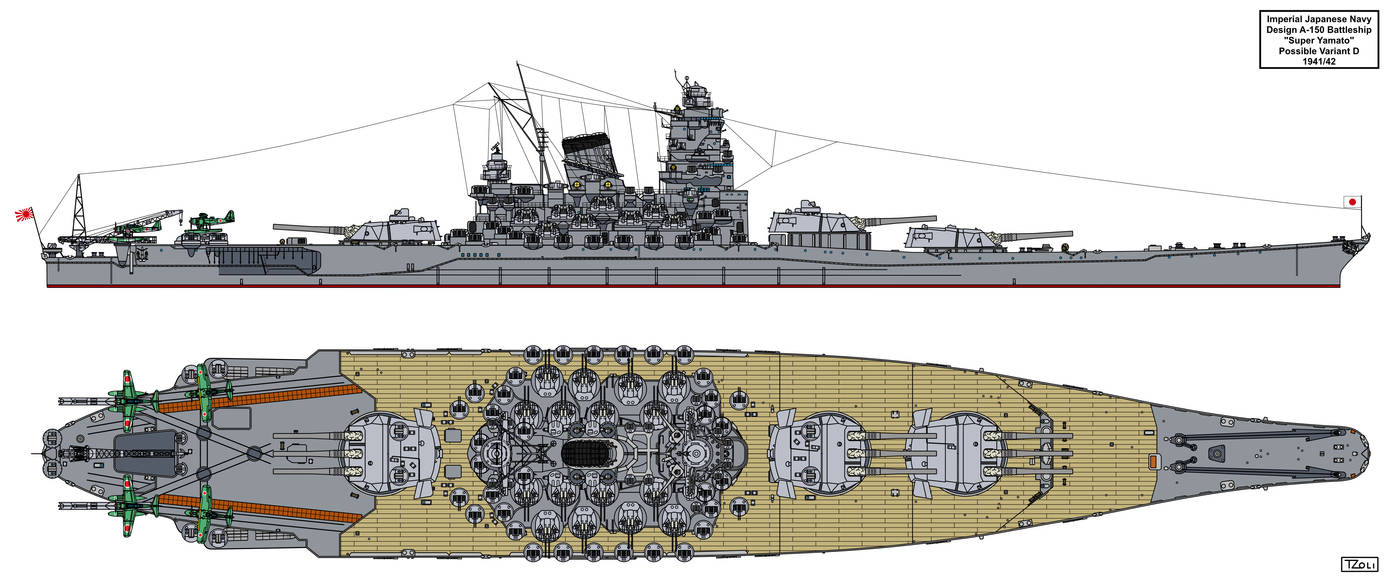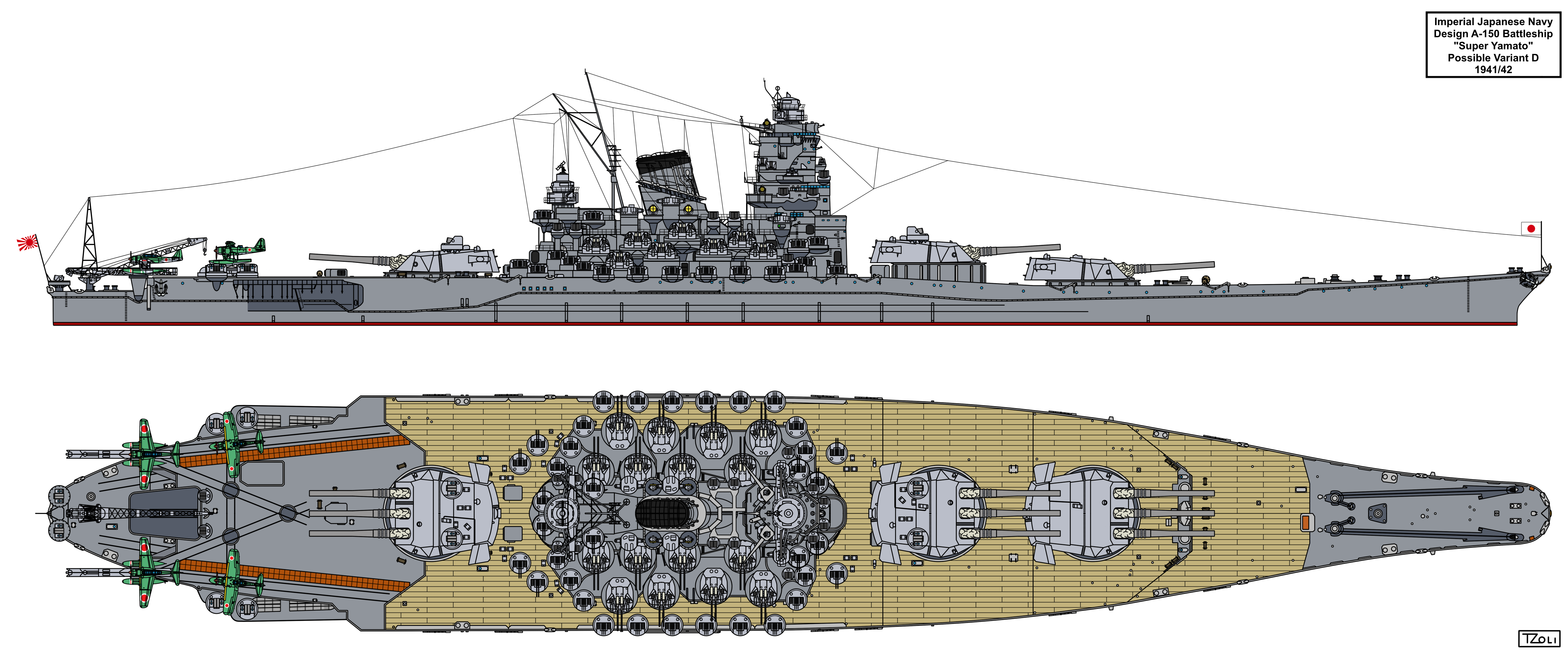 Watch
This variant of mine features triple rather than twin 51cm turrets for the main artillery of the proposed A-150 type battleships. As accurate data are not available currently I'm trying to make various designs based on the information found during the years!

This version is basically a widened Yamato hull with 41m beam and similar to my A variant:
www.deviantart.com/tzoli/art/A…
It lacks secondary guns but extra space was allocated for the engines.
My design
has the following characteristics:
Dimensions: 244 (pp) 256 (wl) 263 (oa) x 41 x 11m
Displacement: 72.600tons (standard), 78.600tons (full load)
Armour: 250mm Deck, 460mm Belt inclined at 20 degrees
Engines: 200.000shp, 4 shafts, Steam Turbines
Speed: 54km/h (29knots)
Range: 13.300km at 30km/h (7.000nm at 16knots)
Armaments:
3x3 51cm/45 Type 98 Cannons,
16x2 10cm/65 Type 98 DP-AA guns

14x2 40mm/60 Type 5 AA Guns
22x3 25mm/60 Type 96 AA Guns

10x21 120mm Type 5 AA Rockets
7x Seaplanes (Aichi E16A Paul and Mitsubishi F1M Pete planes)

Sensors:
Type 13 air search radar antennaes (two set, both sides on the mainmast)

Type 14 air search radar (one set, on top of the aft range finder)
Type 21 air search radars (two set, on each arms of the main range finder fixed non rotating)
Type 32 surface search radars (two set one on each side of the bridge structure rotating ones)

the details of your designsnever cases to amaze. World of Warships should have these Experimental designs just like WOT.
Reply

World of Warships draw the line at 46cm cannons, no 51cm will be included though this line was drawn years ago...
Reply

Well this looks more like the Yamato cause triple barrels Can't wait for the 100k tons design you said, that ship could probably fit all Tokyo on it xD
Reply

I played PTO IV for the PS2 and it was either the Japanese or the Germans and I would always get the best ships. A lot of good carrier classes and battleships.
Reply

Now with more boom booms!

I love this concept.
Reply