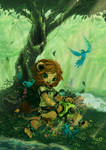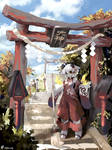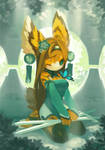 What is Oasis Days?
Oasis Days
is my personal anthropomorphic animal project. It has a contemporary background setting, with a little bit of fantasy and sci-fi elements. It presents scenes of peaceful life of a small rural town, and a few other places the main characters visited.
Old names of the project
Because the development time of this project has been so long, it had been renamed a few times for various reasons. Regardless of the names, they all point to the same thing.
Oasis Days (current)
Oasis (x)

Equa (x)
inter.Natal (x)
Oasistown (x)
Current state and plans
Although I tried to write a story for this project, but it inevitably introduced conflicts, which worked against the peaceful life idea. Therefore I decided no meaningful story will be introduced. It will remain as a feel-good project, providing me a playground to explore designs of ordinary clothing and architecture, which I cannot do in Electric Hearts because of its settings. Oasis Days will stay and receive occasional character updates and new scenes.
* This article is a work-in-progress. It will be gradually expanded into a fully-fledged information portal.