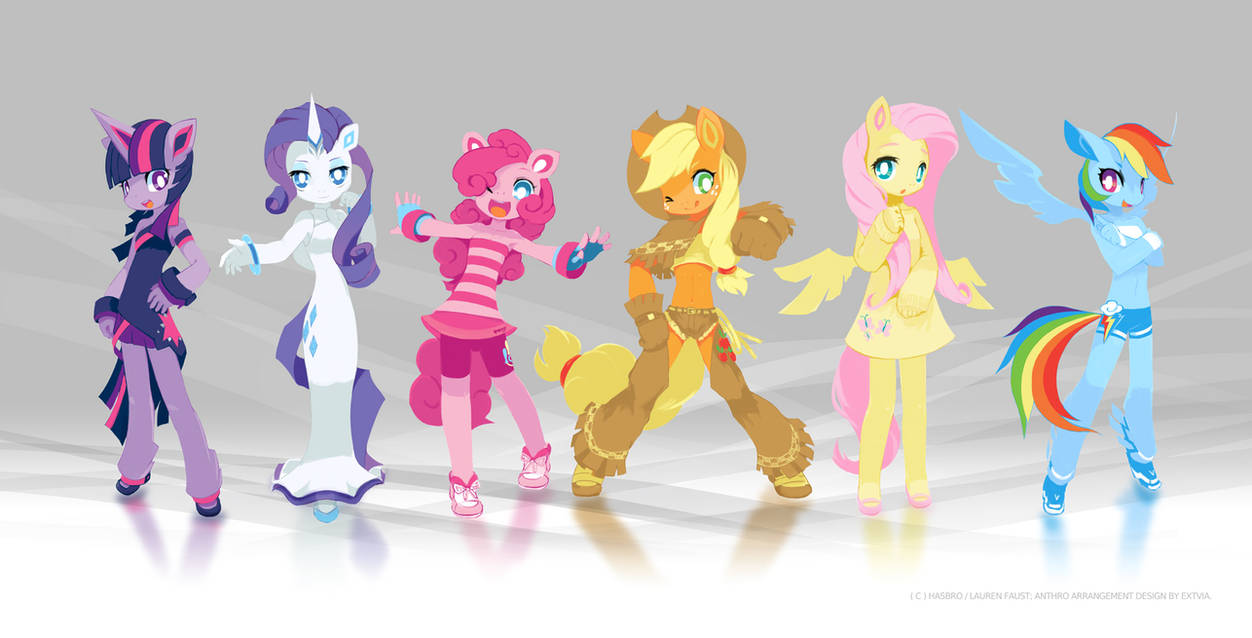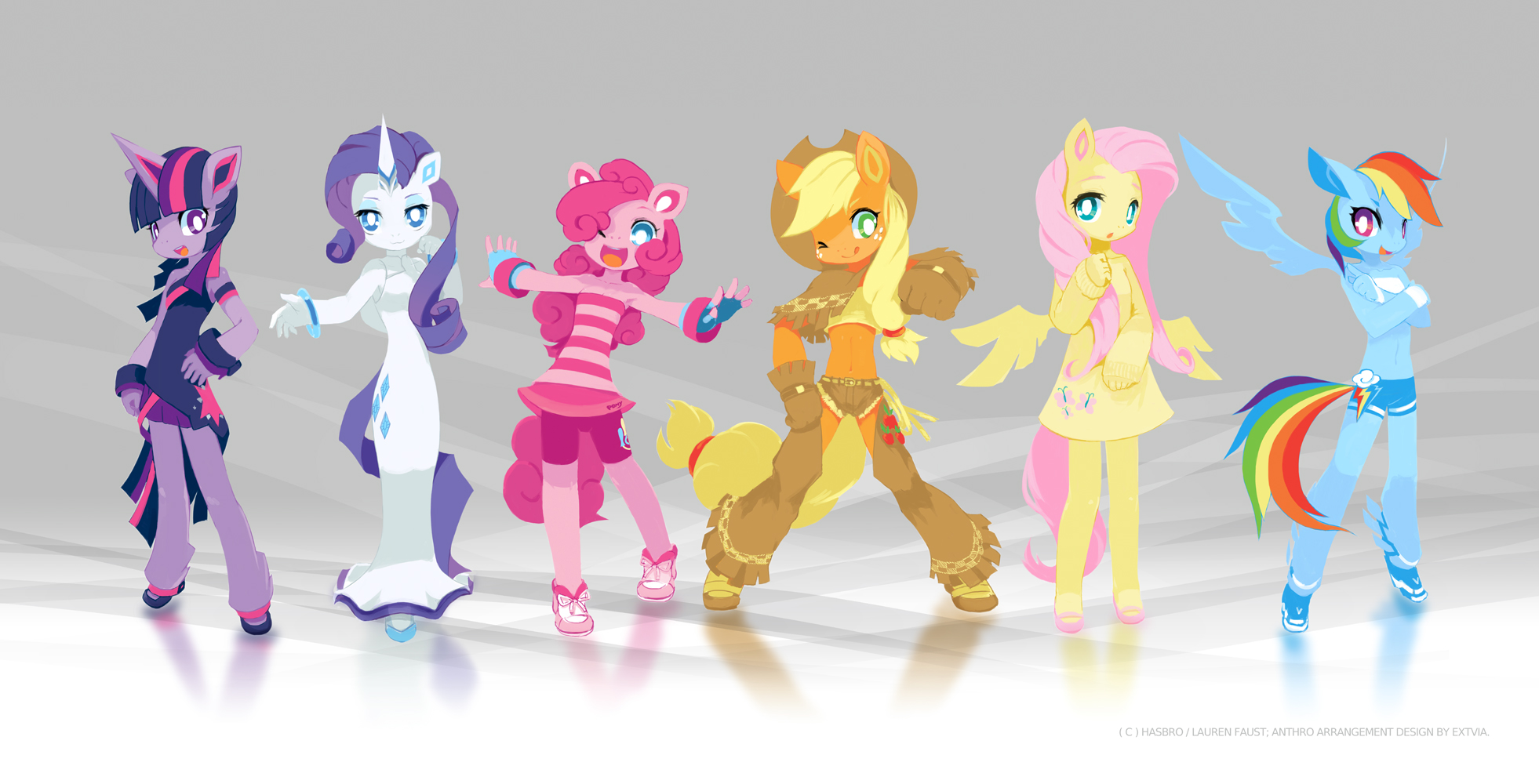 This is a fanart
Description:
(c) Hasbro / Lauren Faust
Fan costume designed and artwork by Extvia.
My Little Pony: Friendship Is Magic is just magical! I had a very good time watching the show, probably because of how simple, natural, lovely, dig-gable and the harmony that puts every bits of its elements together.
Despite being a guy, I share some eccentric similarities with Twilight Sparkle, being a avaricious bookworm and a hopeless egghead with the tendency of snapping occasionally but badly under nonexistent, imaginative stress. Also as Twilight did in the beginning of the the series, I wasn't quite interested in "being friends" with the other 5 ponies since all of them somehow annoyed me a bit. But as I follow the show, like Twilight, I eventually came to love them all!
I concentrated my share of love to MLPFiM into this piece of fanart. I modified their appearances to fit my own design pattern which I can handle with full confidence. Wallpaper version are included as well. Hope you like the picture and the show!

And it's great to see the creator of MLPFIM is a Deviant too! XD
My other similar works
Follow me on twitter:

Interested in what I'm doing? Feel free to follow me on twitter!
twitter.com/#!/extvia
Hi again!

And another great piece of art
you have done! Thank you for showing
the world how beautiful they are in
your own form and style!

First off, their clothes fit them not
only physically and aesthetically,
but each owns characteristic!

Starting with Twilight, her look
had dramatically been remade from
the original! Her body language shows
a more out-going and livelier Twilight
than we've seen in My Little Pony:
Friendship is Magic!

Rarity, the glamour and sophistication!
Just glancing upon her slender figure,
I can picture a singer in an opera house.
Or, a female fashion designer with the
professionalism of years in the practice!

But I choose to view her here as a singer.
It fits her perfectly!

Pinkie Pie! What is a party without Pinkie?
The first of the only two ponies wearing
rubber shoes! Her gear, as I will describe
their clothing, fits her physical activity
including breaking the fourth wall almost
every time she moves! And I love her wrist
braces, a nice touch to her already complete
outfit for a party!

Why Applejack in the center?

BECAUSE SHE IS 20% COOL

But Rainbowdash beats her in coolness.
Back to Applejack, her outfit is true
cowgirl style and old western gear!
Her cute face showing energetic, I'm- ready-
when-you're-ready attitude on it!

And she looks ready to go buckin' apples!

Oh, Fluttershy! Why so shy?
Her fragile pose is so cute, just staring
at her would be ultimately rude if done!
And her soft yellow complexion?

*sigh*~

RAINBOWDASH IN RACING SHOES?
The world's gonna stop if she flies with it!

Her runner short is awesome! I'd love to
wear one of those in my runs! Albeit too
tight for me, hahaha! Not only is her color
that makes her every bronies waifu,
but the simple fact her angelic face
is paired with a sporty temperament!

And the wings, I noticed.

They are cleverly designed to not only
function, but the originality is kept as well!
It has that oriental look, yet sci-fi wise!

~!~!~!~!~!~!~!~!~!~!~!~!~!~!~!~!~!~!~

That ends my critique!
I hope it bolsters your inspiration
to do more ponies!
The Artist thought this was FAIR
44 out of 61 deviants thought this was fair.
my first thought was "why hasn't anybody critiqued this already?"

i love the idea of puting clothes on the characters, the clothes actually match thier personalities and color.

the little shading that there is goes well with the pic. the line art is very "soft" and sweet. the coloring makes the characters look very shiny

i'm very impressed with the poses too. they are very well done and as well as the eyes and expressions.

i noticed that the unicorn characters and pegasus characters were grouped together. was that on purpose? whatever the reason it didn't distract me from the pic itself
The Artist thought this was FAIR
28 out of 36 deviants thought this was fair.