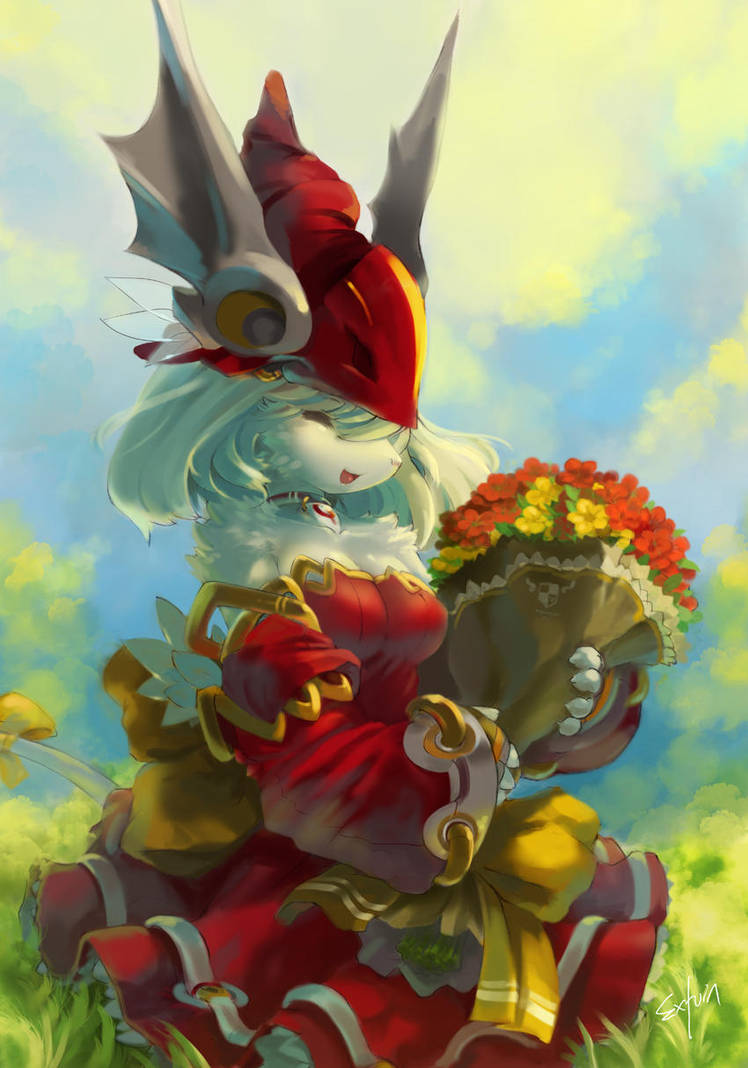 This is a fanart
Description:
Freya from FF9 when she was young, probably 17.
When I saw this in my deviation inbox, I'm not going to lie, I was beyond excited to see one of my favorite childhood characters as a deviation. However, it wasn't until I noticed it was by Extvia, not by the name, but by the style, that I realized what I want my Christmas gift to be (it's a shame that it isn't available as a print).
I'm also not going to lie, I'm rather intimidated writing this and I don't know where to start, so I'll just list them by subject

Vision: The piece is gorgeous with beautiful details, smooth form, and such sweet colors. I adore the folds in her dress the most, but that's biased. I am on the edge of disagreeing with using unsaturated colors to shade, not in the back, on her sleeves, but at the same time, I understand fully why it's done and how it adds oodles to the color scheme.

Originality: You managed entirely to perfectly incorporate your style in a perfect blend with Freya's character design. This is denoted by the painting style, paws, fur tufts, and most of all, that adorable face! Nothing but positives that I can say about this aspect.

Technique: As I mentioned, the painting style used here, coupled with a pleasing palate, sports a very sweet, light mood. The character's light and bouncy design adds to this, too. While I didn't rate this a 5, I'm afraid I can't find anything 'off' about this piece.

Impact: Overall, this piece has impacted me enough to summon up the courage to write this in the first place, which is saying something. This piece made a splash in my day and in the days of thousands of other people in the deviantART community.

Thanks for drawing it :3
The Artist thought this was FAIR
43 out of 43 deviants thought this was fair.
First off, I loved Freya in the series, she had on of the most contrasting and in depth characters in the entirety of the FF universe. Which I think this piece displays nicely, the battle helmet of the dragon knight and a summer dress, showing both sides of the personality, emphasized and tied together by the bouquet of flowers.. giving a more sensitive correlation between the two. What I like about it the most is that is shows her in a way that I have never seen, except in anticipation, she is happy, perhaps from the period of time that she was with Sir Fratley, or in memory of those time's surely not when they were re-united.. but hopefully of the future after the story was completed. The only con's of this piece is the contrast I see in the cloth, that may be worked in a bit better to match that of the helmet, but beyond that, I think it's pretty solid =] Good job.
The Artist thought this was FAIR
59 out of 60 deviants thought this was fair.