Description
Inspired by the 2008 Beijing Olympic mascots.
Wiki:
en.wikipedia.org/wiki/Fuwa
This picture has been revised over the years.
Version 1 (2007) >> Version 2 (2010-2011) >> Version 3 (2015 current)
Old versions:
tysontan.tumblr.com/post/12226…
Characters (from left to right):
Beibei: The blue one, a fish
Jingjing: The black one , a panda
Huanhuan: The red one, the Olympic Flame
Yingying: The yellow one, a Tibetan antelope
Nini: The green one, a swallow
When you put their names together, it reads "Bei Jing Huan Ying Ni" -- which means "Welcome to Beijing".
Who do you like best?Other pictures from this series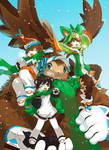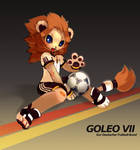 :thumb160599279:
My other places:
My twitter:
twitter.com/TysonTanX
My tumblr:
tysontan.tumblr.com/
我的微博:
weibo.com/extvia
Image size
1920x1163px 1.22 MB




Overall





Vision





Originality





Technique





Impact
Your definitely a very talented artist and this piece is very well done, but there's something that you could've done more that would make this piece better. I feel as if the this piece could've been better if you used brighter colors and have more contrast between the other colors, and adding more highlights. I also feel like the shading could've also been better. I do like the shading and how it brings out more of that 3D look but it feels as if it could've been better. This might fix itself if you added more highlights and gloss. But, keep up the good work.