I Am Iain The Dinohog (Half Dinosaur Half Hedgehog.)...
I Do Requests.
I Do Point Commissions.
I Do Not Do Money Commissions.
Cool Guys That I Watch
Characters List
Key:

-Is A Boy

-Is A Girl

-Is Able To EX-Super Transform.

-Is No Able To EX-Super Transform.
Sonic FC's
Hero Side:
These Characters Appear On The Side Of Justice.


Iain The Dinohog


Gray The Dinofox


Leon The Dinochidna


Sauron The Dinosaur


Dart The Hedgehog


Lunetta The Hedgehog


Tech The Hedgehog
Genderbends:
These Characters Are The Opposite Gender Of The Current Characters


Izzy The Dinohog(Iain's Genderbend)
Dark Side:
These Characters Are Hostile Towards Other Characters


Crock The Crocodile


Jaws The Venus Flytrap


Withura The Witherhog
Planned:
Characters That Will One Day Appear


Gray's Genderbend


Leon's Genderbend
Unused:
Characters I Own But Are Not Used As Of Right Now


Meltdown
Spore Captains
Rescon Side:
The Good Guys. These Characters Are Also Friends With My Sonic FC's And Any Sonic FC And/Or Human That Is Friends Of Mine.


Galactic Traveler Spordo The Fierce
Non-Sonic FC/Spore Captain Characters:
These Characters Have Nothing To Do With Either Sonic Nor Spore.
They Have Also These Marks

-Is A Human

-Is No Human



Elera Alora



Marius Wilnida



Arkirus Petals



Oliva Ruby
The Stamps I Used:

















:thumb259010457:












:thumb343724869:<-I Really Hated To Say That, But It's True.



The Reason Why You Notice That This Stamp ->

<- Is Seen Is Because The Original Stamps I Had Used, Are Either Deleted By The Original Artist Or Put Into Storage.
Character Charts:
Relationship Chart.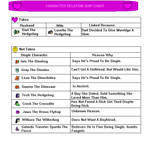 Mega Emeralds:



Available Adoptables:
There Is No Adoptables Right Now. You Must Wait, For Me To Leave Something To Adopt.
Any Sprites I Edited Or Didn't Create Belong To

Etc.
For Those Who Want To See Me On Youtube Click Here
|
|
V