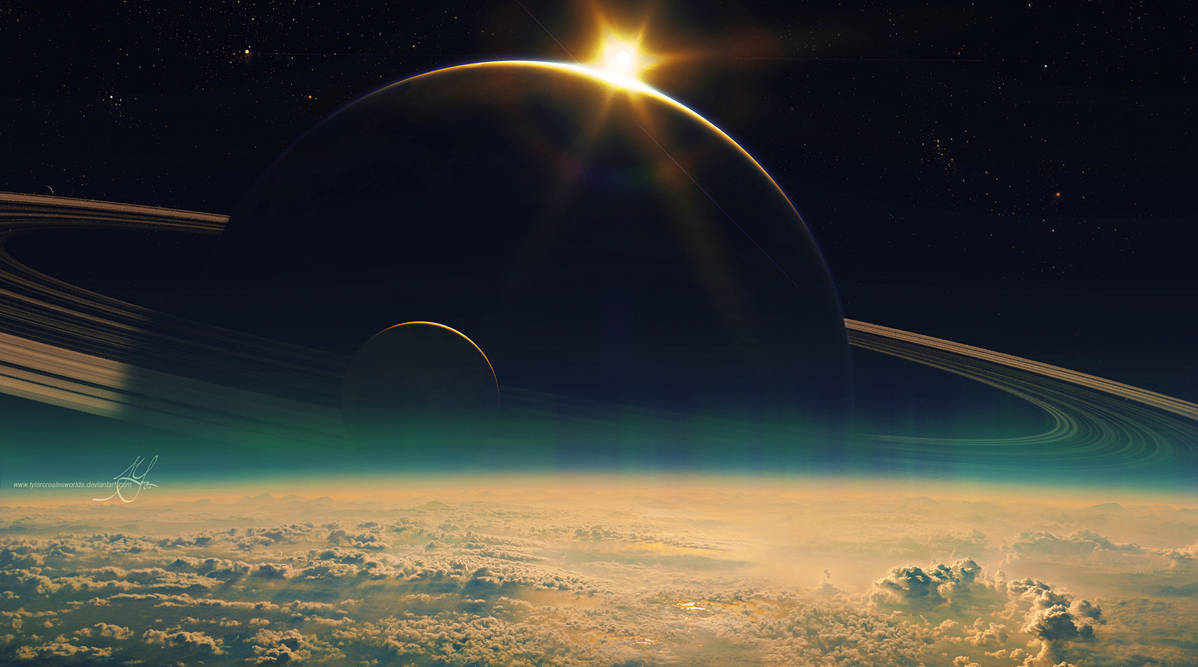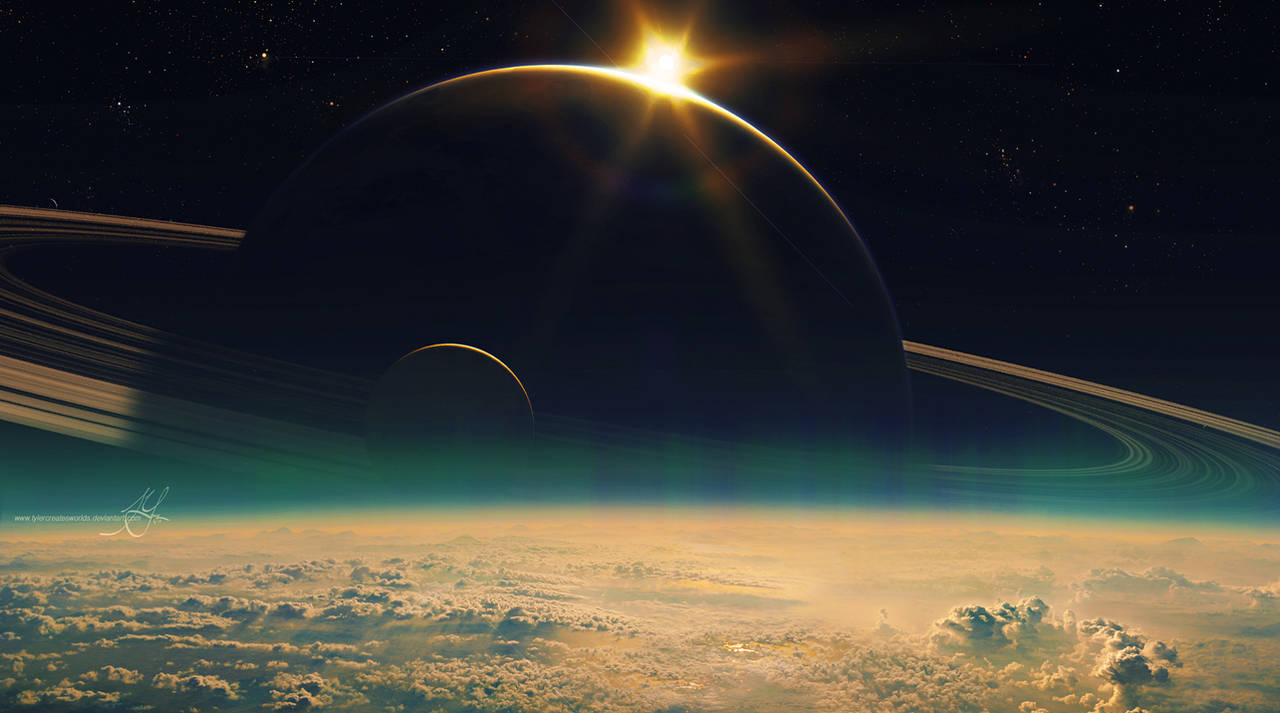 Watch
I've had this ringed planet made for a while. I was using for a commercial project that fell through. Figured I'd place into another scene. I spent most of my time blending some cloud photos together, trying to come up with something striking and believable. I think I did a pretty good job.
Stocks used:
link
link
link
Let me know what you all think of it.
From a pure technical point of view, your techniques are perfect. You have your lighting down, and the light being diffracted on top of the upper atmosphere is a really nice little touch. What I can see from this is that we're looking at a Jupiter sized planet from one of its moons. I can tell that you're well versed in your astronomy, and I'd like to know more about this solar system! I have one problem, although it's a purely astronomy one. For a planet this size to retain an earth like atmosphere that won't boil off from prolonged days ( as it has a long distance to go for the gas giant to eclipse) It'd have to either be in a closer orbit to the gas giant (which is dangerous, the rings!) or travel on its axis wickedly fast (which would result in storms that'd last for centuries, like what we see on Jupiter) and we'd see clouds in long, thin streaks. But hey, at this point I'm just picking at straws, because my secondary primary school's Astronomy class really stuck with me all these years! All in all, 10/10!
The Artist thought this was FAIR
71 out of 72 deviants thought this was fair.
Certainly a suggestive subject, the global result is effectively giving a feeling of awe. From a more technical point of view, this is in my opinion achieved by a good work in capturing the immensity of celestial bodies through expert shadings and colours. The tenuous green mixed with clear blue, both superimposed over the background on the horizon succeed on depicting the atmosphere of this imaginary moon (and maybe some auroral lights). The atmosphere fades out upwards, that is towards open space, increasingly revealing stars, with a realistic variety of colours, though slightly enhanced with respect to reality. The gas giant too has his outer atmospheric layers interacting with the light coming from his star, which appears to be a faithful reproduction of our Sun, or any other of the very similar main sequence stars, complete with some sort of corona. The rings also are fairly realistics, I think. The almost invisible "granular" effect reveals their nature of large disks of debris, whit gaps clearly relating to the orbits of the other moons (how many? I counted four...). As for the cloudy panorama, It's quite hard to guess where the stock images mentioned by the author are located and where they merge, whitout peeking at the originals: this makes the global appearance organic and consistent. The orange-ish shading towards the lower horizon matches well with the warmth of the colours in the starlight and the background planet, which in turn gracefully embrace the watery atmosphere. The warmth of colours also helps to the feeling of silence, peace, stillness of the scene, though with the sacrifice of some chromatic realism, since colours are a little bit too much saturated. As a negative point, I noticed a somewhat poor rendering of the background (including the planet), where horizontal fringes can be spotted, spoiling the smoothness of the fading atmosphere. Also, some thin straight lines are crossing the star, and I can't really tell if they have some meaning, but they appear as something extraneous to the image. I must admit I don't know whether lines and fringes are imputable to the author or are just related to the file format... if this is the case, I apologize. I think the global result if a fairly well achieved compromise between appeal and likelyhood, at list for what concerns the details. This said, it must be noted that a planetary system with a configuration such that to create the scene depicted is rather not likely. An earth-like planet requires energy to maintain liquid water, and must stay close to its star. The gas giant, on the other hand, must have formed far from the star, where radiation and stellar winds wouldn't have stripped all its hydrogen and helium away, not to mention the fragile rings. Of course, our discerning between possible and impossible is still dim when talking scientifically about extrasolar planets, since this is a young field of research, so we'll wait, hoping to discover soon a solar system as amazing and inspiring as this picture. Well done, excellent work.
The Artist thought this was FAIR
11 out of 13 deviants thought this was fair.