Commissions are now closed while I work on the ones I have. If we have already been speaking regarding commissions but haven't finalized the deal, you're considered to be on that list so continue to correspond with me.

However, if you want an Avengers related commission, feel free to note me.


I'm thinking of taking a few commissions while I still have the urge to draw. (You never know when my creativity is suddenly going to drop out. Might as well take advantage while I can.) You can see in my gallery what fandoms I'm most comfortable with. I have had people commission me for fandoms I've never done before and I give it my best shot. I am always okay with OCs and OC x canon pairing pics. (In fact, I kinda love doing the OC x canon pairing pics.)
Here's a rough estimate of what my prices are. They have not gone up in years and I think they are extremely reasonable.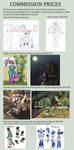 Please keep in mind anything related to Transformers will be $5-$10 more because the designs are very complex and they take much longer to do. If it's in TF Prime style, I may straight up say no thanks because the designs are such a pain in the ass. You guys know I'm a G1 girl. I'm better at drawing those designs anyway.
If you're interested, please send me a note with what you are looking for in the commission. I will send you a price quote and if you agree, we can go from there. I take paypal only. I do not do point commissions.
I am more than happy to work with your budget if there's only so much money you would like to spend. I also will not be offended if you see the price and change your mind about the commission. Please feel free to talk to me and ask questions. I do not mind discussing pricing.